An absolutely perfect Audi A8 3.2 Quattro, Spotted in China at the Lido Hotel in Beijing. The mighty old Au' was in super sonic shape and looked like it rolled off the line yesterday, masterly maintained and carefully cleaned. By far the best first generation A8 we have seen in China so far.
The Audi A8 'D2' was manufactured from 1994 until 2002 with a minor facelift in 1999. This is a pre-facelifted car. The A8 2.8 Quattro was powered by a 2.8 liter V6 with 193hp and 280nm, which was good for a 236km/h top speed.
Note odd white license plate, a rare reminder of an experiment in the early 2000's where citizens were given the freedom to make up their own license plate character combinations. The experiment was killed quickly after the murky Beijingneese came up with 'SEX', 'FBI', 'SHT', and whatnot more.
When I was shooting my shots I met a man of about 40, he opened the door of the Audi and looked at me with great surprise. "Beautiful car!", I said. He looked even more amazed and replied. "It's not mine, it is very old!". The horror…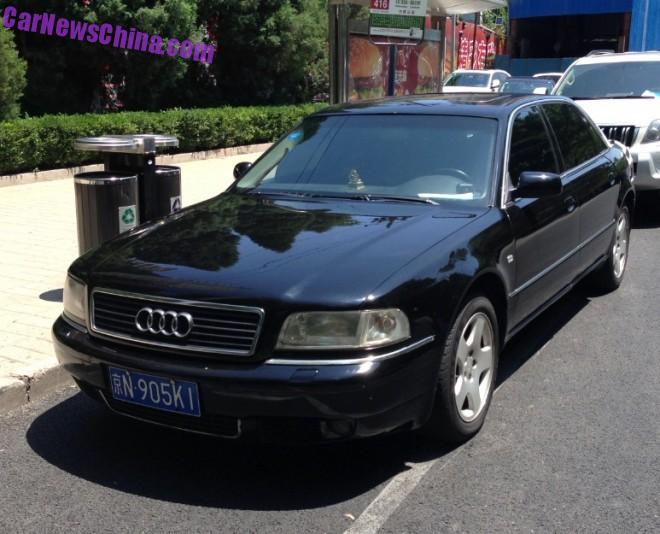 And then it was my turn to be amazed because just a block away stood this incredible Audi A8L. Pre-facelift first generation again, and looking almost as good as the first car. Darkened windows and sporty five-spoke alloys for even more Audi p*rn.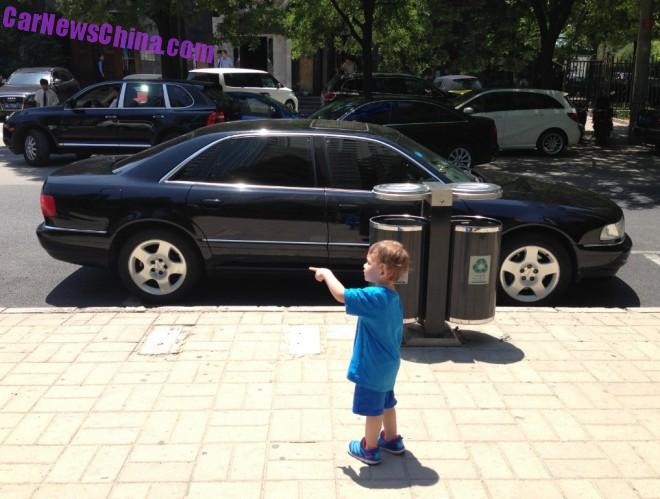 Chrome shining heavenly in the war summer's sun. Punk and trash can refused to get out of the way. The Audi A8L was a limo-like stretched variant of the regular A8. It was extended in the middle by 13 centimeters for more space in the back.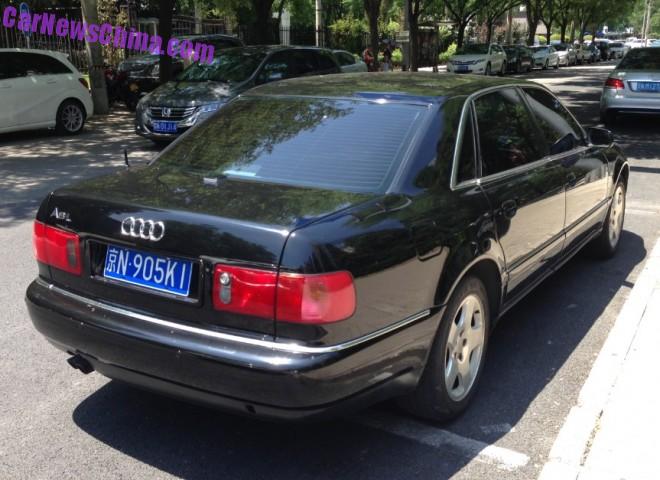 Keyhole for the boot lid hides in right-reverse light. No engine badge on the back so what powers this D2 remains a mystery. The D2 Audi A8 was never officially exported to China so meeting one on the road is a rare pleasure, and meeting two perfect black ones on one day is a miracle. They were only the second and third D2 we met in country, earlier on we saw a silver A8L 4.2 Quattro in Shanghai.