A fiery red Jeep Wrangler Unlimited, Spotted in China on the Beijing Tuning Street. The Wrangler is sexed up to the max with rock crawler suspension, super large off road red wall tires, air vents in the bonnet, darkened windows, and search lights on each side on the windshield.
All cars in this article are modified by a company called 'Traversing' (web, FB). They are kinda pretending to be American, good for business I guess, but they are really headquartered in Shanghai. They have eleven shops in Chin, and they will soon open new shops in Jakarta in Indonesia, and in… Los Angelos, which will make Traversing the first Chinese tuner to set up shop on American shores.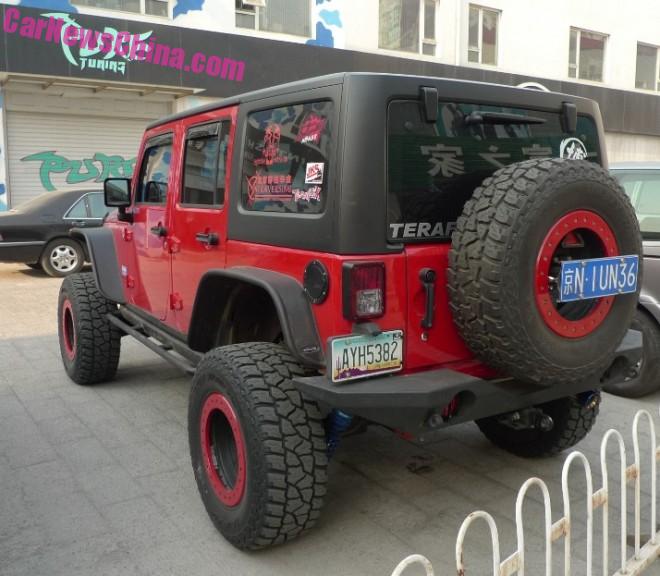 Fake American license plate on the left, real Chinese plate on the spare wheel. The good old Wrangler is becoming more popular in China by the day. The base model with the 234hp 3.0 six goes for a hefty 404.900 yuan or 67.300 USD. Other engines available are the 285hp 3.6 and the 200hp 2.8 turbo diesel.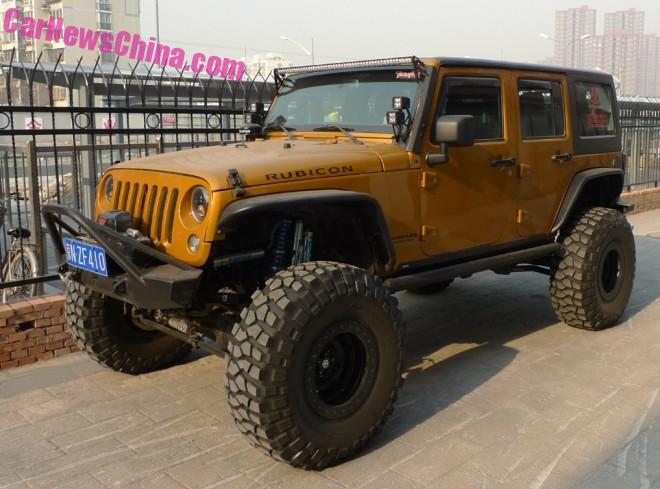 Moving on to a very nice brown example. They kept this one relatively clean bar for the bull bar and the LED search light on top of the windshield.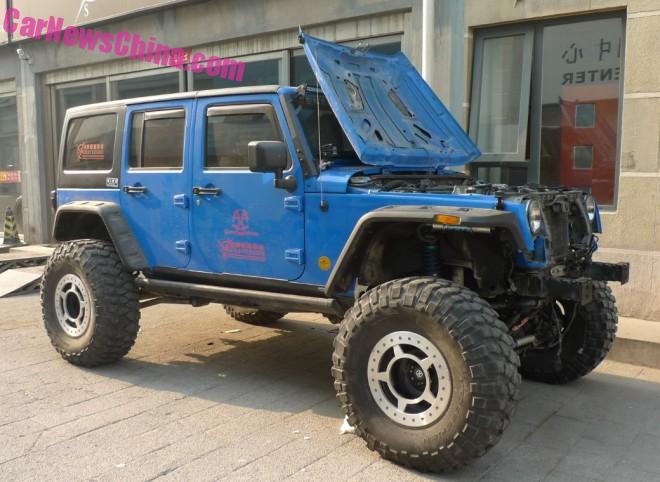 A wild blue car with loads of stickers in true Chinese style. They were working on the engine, with one mechanic saying they were attaching a supercharger to the 3.0 V6. I asked about horses. He smiled and said 'three hundred'. Sweet.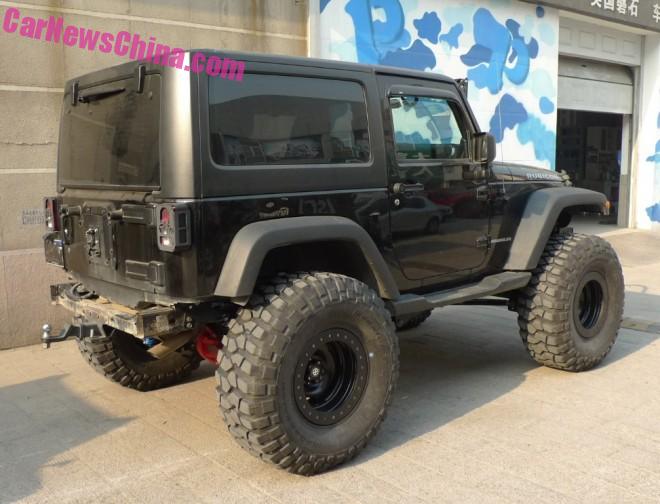 A sinister two door, all in black up until the tires. Big hook for towing boats or Harley Davidsons. A lot of Chinese bike owners don't really ride 'em. The tow them to a meeting on specialty made small flatbed trailer, and on the meeting they just leave their bikes standing still wile taking photos of other bikes standing still. They got one such meeting every week at the Harley store in town. Very weird.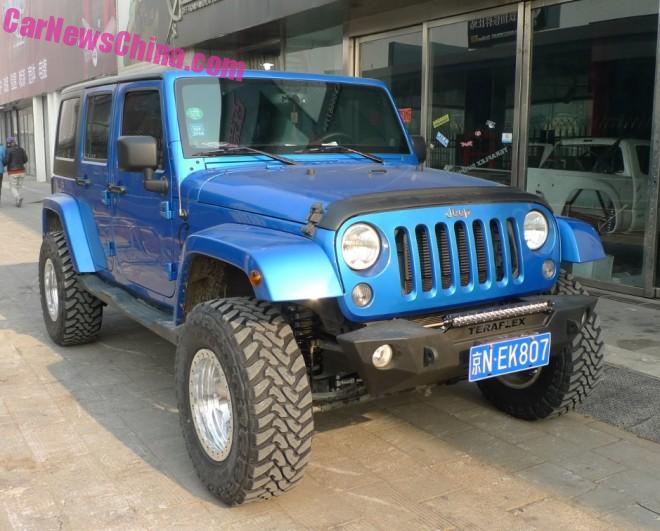 An almost unmolested light blue wrangler. Tires a little bigger, darkened windows, and a black rubber band over the bonnet.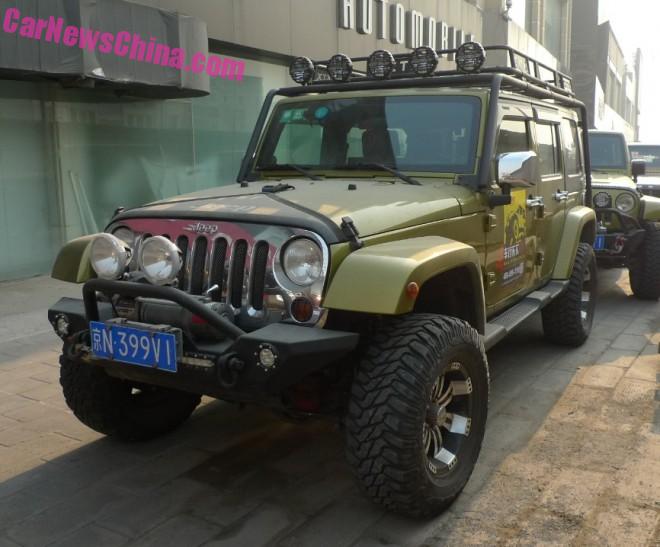 Ready for the desert this one, or Jurassic Park. Chromed grille really good. Big roof rack with five search lights plus another two on the bull bar.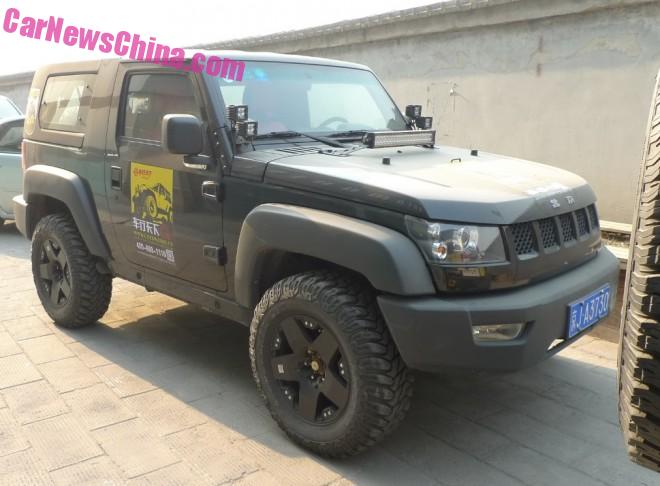 They had some other stuff as well; like this Beijing Auto BJ40 with the largest tires that fit and a bunch of LED search lights at the window.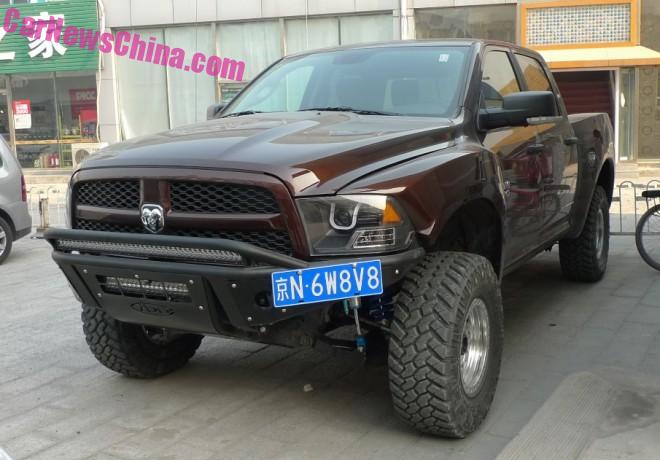 A Dodge RAM 1500 crew cab pickup truck, painted in some kinda purple brown. It didn't look impressive but that mechanic told me it was the fastest off-road car they had ever built, with the 4.7 liter V8 tuned up to five hundred horses.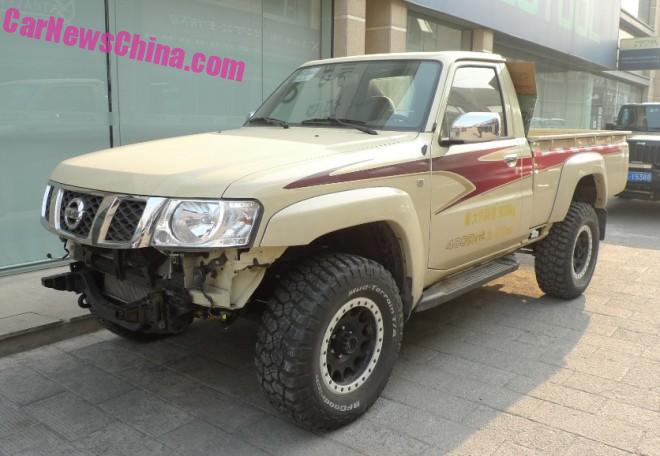 And we end with this incredible cool Nissan Patrol pickup truck with a 4.8 liter V8 under the bonnet. Just arrived from Japan and ready for a few modifications up front. More on this Nissan soon later.