A beautiful black Chevrolet Blazer, Spotted in China just east of the Fourth Ring Road in Beijing. The good Blazer was in good shape, looking smooth and well maintained, mostly original and without any rust or rot.The bull bar was a popular factory option.
The Chevrolet Blazer was manufactured in China by a complicated joint venture called the Jinbei GM Automotive Corporation, Jinbei-GM for short. The 'Jinbei' part of the name stood for 'FAW Jinbei Automotive', which was a joint venture in itself between the Jinbei Automotive Corporation and First Auto Works (FAW), established in 1995.
Jinbei-GM was founded in 1998 with a $230 million investment. Production of the Blazer and the related Chevrolet S10 pickup truck started in 2000 in a new factory in the city of Shenyang in Liaoning Province. Annual capacity was 50.000 units.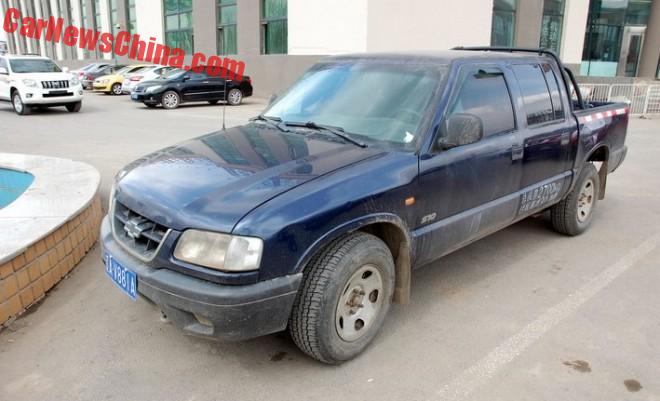 The China-made S10.
The Jinbei-GM joint venture was sadly not a success, sales were much lower than expected. The main reason were the high prices. In 2001 they were: 185.000 yuan for the pickup truck, 285.000 yuan for the 2.4, and a hefty 385.000 yuan (46.000 USD in 2001 exchange rates) for the 4.3. Furthermore, the thirsty engines of the Blazer ran into trouble with environment agencies in big cities, including in Beijing.
After muddling on for almost four years production was halted in early 2004 and the joint venture was disbanded. The shares of Jinbei were sold on to the Shanghai Automotive Industry Corporation (SAIC), GM's partner in the Shanghai-GM joint venture, and the factory in Shenyang went on to make the first generation Buick GL8 MPV. General Motors still has a small joint venture with FAW, making the Kuncheng pickup truck.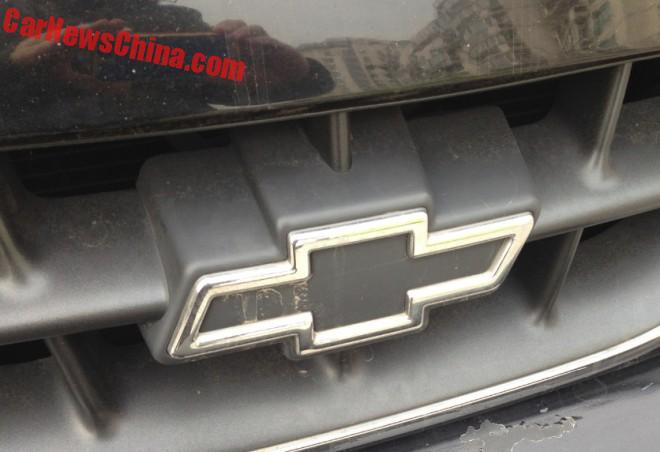 In China the Blazer was available with two engines: a 2.4 liter four cylinder 'MPFI' and the big 'n bad 4.3 liter V6, both mated to a four-speed automatic or a five-speed manual. This black Beijing car has the 2.4 and a manual 'box.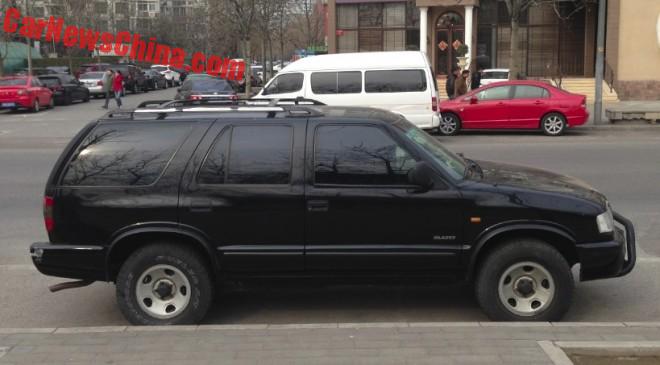 Darkened windows, period alloys, and period roof rails. Exhaust pipe needs to be reattached.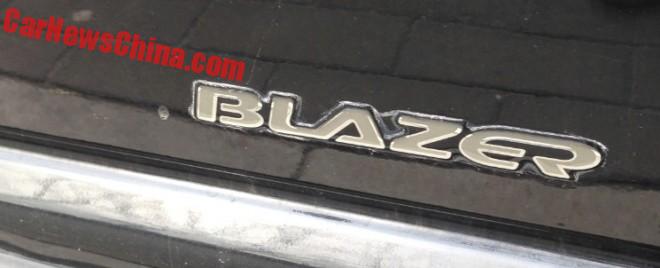 The Blazer badge on the door. Still looking speedy today.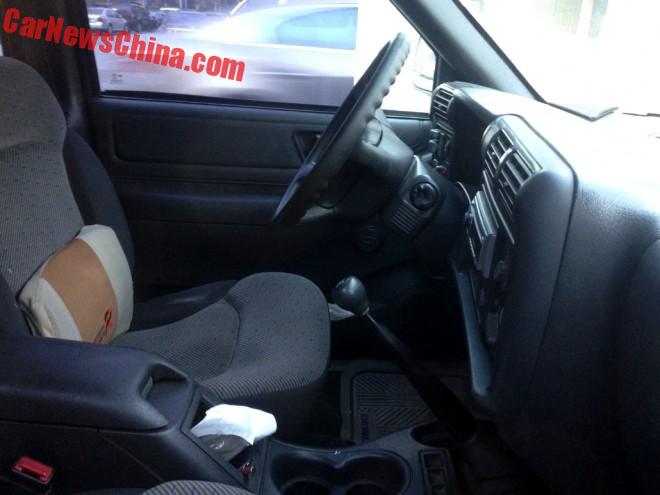 The interior was in very good shape and original all over bar for the CD player and the fuzzy pillows.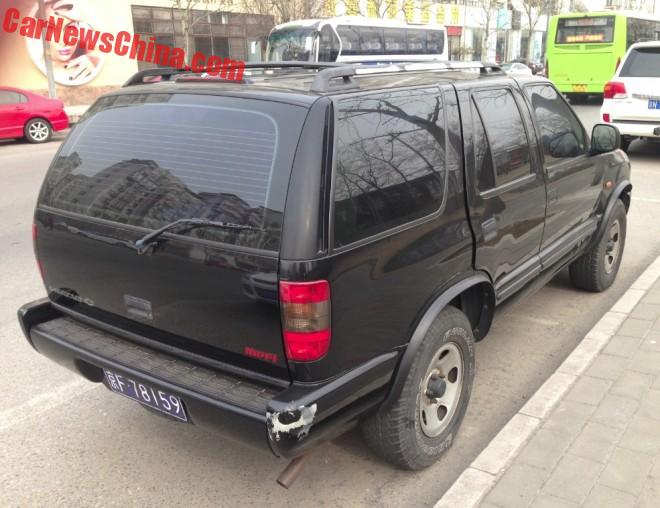 Slight damage on the bumper and the passenger door doesn't close properly.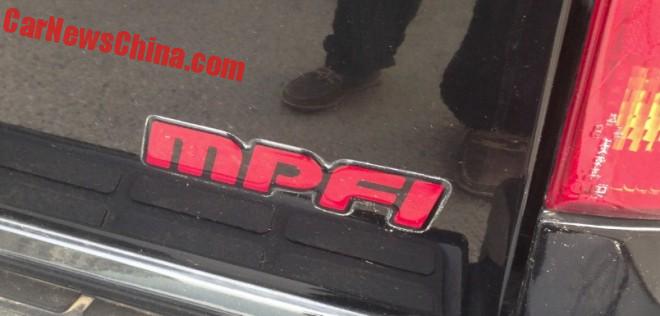 The MPFI badge for the 2.4 liter four.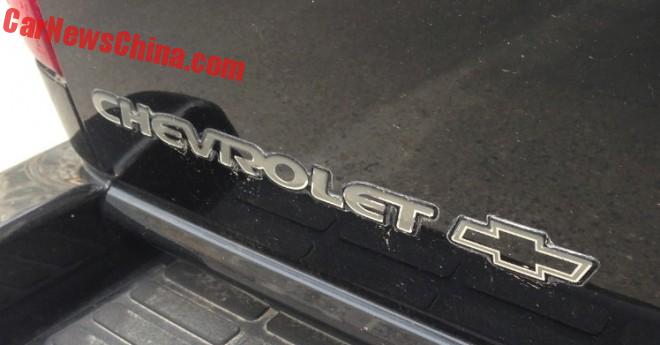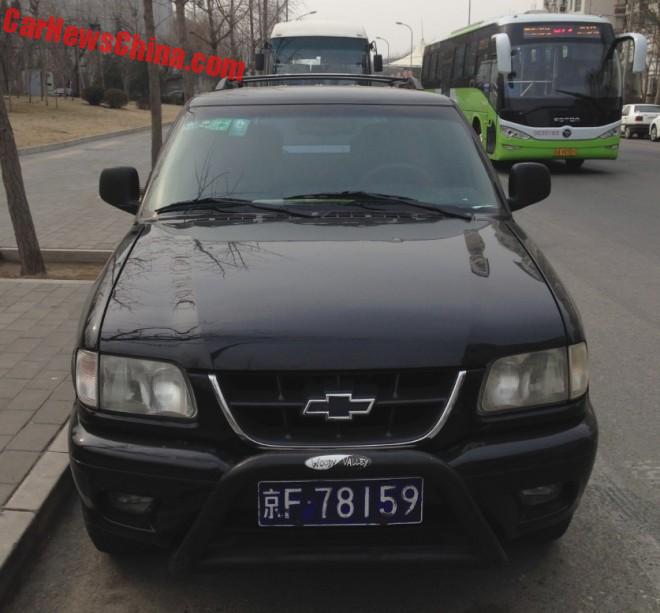 The Chinese Chevrolet Blazer. A good car unloved.