Things used to be simple. There were to kinds of females on auto shows in China. The pretty babes half naked on the cars, and the smart girls handing our brochures at the information desk. But it isn't so simple anymore. The Chinese government spoke out against the pretty babes, so they were gone.
That left the smart girls, but they were usually not pretty; so no photos, no media, and no buzz. Not good. A solution was quickly found: hire the pretty babes again, dress them up somewhat decently, and let them hand out the brochures. Brilliant. We call those females the Brochure Babes.
I made the rounds to say hello. Starting with Hongqi, dressed in short black skirts with a red band. The hands-together posture is a traditional-Chinese hospitality thing.
Moving on the Jeep, wearing gray suit-style skirts, with the one in the middle extra pretty.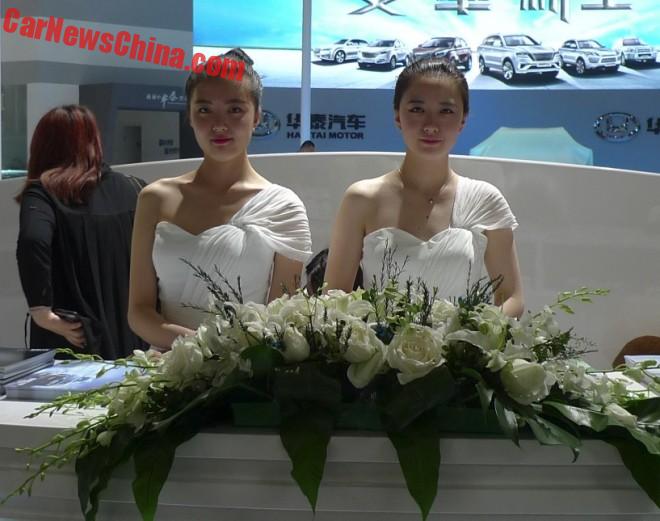 Hawtai in white behind white flowers.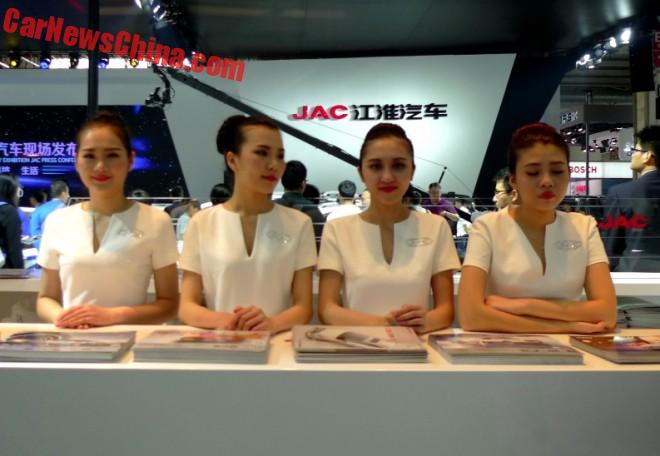 Full house at JAC, girl on the right was pissed about something. Not about me. I was nice. I smiled and said 'thank you'. I didn't zoom in on their tits like all the middle-aged and elderly Chinese 'journalists' do. Really. The come up with a zoom lens big enough to see the back of the moon. They set it up a meter away from the information desk, and start shooting, taking several minutes, zooming in on each girl individually, no matter what! Weird people, weird world.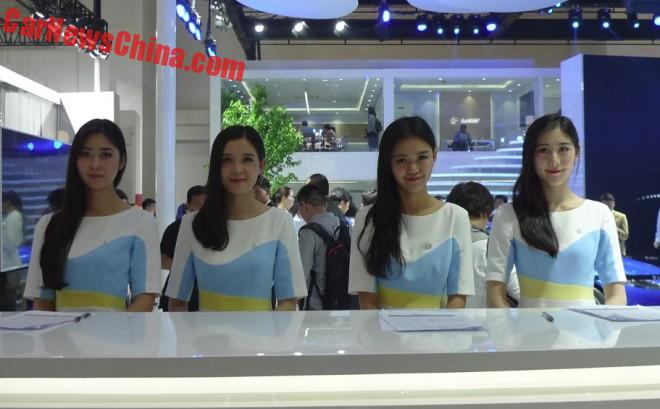 LeSee, looking spring time.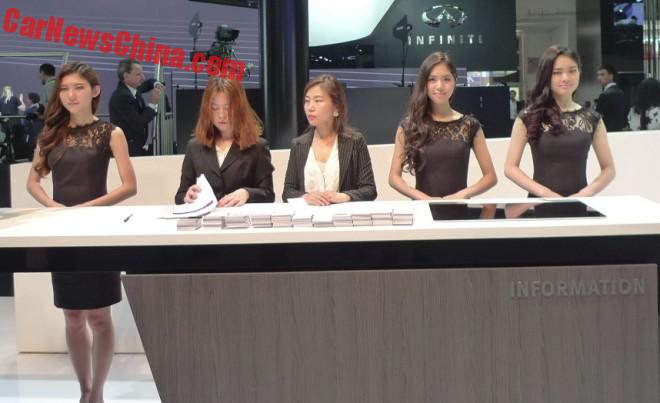 A bit of a mess at Infiniti, with some girls wearing different.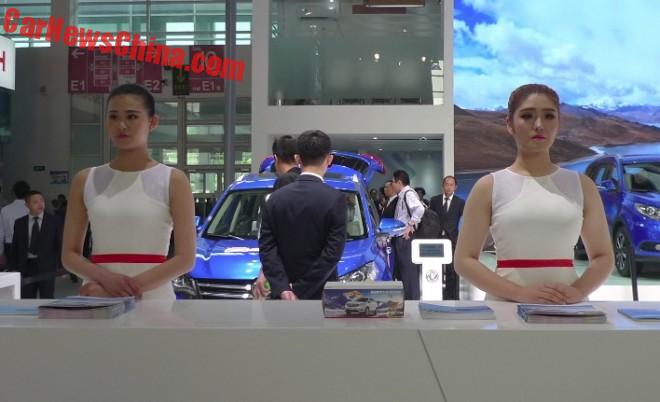 Two very pissed babes at Dongfeng. But they pretty. So that's all right.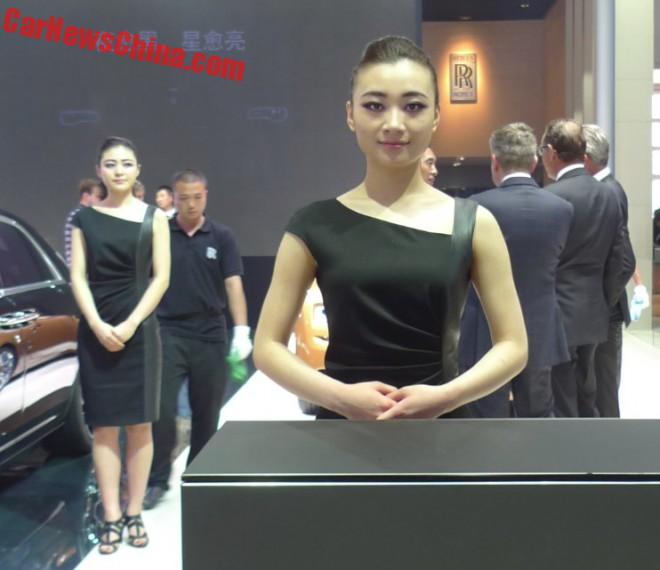 A lone babe at Rolls-Royce. She had no brochures, so nothing to do really. But her smile was warm.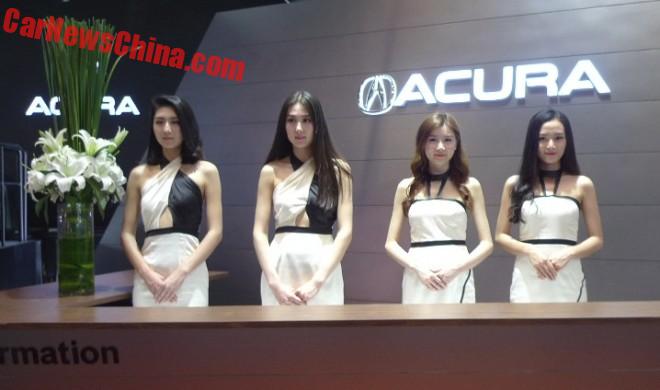 Sad faces at Acura, because they had to look at it.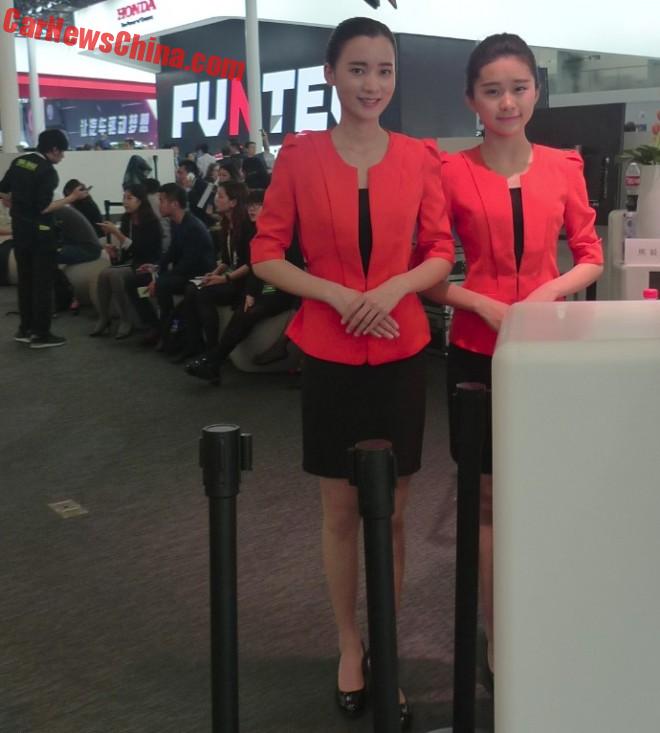 Ending this episode with two very happy ones at Honda, because they didn't have to look at it. This year's show had a whole new floor plan, with sister brands pushed into different halls. Acura and Honda were thus divided. Same for Volkswagen, they used to have all their brands in one hall, now they were splattered all over the place. Good. More Brochure Babes soon later!