The Jaguar XFL has debuted on the 2016 Beijing Auto Show. The XFL is a China-only stretched variant of the Jaguar XF sedan. Wheelbase is extended by 14 centimeters, note the roof line behind the B-pillar, and all the extra space goes to the passengers in the back.
The interior comes with a full blown rear-seat entertainment system, tray tables, and loads of leather and wood. The arm rest however looks odd, too small and too fragile for a car of this class. Very odd. The XFL is also equipped with a double sunroof, and with a new 'Nanoe' air purifier system to keep the evil 2.5 PM particles off board.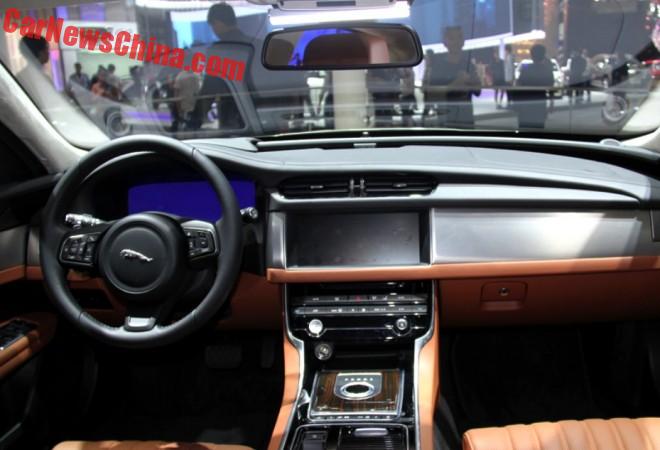 The instrument panel is all digital and the central touch screen is full-size. Not that much wood in front, really just a panel around the gear selector and some in the doors. The instrument panel of the show car didn't work, showing a blue screen. The touch screen was switched off, and very dirty.
The Jaguar XFL is manufactured in China by the Chery-JLR joint venture. It will be launched on the Chinese car market in September. Price will start around 400.000 yuan and end around 750.000 yuan. The XFL will compete with cars like the Audi A6L, the BMW 5Li, and the brilliant new Mercedes E-Class L.
The XFL will be available with two engines: a 2.0T with 240hp and 340nm, and a 3.0T in two variants: one with 330hp and 450nm, and one with 375hp and 450nm. All engines are mated to an eight-speed automatic transmission.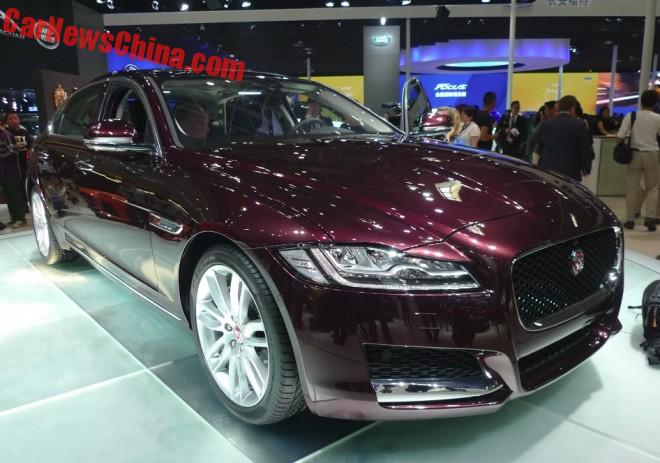 The top spec car, as seen on the show, will get the 375hp 3.0 turbo and four-wheel drive. It will be designated '35t'. The 335hp 3.0 turbo will be designated '30t', and the 2.0 turbo '25t'. Jaguar follows the example of many other automakers in China, with Audi being especially notorious, to let go any connection between the engine and the designations, creating confusion an annoyance for all.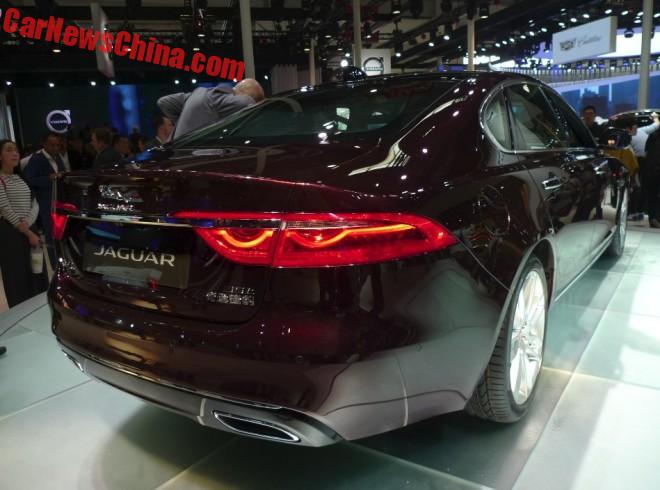 Exhaust pipes nicely integrated in bumper.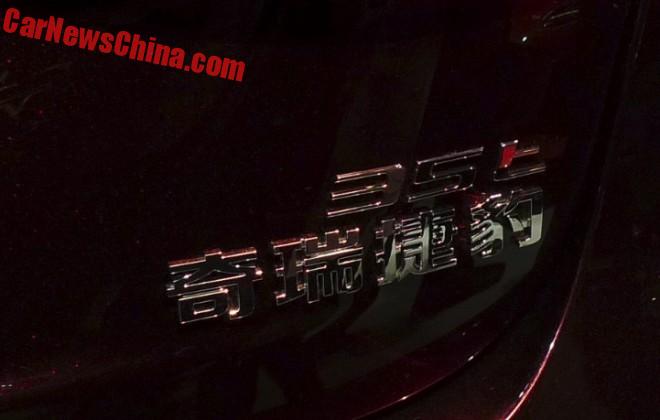 Within the Chery-JLR joint venture the Jaguars are badges 'Chery Jaguar' and the Land Rovers 'Chery Land Rover'.