An extremely beautiful Nissan Cedric V-30 SGL, Spotted in China on a road in the northeast of the capital. The old 'San was in a near-perfect shape, loved and well taken care for. Paint was smooth and chrome was shiny, no serious damage and largely original.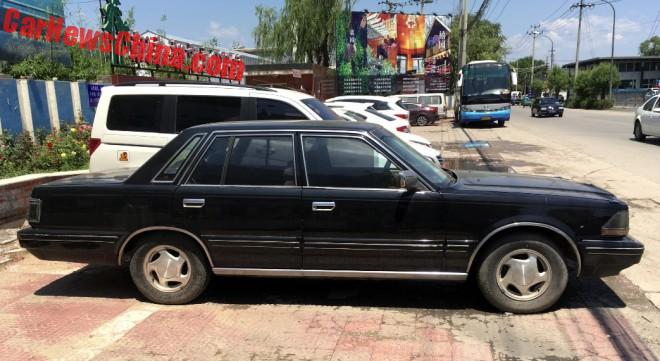 The 6th-generation Y30 Nissan Cedric sedan was made from 1983 until 1987, it was called Nissan 300C in some export markets.
The Cedric V-30 SGL was powered by a 3.0 VG30E V6 engine, good for 146hp and 234nm, mated to a 5-speed manual or a 4-speed automatic with overdrive. Top speed was claimed to be 190 kilometer per hour. The VG-series was Nissan's first mass-produced V6, production of VG-based engines would continue all the way until 2004.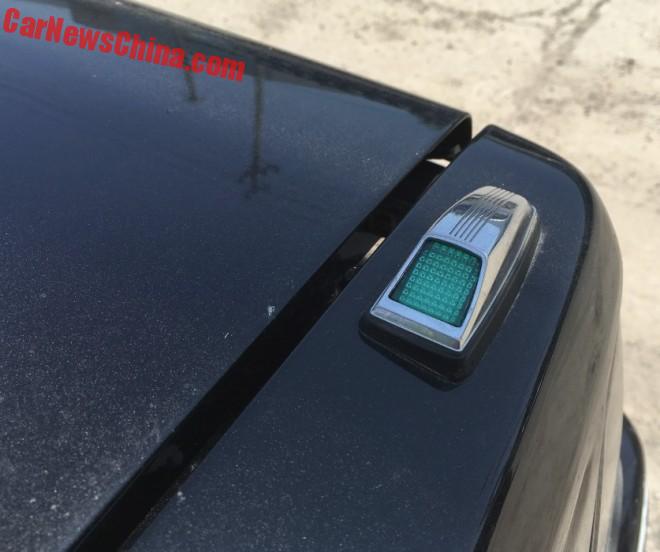 The shiny bulge on each side of the bonnet are external indicator tattle-tales, small warning lights that light up when the driver is using his indicator, see this brilliant explanation. Japanese car makers, including Toyota and Honda, used tattle-tales until the early 1990's on their luxury sedans. They are green on this Cedric, an unusual color.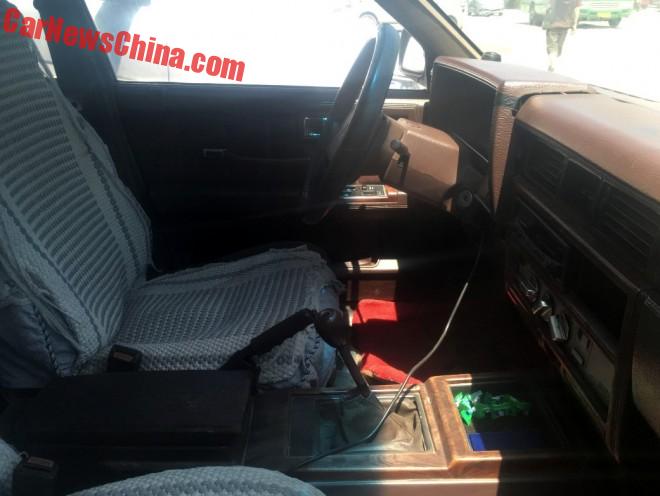 The interior was in a fine shape. The brown color scheme is original. The seat covers, floor mats, and radio are not. Steering wheel is a true 1980's giant! Manual 'box.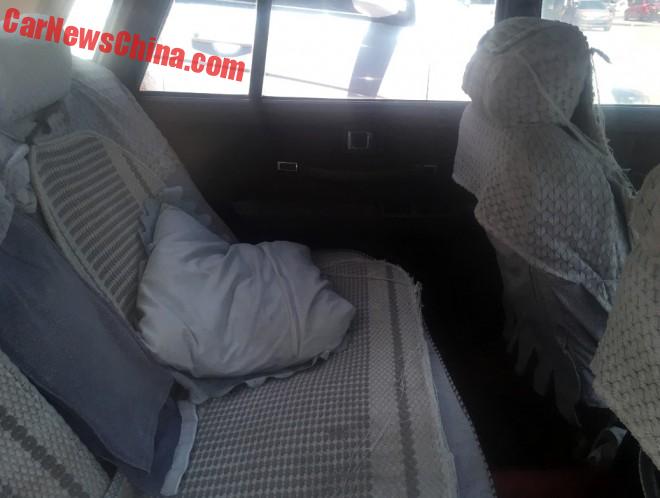 More Chinese seat covers in the back. Square shaped car makes for a lot of leg and head room. Today's sedans got to look sporty, even the big ones, and as a result they are all cramped inside. The first manufacturer that brings back the big sedan with big windows and big space will earn shiploads!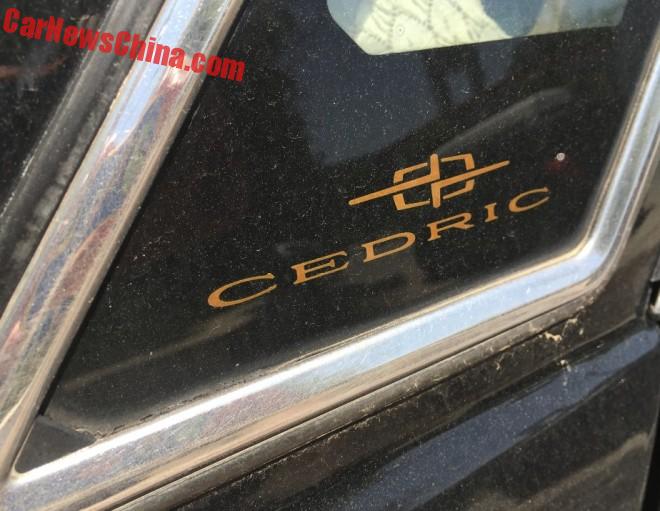 The Cedric badge and Cedric logo on the C-pillar.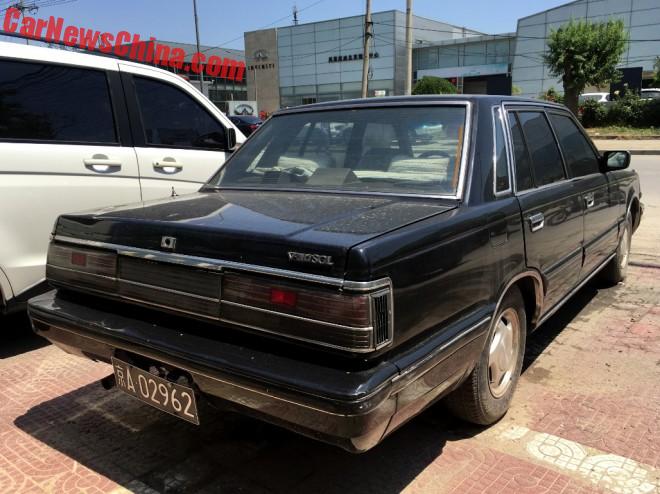 The license plates are black. Black plates were issued to foreign owned companies from the 1980's to the early 00's. These companies could buy a car locally, and they were allowed to import their own cars.
In the old days black-plated cars had some privileges comparable to diplomatic cars; no police officer would dare to stop them and they could basically park wherever they wanted without fear of a fine. Nowadays, a black-plated car is counted just like all the others. The government does not issue new black plates anymore but those who have one can keep it until eternity.
The sixth generation Cedric was not officially sold in China so this particular car was likely a company-import. We also know that the Chinese government imported a few thousand Nissan Cedric cars in the 1980's for official use by government agencies, including some white ones for the armed forces.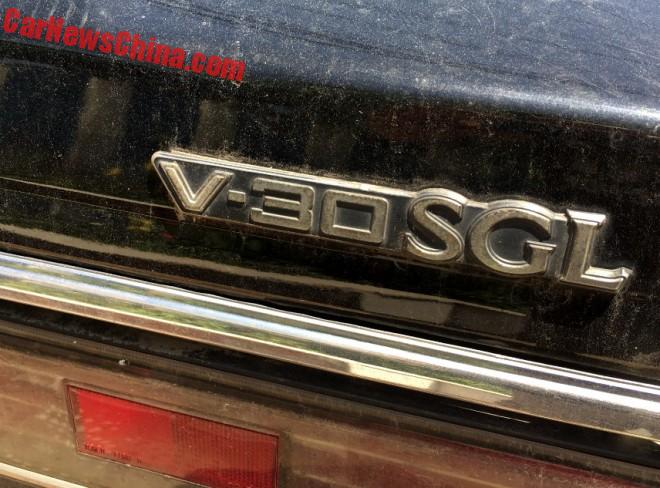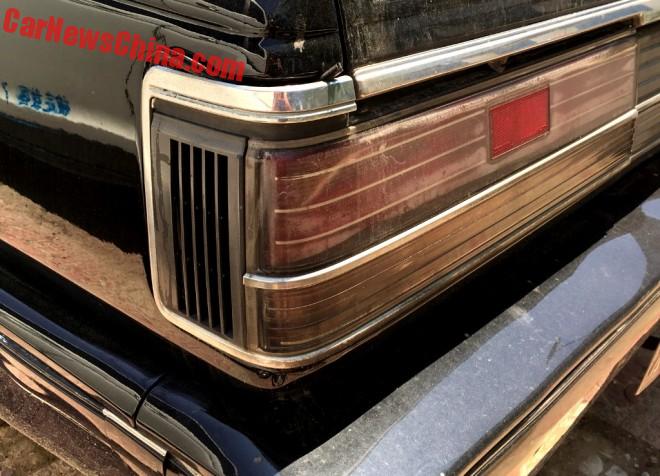 A brilliantly shiny chrome strip around the entire rear light unit, and another strip through the middle. Air vents just around the corner.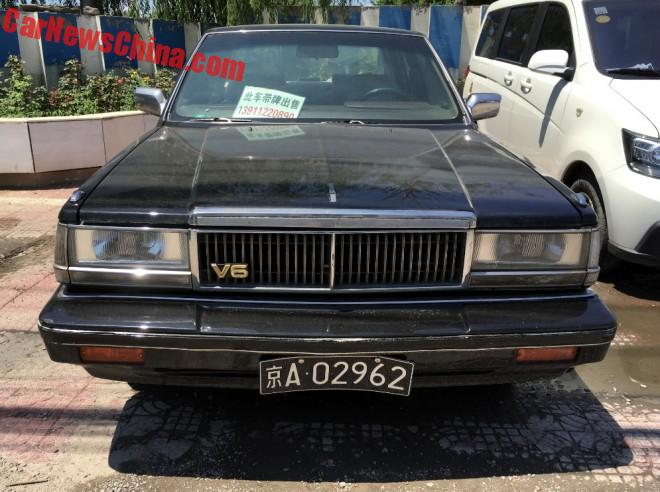 What a great car in a great city. May she roam the roads of the capital forever! Note the note behind the windscreen, offering the car for rent with a phone number. I called but nobody picked up. I will try again and see whether I can arrange a ride…