The final final production version of the Beijing Auto BJ20 SUV debuted on the Chengdu Auto Show in China, with a daring design that one might love or hate. I love. Especially the headlights, the grille, and the fake air intake in the bonnet. Wheel arches look crazy too.
Giant mirrors and proper roof rails. This is a good car.
It will be launched on the Chinese car market in October. Price will range from 80.000 to 120.000 yuan.
The BJ20 is manufactured by BAW, Beijing Auto Works, a subsidiary of BAIC, the Beijing Auto Industry Corporation. BAW also makes the BJ40 and BJ80 SUV's, among many others. The full name of the vehicle is Beijing Auto Beijing BJ20, with the second Beijing short for Beijing Auto Works.
The BJ20 will be sold via BAW dealers and not via the Senova dealers, which will hurt availability and thus sales. Senova is BAIC's successful passenger car brand. But there is a connection anyway. The BJ20 is based on the same platform as the Senova X65. It has the same wheelbase X65 but it is shorter due to the shorter front and rear overhang. Compared:
BJ20: 4451/1845/1710, wheelbase is 2670.
X65: 4654/1816/1680, wheelbase is 2670.
The BJ20 will be powered by a Mitsubishi-sourced '4A91T' 1.5 turbo with 147hp and 210nm, which seems barely enough for such a big car. Transmission is a five-speed manual or a CVT.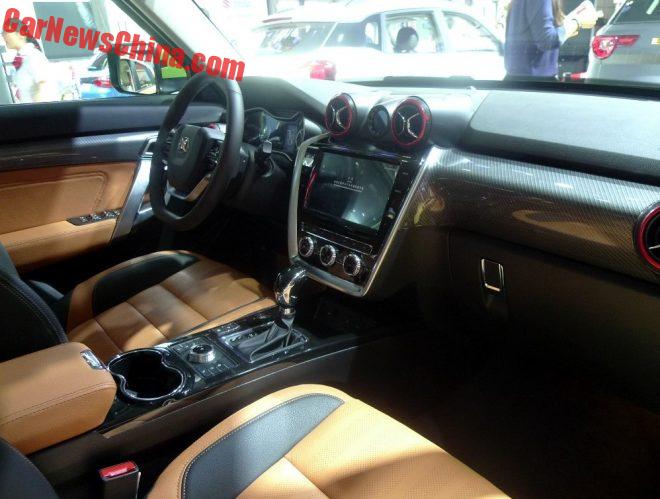 The interior is ultra cool, one might even call it a bit crazy. Red air vents are great. Seats in brown orange leather. Two large cup holders. Compass and altimeter between the air vents. Screen is 11 inches.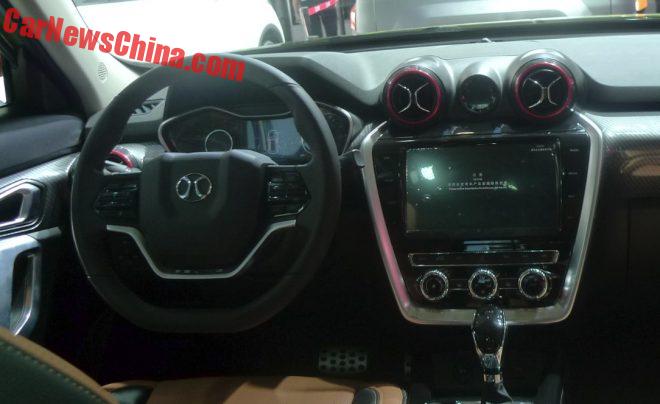 Love the shape of the steering wheel. The Beijing Auto logo comes back in the air vents. And it has perforated pedals!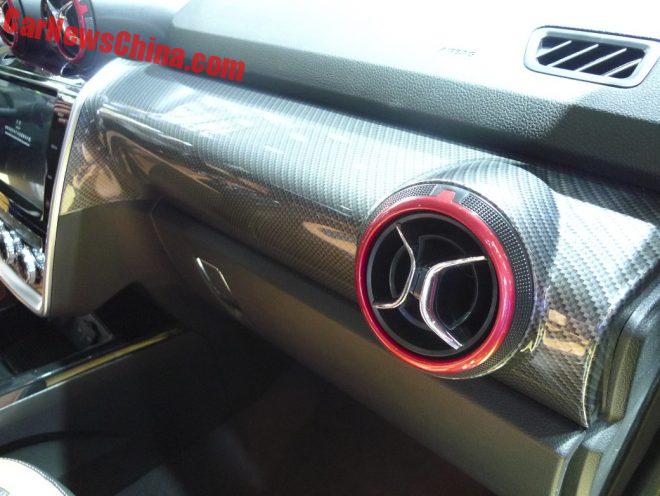 Carbon fiber themed dashboard.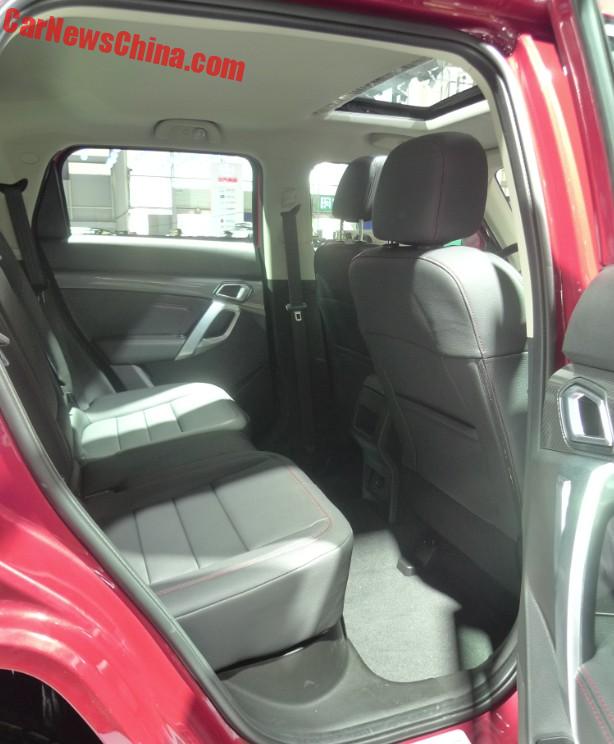 There were two cars on stage, one green and one red. I took the dashboard photos in the green car. All good. The red car however was low spec with an incredible boring interior. Gray! Dash was the same.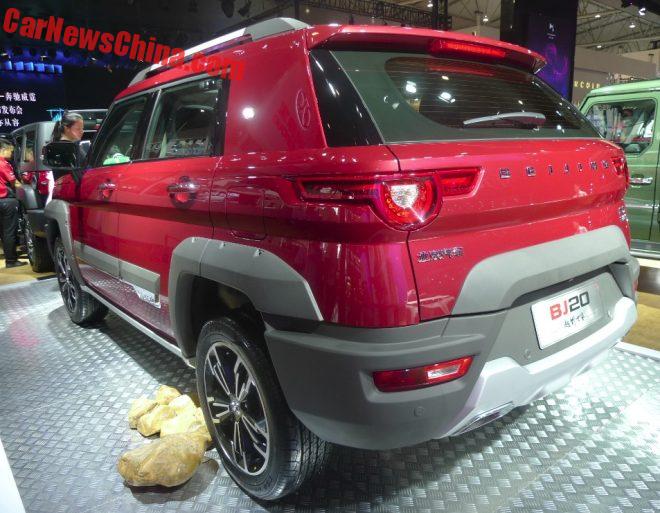 It really needs bigger wheels. Bumper is the work of a mad man. Lights are brilliant.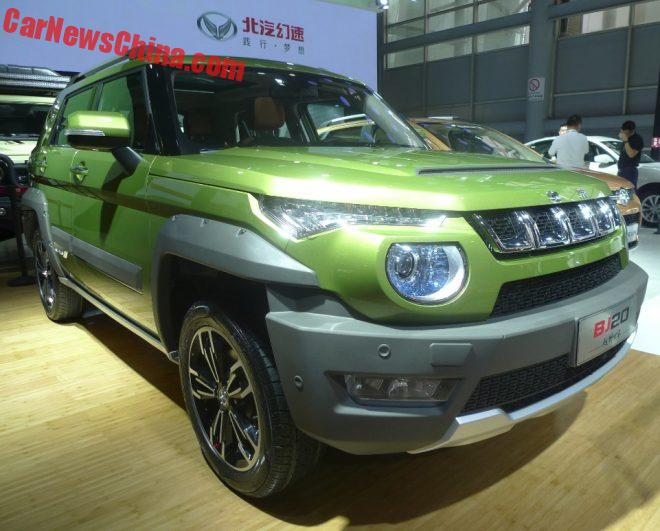 The green car.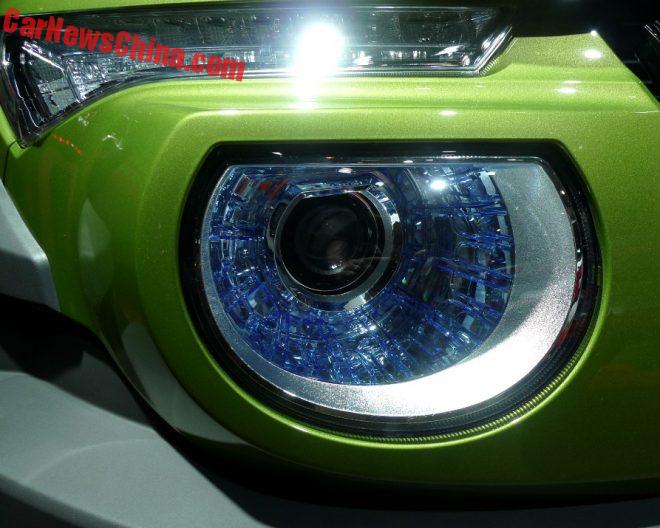 Blue lights!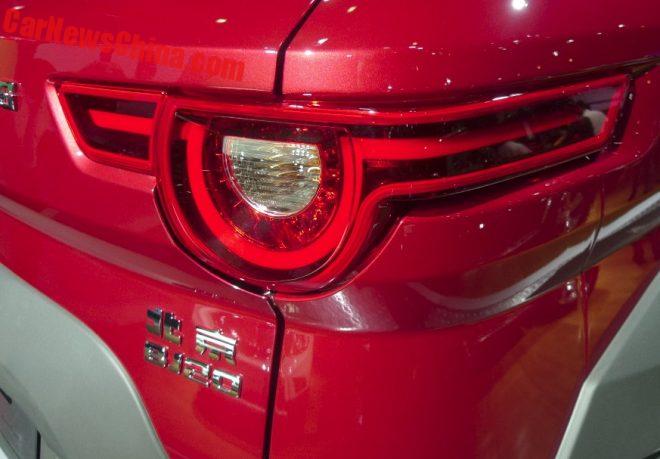 If I need a new car I will seriously consider the BJ20. It is hip. In red.