Hanteng Autos is showing some healthy ambitions, as seen during a presentation during a dealer meeting. The new brand is planning to launch four new cars before 2020. Their first car, the Hanteng X7, launched in July. The white car on stage is an X7, and it can also be seen on the slide under Platform T A+ SUV. The four new cars are:
From left to right: Platform I with a A0-segment compact SUV that will be called Hanteng I3. Power will come from a 1.5 with about 120hp.
On to Platform H with an A-segment SUV that will be called Hanteng X5 and an A-segment MPV that will be called Hanteng M6. The Hanteng X5 is almost ready and will debut in November on the Guangzhou Auto Show, powered by a 150hp 1.5 turbo. The M6 MPV will be available in six and seven-seat variants. It will get the 1.5 turbo and a hybrid power train.
Moving on to Platform T. The Hanteng X7 has been launched, it will get company from a new Hanteng X9 SUV with seven seats. The X7 is a five-seater. Engines of the X9 will likely be the same as in the X7: a 1.5 turbo with 150hp and 215nm, and a 2.0 turbo with 190hp and 250nm. The 1.5 turbo is mated to a five-speed manual and the 2.0 turbo to a six-speed DCT.
Great plans, and looking how they are expanding now, with dealers opening everywhere, it seems the company has a lot of cash and staying power in hand.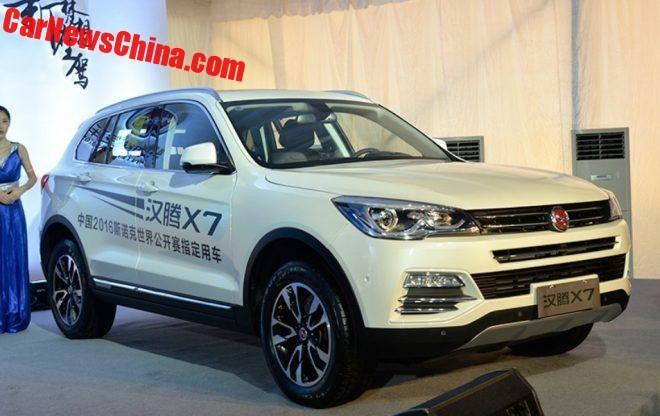 The Hanteng X7, price starts at 79.800 yuan and ends at 148.800 yuan.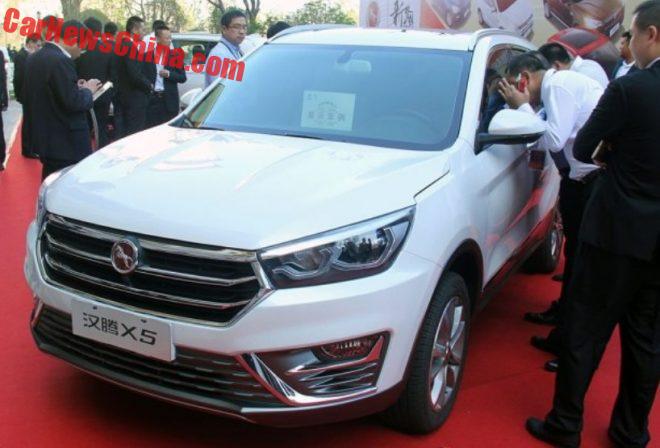 The upcoming Hanteng X5. Price will range from about 65.000 to 85.000 yuan.
Hanteng Autos, with an S at the end, is a new car company. The Chinese name is Hanteng Qiche, full name is Jiangxi Hanteng Automobile Corporation, founded in 2013 in the great city of Shangrao in Jiangxi Province.