A beautiful Rolls-Royce Phantom II, Spotted in China in a car repair in east Beijing. The Roller has body by coach builder Connaught Motor & Carriage Co Ltd. of London. It is a bit dusty but otherwise in perfect shape, with a working engine and always kept ready to to roll.
The Phantom is kept in storage for its owner, a wealthy Chinese businessman who shipped it in from Hong Kong. Staff of the shop told me he barely visits his car, and that he usually takes it out just once a year for a classic-car event.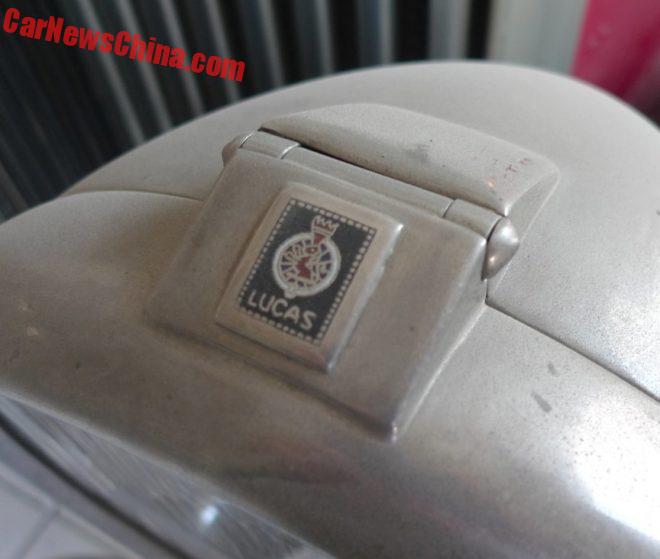 Headlights by a firm named Lucas.
The Rolls-Royce Phantom II was manufactured from 1929 until 1936. Rolls-Royce produced 1680 units. As was common in the times they basically just made an engine and a chassis. Specialized coach builders would then built a body and an interior on it.
A customer would buy the chassis at Rolls-Royce, ship it to his favorite coach builder, and have them finish the car. Some coach builders only made one-offs, others made small series. Connaught was one of the latter. It is believed they made five Phantom II with a body like the Beijing car, which was manufactured in 1930. The red and black color scheme is original.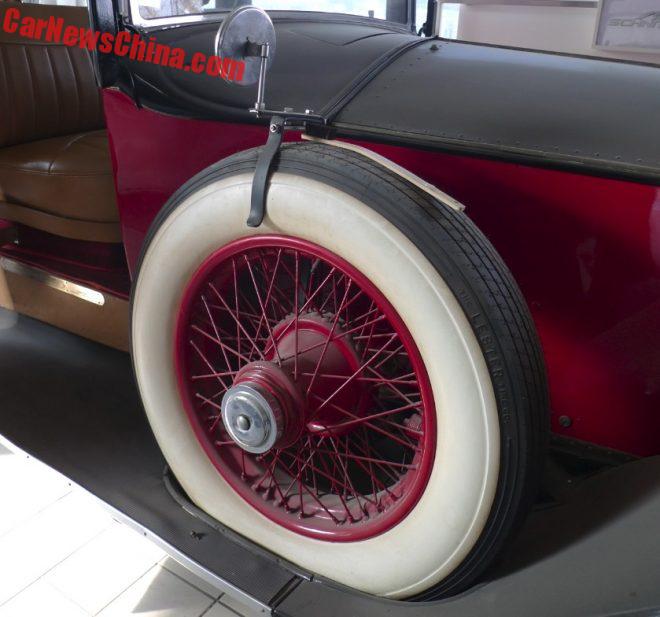 The Phantom II was powered by a massive 7.7 liter straight six engine, mated to a four-speed manual transmission.The engine delivered about 120 horsepower. It is a giant of a car, just over five meters long with a 3685mm wheelbase.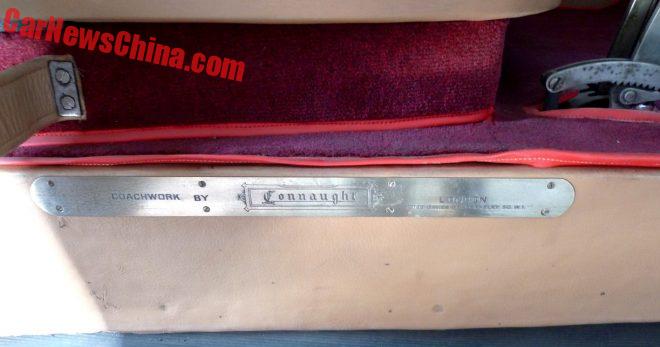 The Cannaught badge, reading: Coachwork by Connaught. London. 34/36 Davies ST., Berkeley. SQ. W. 1., the full London address so other potential customers would know where to go!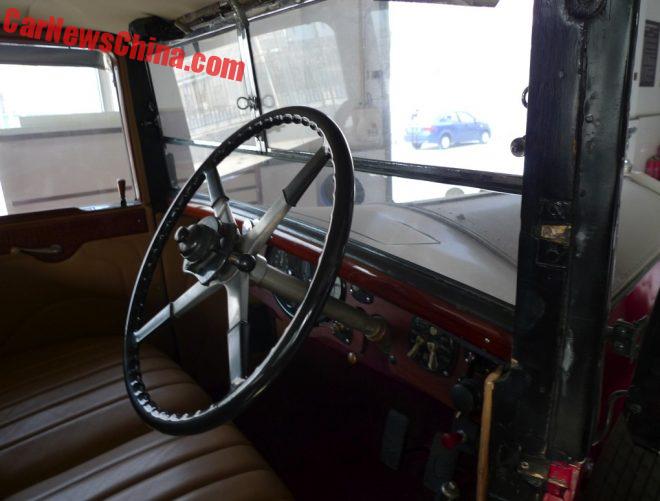 The interior was in a fantastic shape as well. A giant steering wheel with a thin black rim, loads of leather and wood, and everything looked absolutely unbreakable.
The only modern addition is this red emergency button which kills the electricity and thus the car.
The front bench however, no matter how pretty, is for the chauffeur. The owner sits majestically in…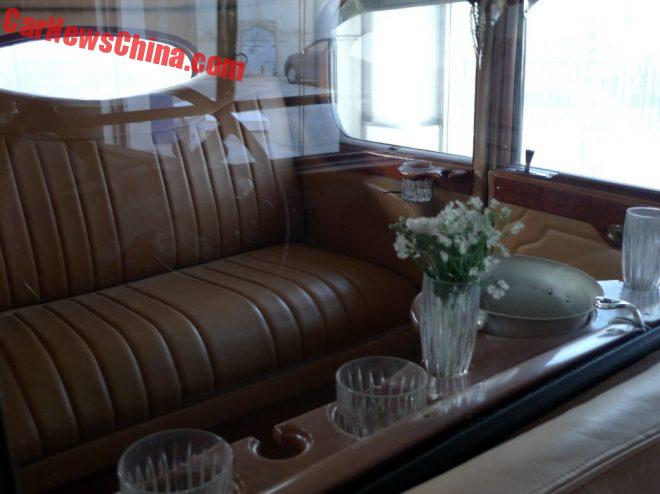 … the back. There is a glass divider between the front and rear compartments. The shop didn't want to open the door of the rear and I can understand why. They don't want any egghead writer destroy one of those brilliant crystal glasses, or the champagne cooler, or the plastic white flowers, or the ash trays, or the ultra luxurious soft brown leather bench. What a beautiful car!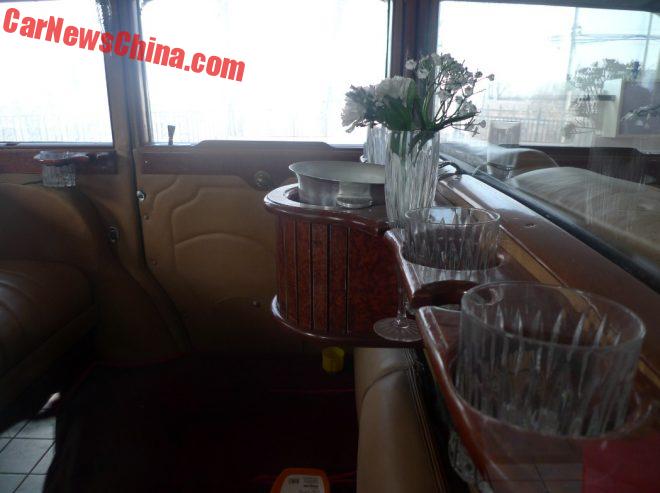 Note the brilliantly crafted wooden pod for the champagne cooler. Such craftsmanship, we sorely miss it today. Oddly, and rather not-respectfully, the plastic flowers sit in one of the champagne glasses.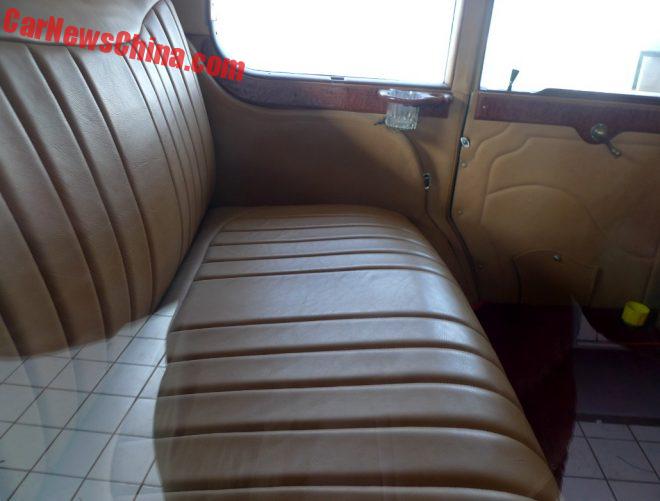 A very wide bench with another glass in a holder on each side. There is at least a meter of space for the legs. Traveling in comfort! The rear doors open normally, and the front doors open suicide.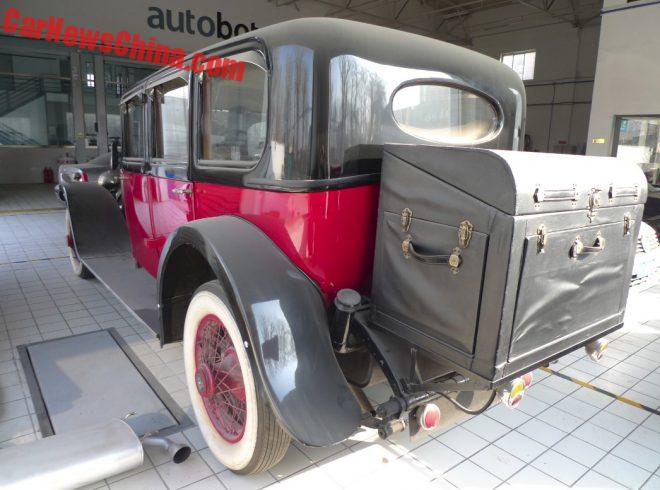 The bags went into a large case attached to the back. It is huge and big enough for three Samsonite suitcases, or about eight trays of beer.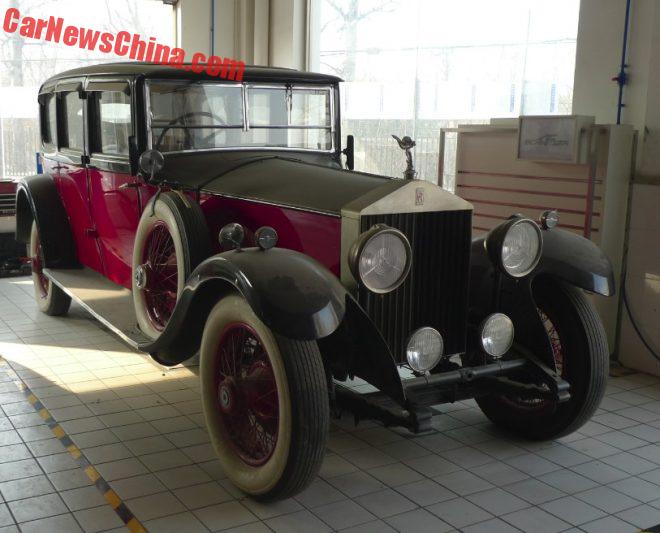 Get it back into shape, drive it to England, and become a hero.