This is the T-King Oujia, a low-speed electric vehicle (LSEV) from China. The vehicle is exactly three meters long, it seats four, and looks rather good for the segment. Most eye catching design aspect is the Volvo grille up front.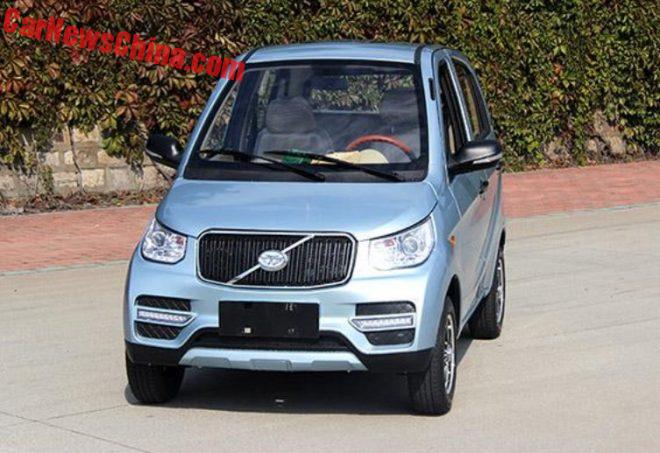 And it almost looks like a Volvo in light blue metallic, which is a typical Volvo color.
The Oujia is manufactured by a company called T-King, which is a great name, based in the great city of Zibo in Shandong Province. Originally, they made a range of petrol and diesel powered commercial vehicles, like small trucks and vans.
In recent years however they have moved into electric vehicles, electrifying most of their existing vehicles and adding a line of LSEV's. The Oujia is one of those, but the only one with a Volvo grille.  Oujia is best translated as "Europe (is) good", meant to evoke impressions of European quality.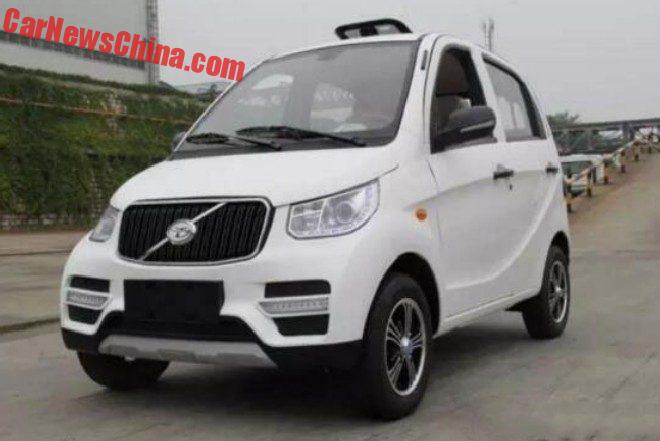 The T-King logo is inside the circle.
The Oujia is powered by an electric motor with 4 (four) horsepower. Battery is a 60V/100aH lead acid. Most LSEV makers use lead acid as lithium ion is still too expensive. Top speed is a decent 35 kilometers per hour and range is 100 kilometer. Charging takes a hefty 10 hours on 220V.
Size: 3000/1400/1450, wheelbase is 1930 and curb weight is 715kg.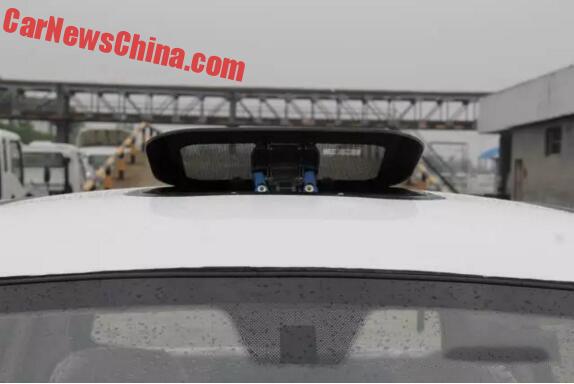 Fancy some breeze? Open the roof.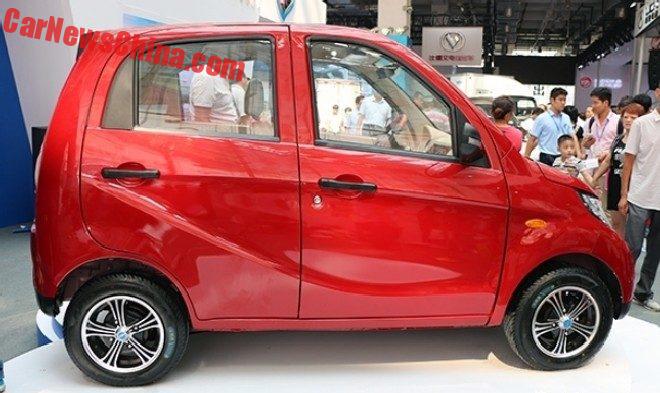 The Oujia is very cheap. It is offered all over the internet with prices hanging around the 20.000 yuan mark, and that is only $2900. For that money you get four doors, sporty wheels, black mirrors, black door handles, and of course that Volvo grille.
The dash is not bad. Sadly no Volvo here, just the T-King badge on the wheel. Shiny plastic wood is making a comeback in China. It was very popular among car makers in the early 00's but then got out of fashion. It returned in some anger about one and a half year ago, and LSEV makers have picked up on it.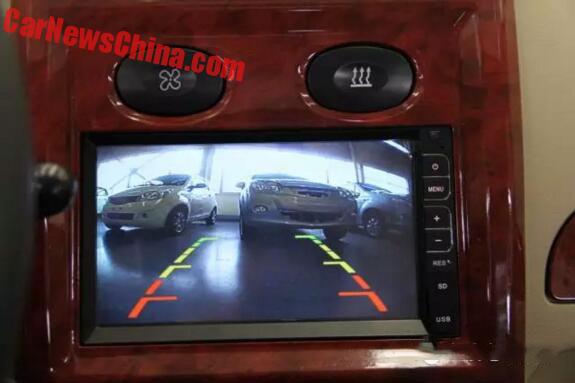 The infotainment system is equipped with a radio, rear-view camera, a USB port, and an SD-card slot.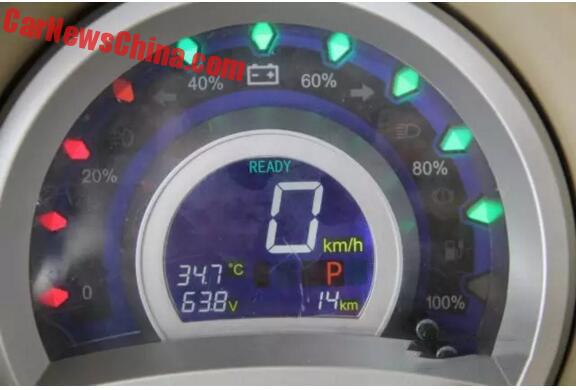 The instrument panel looks properly 1980-high-tech-dream, with the classic digital font and red and green lights.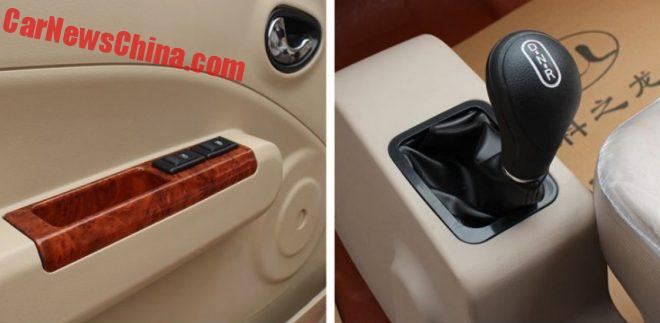 Wood on the doors and a neat black gear lever. D-N-R is all you need baby!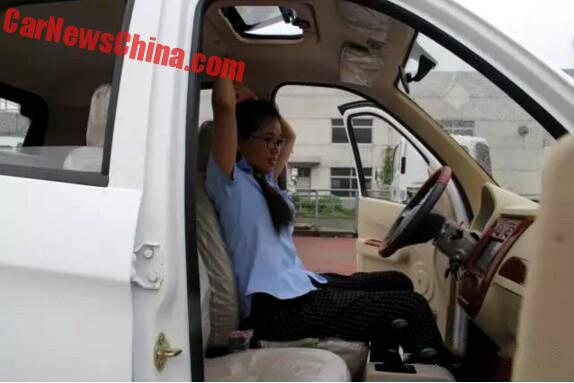 And here is a pretty baby, demonstrating how big the Oujia is inside. We happen to know that she is exactly 1.63 meter tall, so keep that in mind.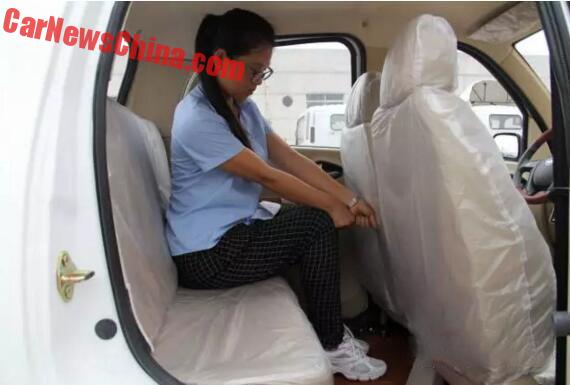 Our lady is wearing a blue short, black pants, white shoes, a watch, and glasses. There is enough space for two of her fists between her knee and the front seat.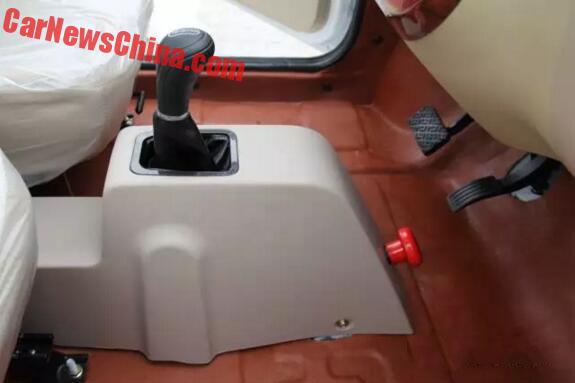 How to bolt a transmission tunnel onto the floor. Easy. Red button is the emergency button, hitting it kills the electric power and thus the car. But it is located on an unhandy place; when you hit it you won't see the road, and crash anyway.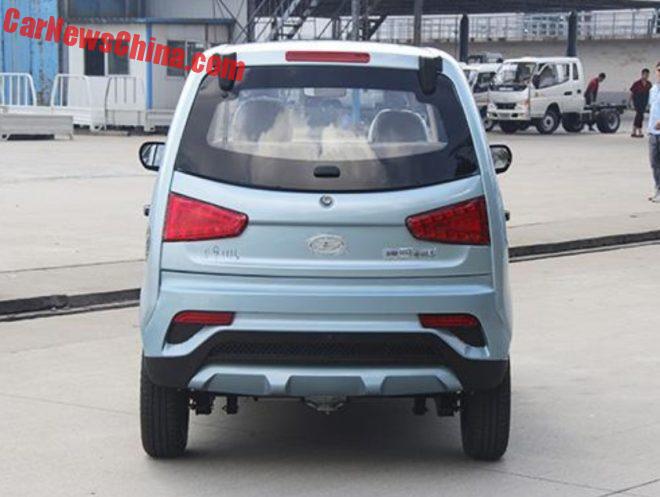 Showing its motor and spring leafs.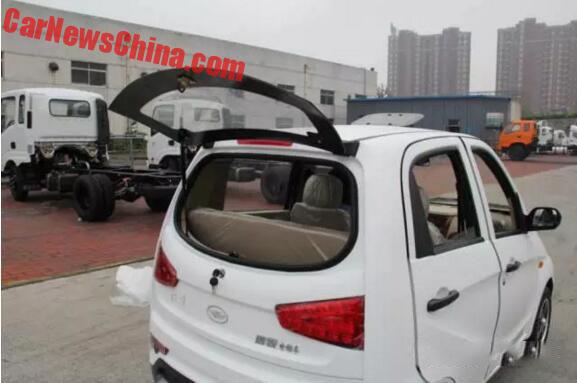 A rear door is expensive to engineer, it is much cheaper to turn the window into a door.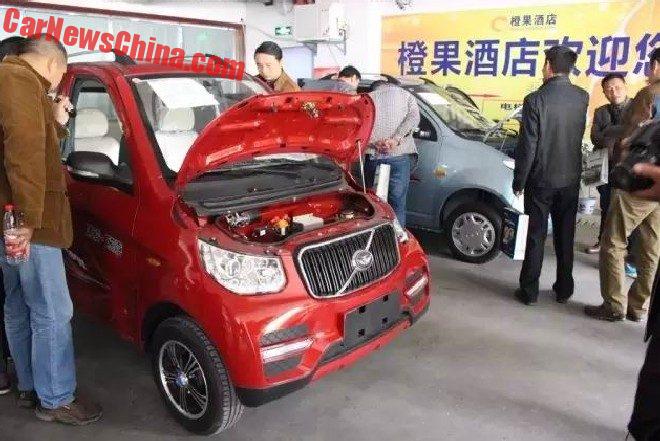 "Those Volvo's keep getting smaller, do they not?"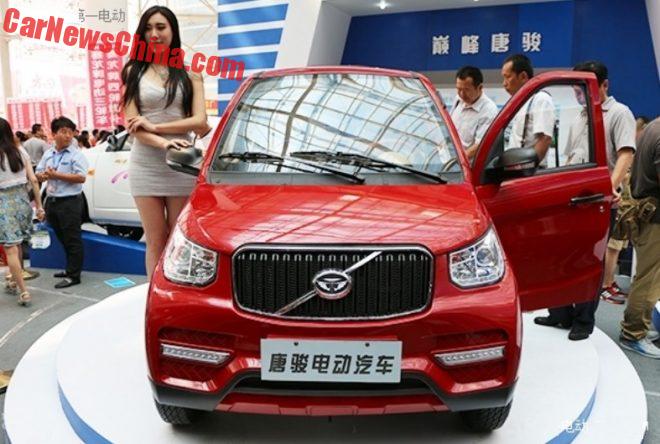 With another girl with less on. She seems a bit taller than 1.63 meter. Would love to see her in the back, measuring stuff and such.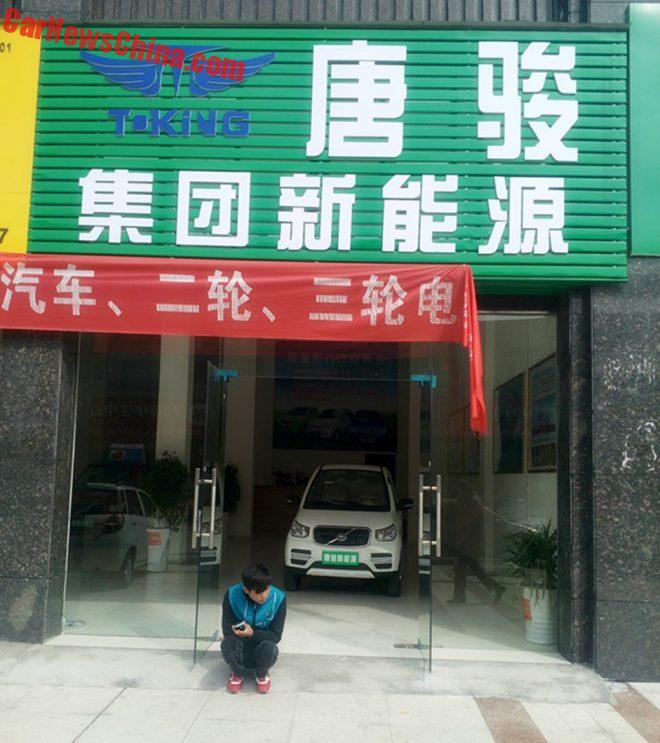 But that was just an auto show dream. This is the reality. A T-King dealer with the Oujia somewhat sad inside, and a lone salesman looking very bored. Still, a $2900 Volvo is a good deal.