Beijing Auto is adding two new variants to the BJ2022 Brave Warrior range; a cheap ass version with a Mitsubishi engine and a expensive version with a Saab engine. Starting with the first, as seen on the first photo. It has a fixed roof and it looks the business in army green, but it is really a civilian car. It will be launched next month. Price will range from 130.000 to 180.000 yuan.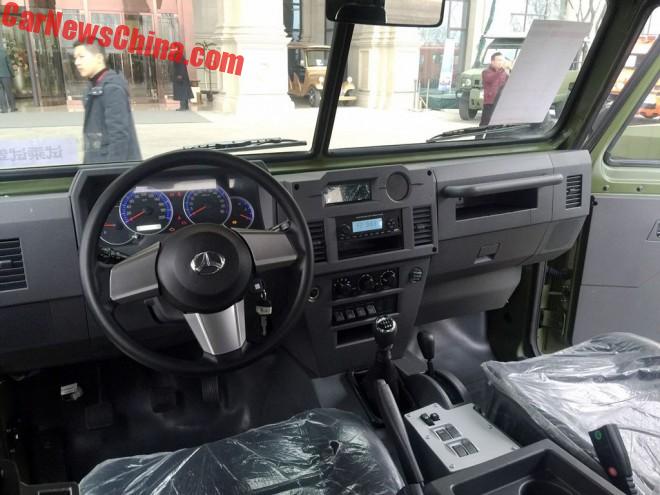 Basic design of the dashboard is the same as in all the other BJ2022's but it comes with blue dials and a new panel for the electric windows on the center tunnel.
Power comes from a 2.0 turbo four-cylinder petrol engine sourced locally from the Shenyang-Mitsubishi engine-making joint venture. It has an output of 190 horses and 253nm, it is mated to a six-speed manual sending power to all four wheels.
This 2.0 turbo engine will also power the new Beijing Auto 008, and already powers classics like the Landwind X7 and the Zotye SR9, among many other vehicles from various Chinese automakers.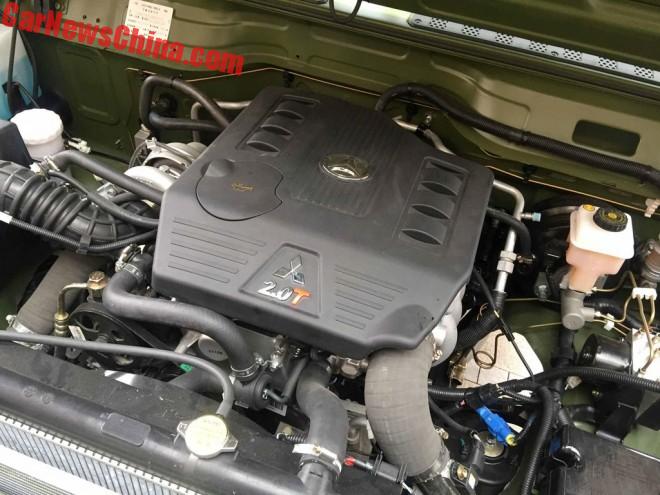 The Mitsubishi 2.0 turbo under the bonnet, with a red T.
The 008 is manufactured by Beijing Auto Works (BAW), a subsidiary of the Beijing Auto Industry Corporation (BAIC) that mostly makes rugged 4×4's and SUVs like the BJ80, the BJ40, the BJ2022, the BJ212, the Zhangqi, and the somewhat trendy BJ20.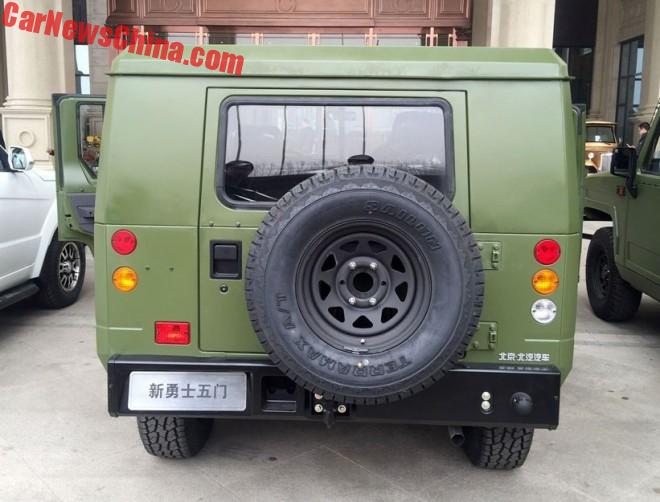 Note single reverse light on the right side.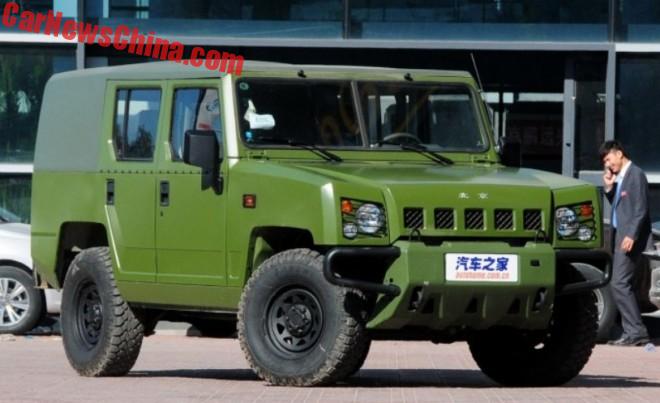 This is the standard BJ2022 with a hard-top roof. Price ranges from 197.000 yuan to 209.000 yuan. Engines: a 136hp 2.5 turbo petrol and a 150hp 2.7 liter diesel. These engines are absolutely ancient but salvation is coming in the shape of the Saab 2.3 turbo, which is good for 250 horses and 350nm. A hike of 100 horses seems a lot to handle, let's hope BAW also upgraded the suspension and brakes.
Price for the BJ2022 2.3T will start around 200.000 and end around 230.000 yuan.
BAIC bought the rights to the Saab 2.0 turbo and Saab 2.3 turbo from GM in 2009, along with the rights to the platforms of the Saab 9-3 and first generation Saab 9-5. The 2.3 turbo also serves in the BJ80,the Senova D70 and the Beijing Auto BJ40, among others.