The monstrous Mercedes-Benz G-Class truck is only available with tree-killing and fish-murdering V8 and V12 engines, and that ain't good. A Chinese company decided to show the way and save planet earth. On the 2017 Shandong EV Show they came up with this Qifeng K7, a G-Class clone but with a smaller footprint and an electric motor.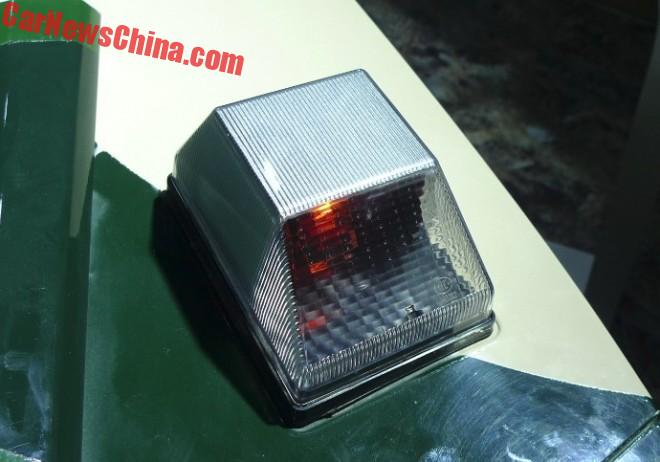 It has become a very good clone, including even these windbreaker indicators.
The Qifeng K7 is made by a company called Qifeng Auto. They used to be independent but they were recently gobbled up by Lichi Electric Vehicle Corporation (web), one of the largest LSEV makers in China. Lichi also likes Mercedes-Benz; they cloned the new Smart. That car was on display as well, more on it in a new post. The Qifeng K7 had a Lichi badge on the grille, but staff gave me name cards with the Qifeng name still on it, and the Qifeng website, which is dead. Need a bit more integration there!
Qifeng is a nice name. Qi is best translated as excellent horse, and feng means wind.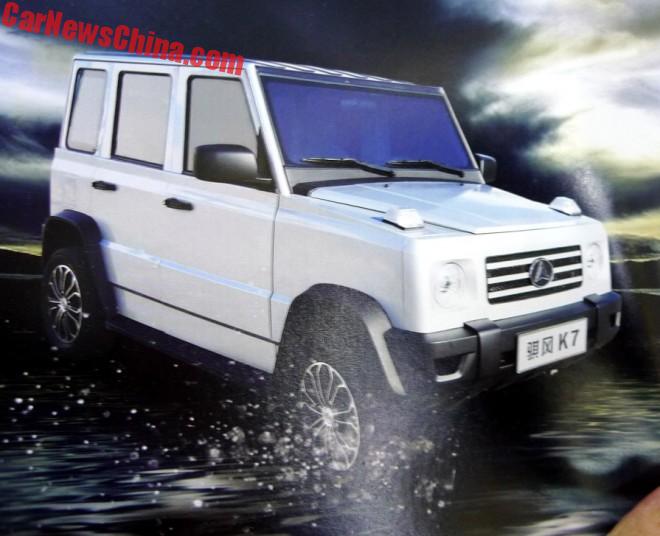 They only had one K7 on the booth with an army-wrap on it. This his how it looks in white.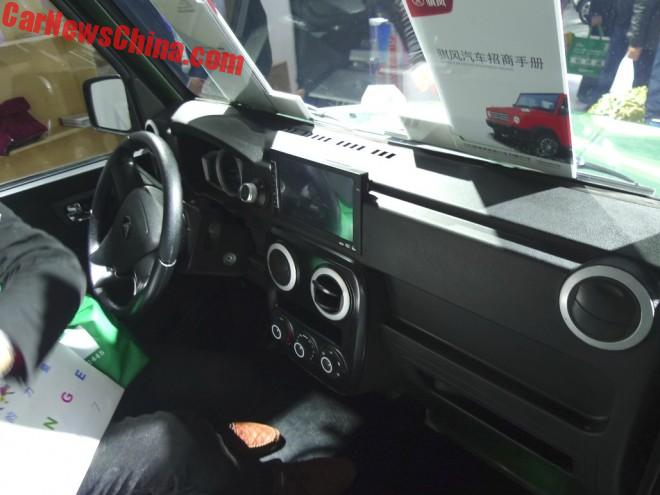 The dash was very boxy, not unlike in the G-Class. But it needs some more color. The touch screen measures 8 inch. The drive selector is located on the left side of the screen.
The K7 is available with an electric motor with 5.3 hp or one with 6.7 hp, mated either to a 60v or a 72v lead-acid battery. Top speed for the 6.7hp/72v combination is 50 kilometers per hour and range is 170 kilometers. Size: 3290/1482/1614, and wheelbase is 2143.
Price for all this pretty starts at 24.988 yuan or $3620.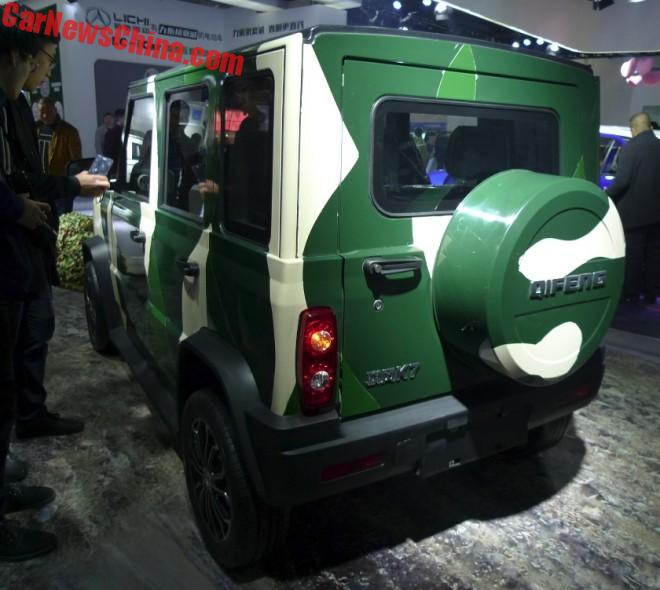 Spare wheel cover was empty, it was just for show. Lights look more modern than the ones on the G-Class, so Qifeng improved that too..!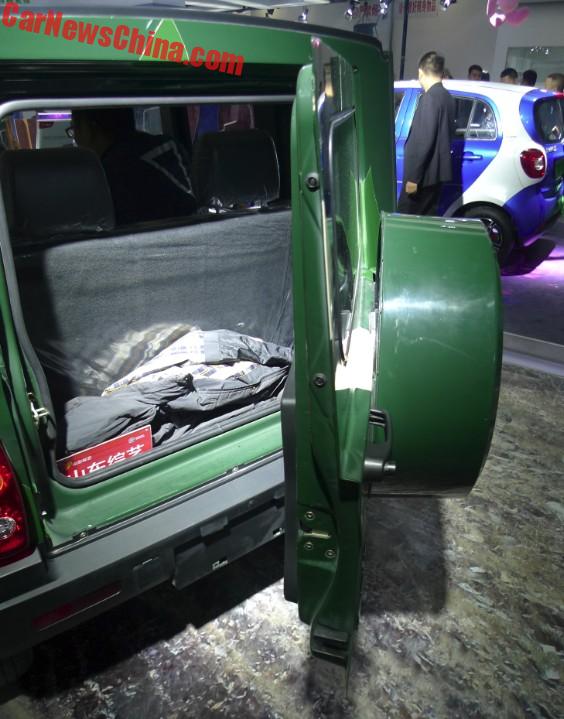 The door opens in the same way as on the G, but there isn't much space for the beer. Note the Smart-clone in the background.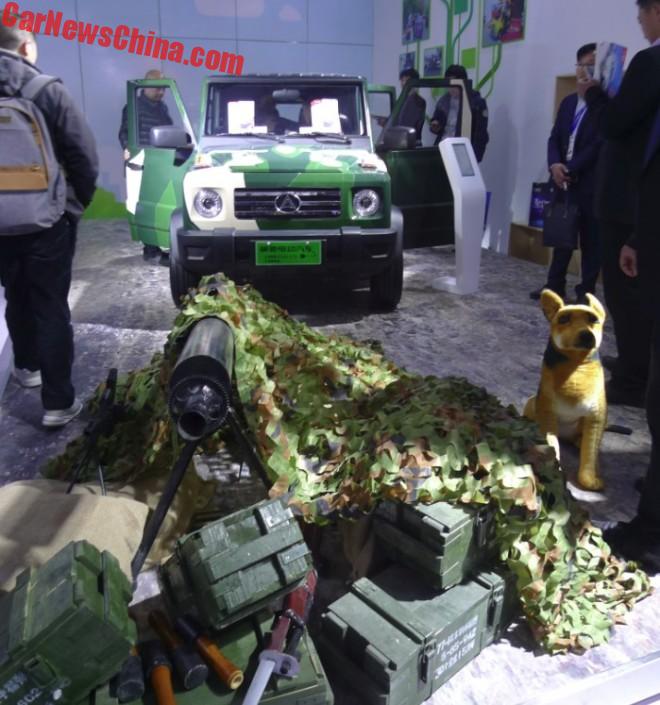 The K7 stood on a large display with fake sand and such, and then a big machine gun, ammunition boxes, knives, grenades, a camouflage net and a stuffed dog. It all looked very Word War II-ish. Probably a nod to Mercedes-Benz' illustrious past.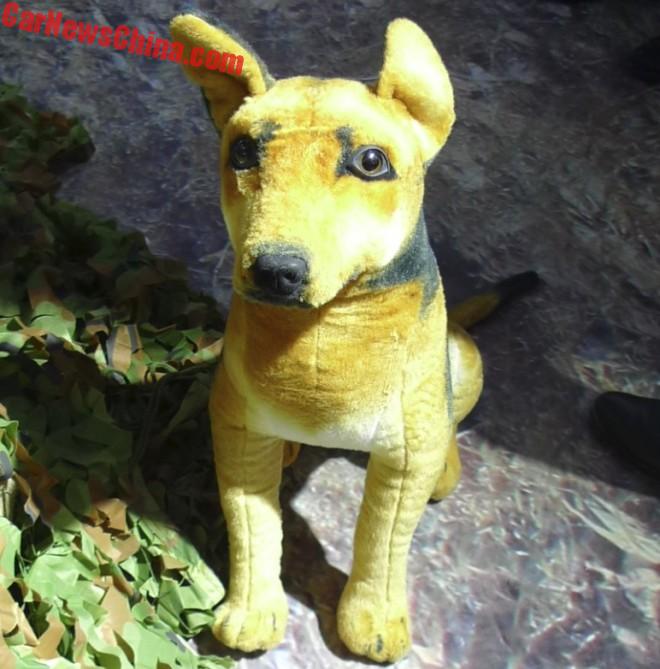 Guarding the clone.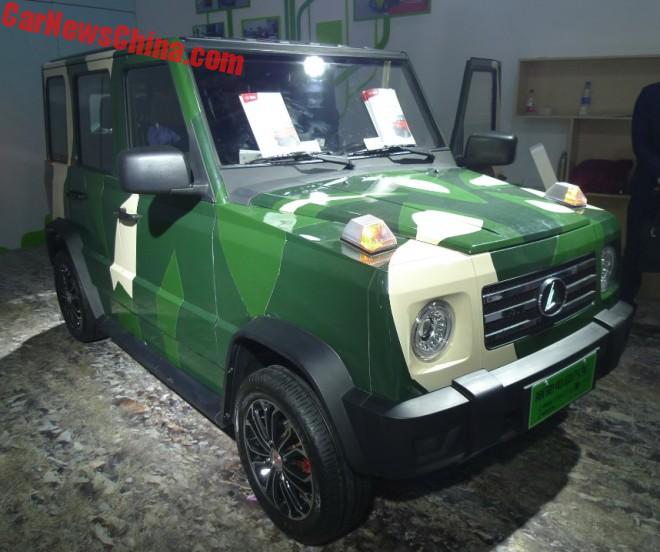 An electric G for little money. With red brakes!