Highlights Of The 2018 Beijing Auto Show Day 2 Part 3
Welcome to Part 3 of our coverage of Day 2 of the 2018 Beijing Auto Show. Starting with the Guangzhou Auto Energe, a concept car previewing an upcoming sporty electric crossover, to be positioned above the GE3 electric crossover.
The Guangzhou Auto Trumpchi GM6, a mid-size MPV that will be positioned below the Trumpchi GM8. It will hit the market in Q3, powered by a 1.5 turbo with about 150 hp.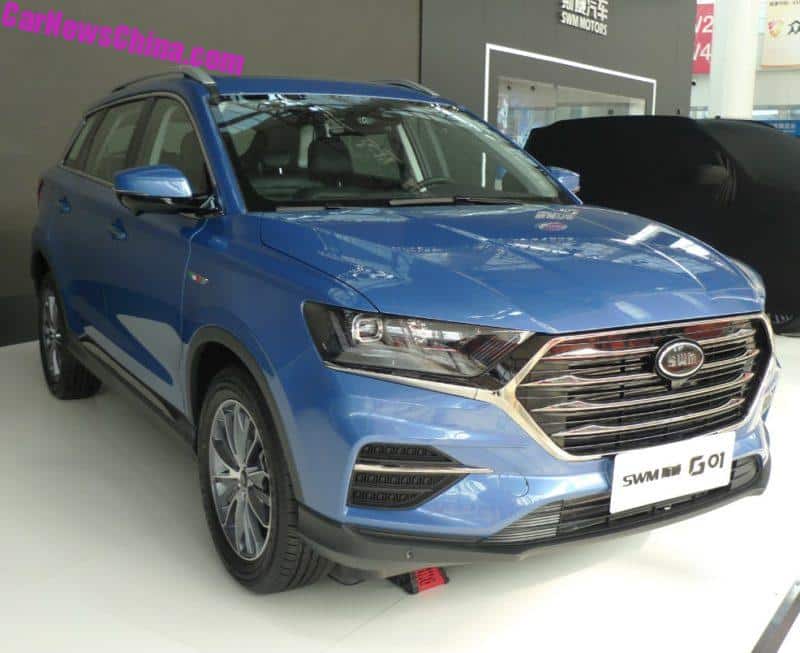 China-debut of the Brilliance Shineray SWM G01, a compact SUV that will launch soon. It looked all right inside and out. Sadly however their booth was in a faraway part of a hallway, so nearly nobody paid attention. We did.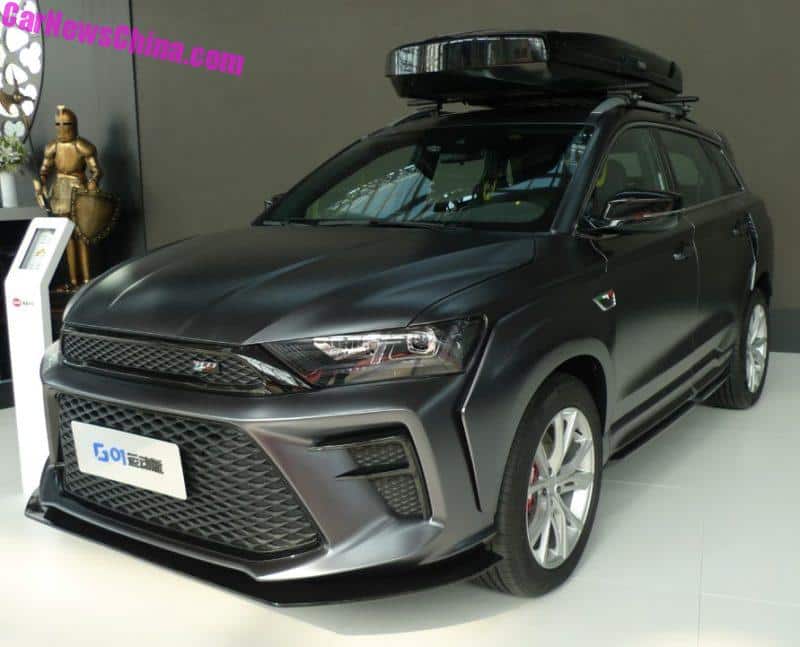 The also has this G01 Sport, a G01 with an extra fat body kit, red brakes, and matte black paint. Nicely done, but sadly just for the show.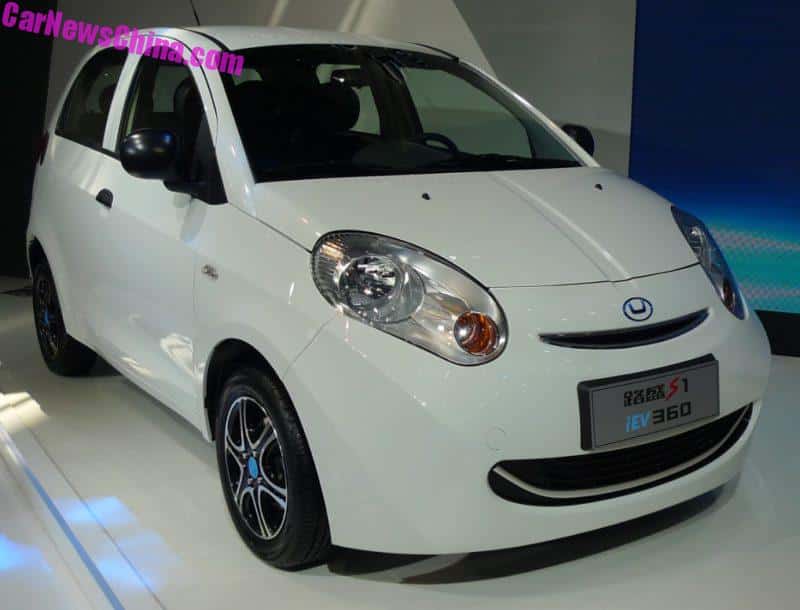 Hawtai is still alive, and to survive any further they need to go electric too. So they had three new EVs on show, two of which are based on old Chery petrol cars. Not sure how they got the right to the design, and to why Chery would sell it to Hawtai.
This Lusheng S1 iEV360 is based on the Chery M1, production ended in 2012. But now it is back as a Hawtai EV. It was launched on the market on the show, priced at 65.800 yuan, and for that money you get 58 electric horses and a 225 kilometer range.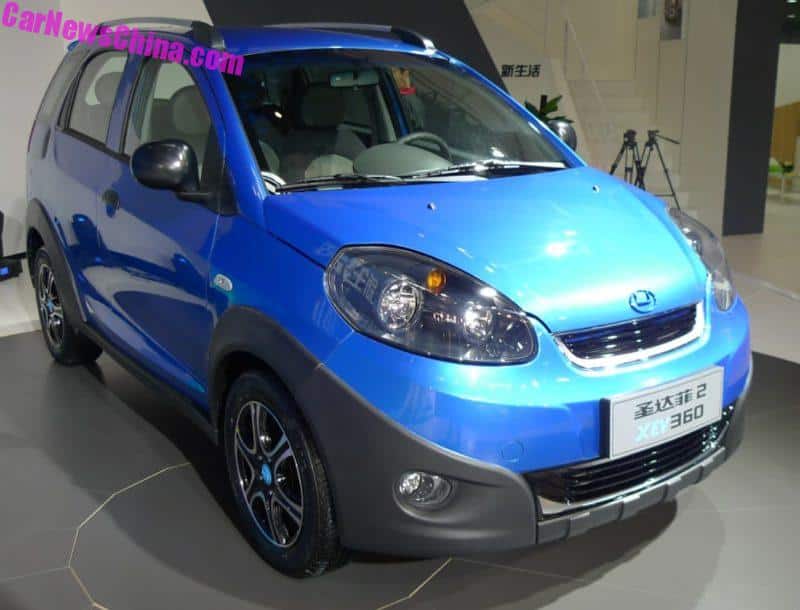 The Shendafei 2 XEV 360 is based on the Chery Riich X1. The x1 went out of production in 2013, and back now as another Hawai EV. The Shendafei 2 XEV360, such nice names these vehicles have, has been launched as well, priced at 68.800 yuan. Power comes from the same motor as in the Lusheng S1 iEV360.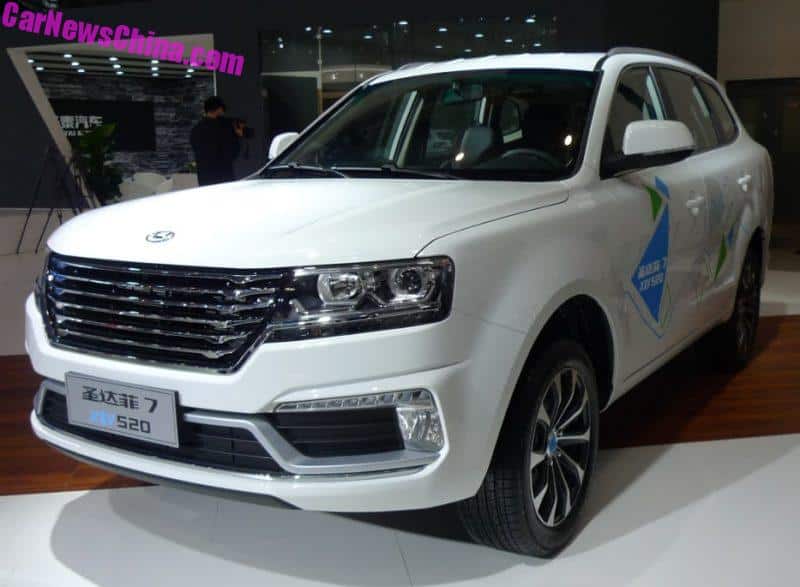 This is the original Shendafei, with us since 2010. The petrol version is still selling, and Hawtai has now added the EV version to the lineup. The EV is called Shendafei 7 XEV 520. It will be launched later this year, and Hawtai only said it has a range of 400 kilometers.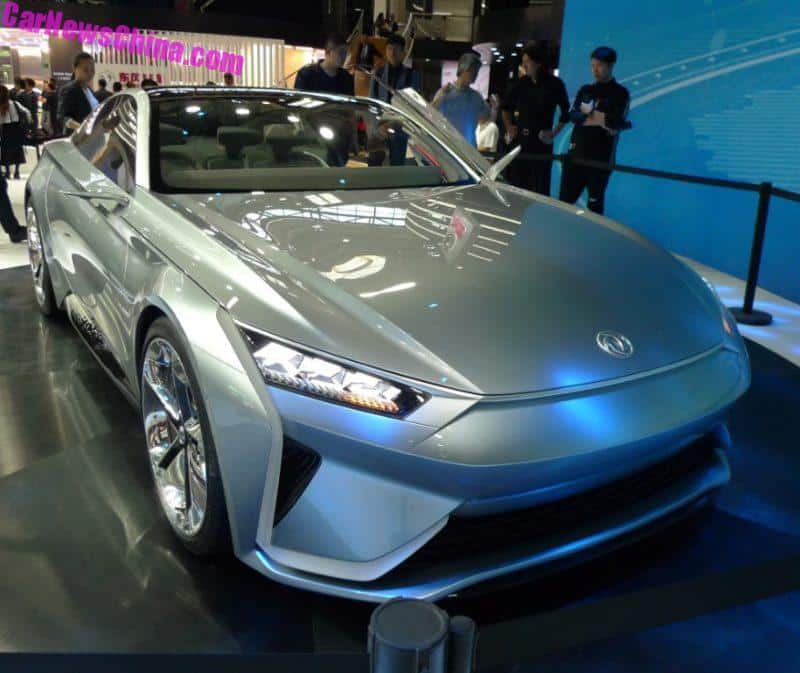 Moving on to Dongfeng with the beautiful eπ concept car, a PHEV with a range of 1000 kilometers. Sadly it is just a concept to show off a new design language and dashboard technology. More photos here.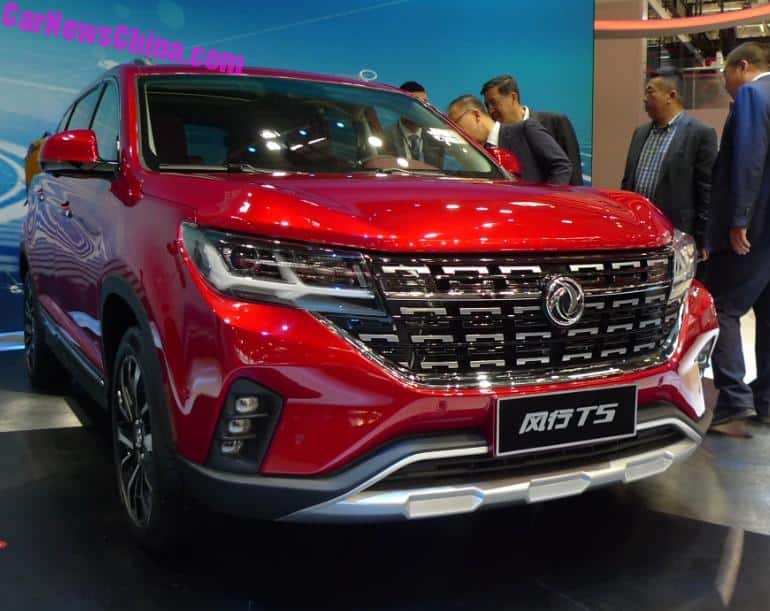 The new Dongfeng Fengxing T5. A good looking mid-size SUV that will launch on the Chinese car market in Q3. Power comes from a 1.6 turbo with 204 hp and 280 Nm. Good power! Dongfeng also came up with a new English name for Fengxing: Forthing, as in things to do. Catchy!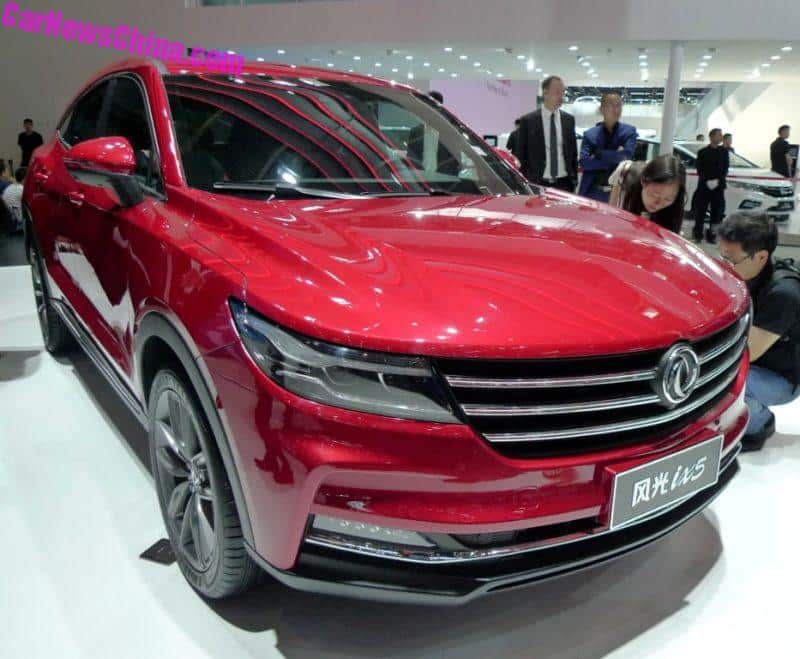 The Dongfeng Fengguang ix5. Dongfeng has a dozen or so of these sub-brands, most are semi-independent and they don't coordinate, so they all end up selling similar cars. But Fengguang is trying something different with the ix5, it is more a coupe-SUV than a SUV, looking sleek and sporty. It will be launched on the Chinese car market in Q4. Price will start just above 100.000 yuan. More here.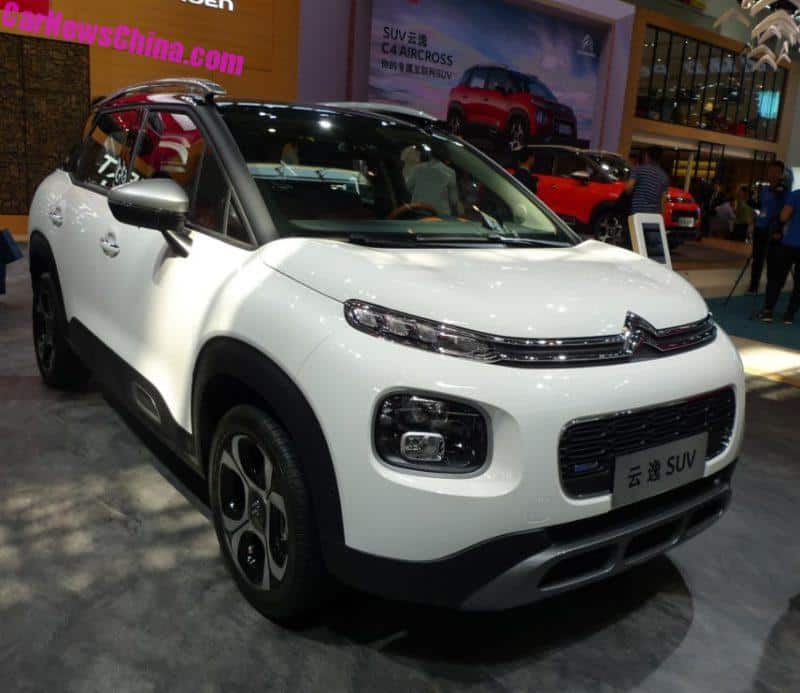 Th French brands were almost invisible on the show. Renault and Peugeot had nothing new, not even a silly concept or such. Just nothing. Citroen had one new thing; the C4 Aircross. And it isn't really new, as it is just an extended version of the C3 Aircross.
It is 12 centimeter longer and has 6 centimeter more wheelbase. The C4 Aircross is made in China by the Dongfeng-PSA joint venture. It will hit the market soon, powered by 1.2 turbo and 1.6 turbo engines.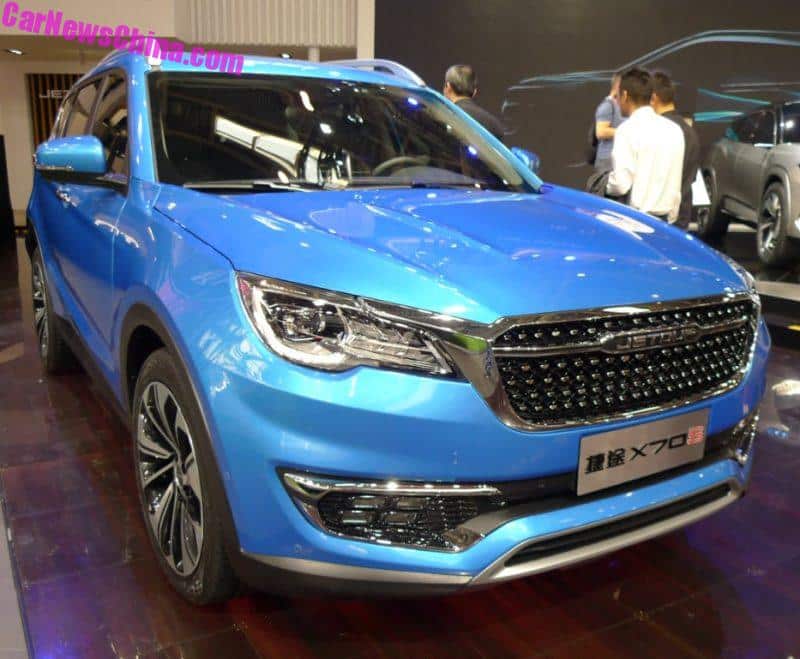 Moving on the Jetour, a new brand under Chery. They are planning to launch 12 cars until 2020. New on the show where the X70S, a sporty version of the X70, and…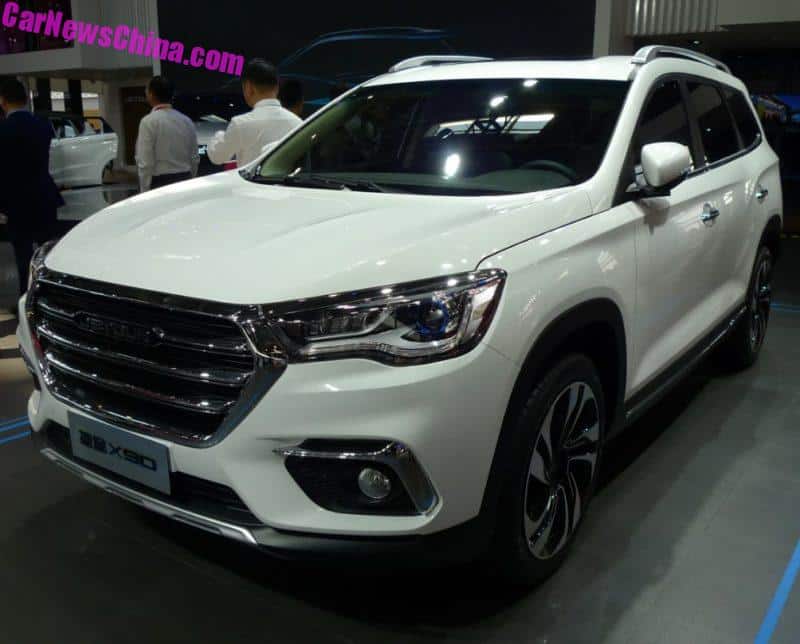 … the X90, the X70's bigger brother which will be launched next year. The X90 seats seven and will be powered by a 1.8 turbo with about 180 hp.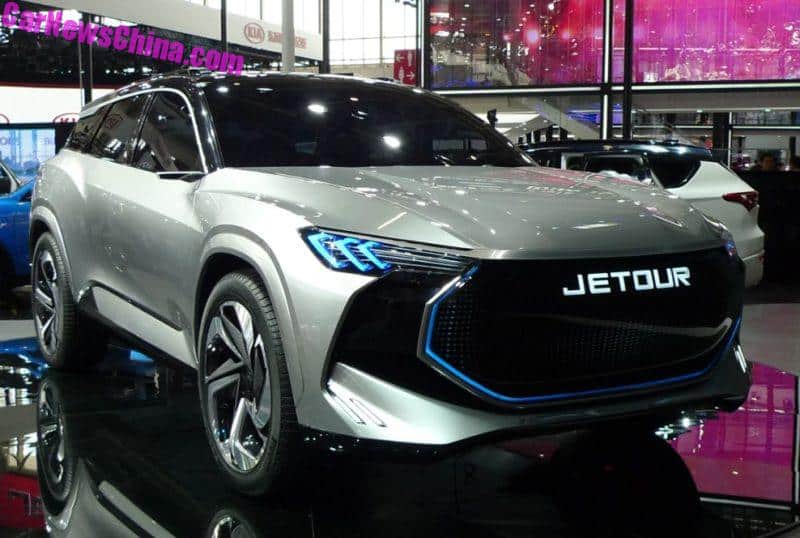 We also met the Jetour X, an electric concept car previewing a sporty crossover. The petrol version will launch in 2019, the electric in 2020. Very good looking car, let's hope the production car won't change too much.
More highlights tomorrow! We are at about 60% now…