Although NIO was affected by the shortage of critical parts earlier this year, 66,395 units were delivered from January to September this year, a year-on-year increase of 151.7%.
There are still three months to end this year. If NIO can maintain its monthly sales of 10,000 new energy vehicles, it will likely achieve its annual sales target of 100,000 cars this year.
From the perspective of horizontal comparison, NIO is still the leader of China's new car-making forces. Judging from the cumulative number of deliveries from January to September this year, NIO is nearly 10,000 higher than Xiaopeng's 56,404. Statistics show that in September 2021, NIO delivered 10,628 vehicles, an increase of 125.7% year-on-year and an increase of 83.2% month-on-month, setting a record for monthly deliveries this year.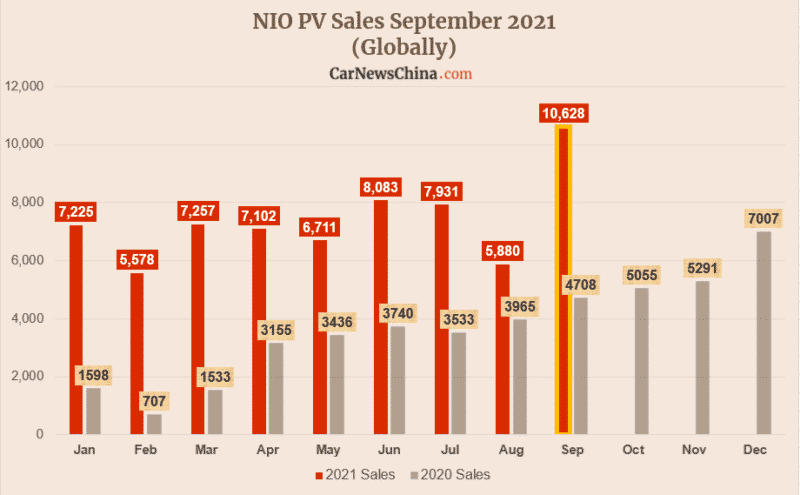 Among them, ES8 delivered 1,978 units, ES6 had 5,260 units, and EC6 delivered 3,390 units. ES6 and EC6 also set a single-month delivery record.
Chinese media pay close attention to NIO's September sales data
For the Chinese media, the sales volume of NIO and Xiaopeng in September is one aspect. More importantly, they want to analyze some of the reasons behind and predict the future development trend of China's new energy vehicles.
For example, HuXiu published an article stating that the next phase of NIO's monthly delivery volume will remain stable at more than 10,000 units. There is still a big question mark.
In this article, HuXiu news agency believes that the monthly sales of NIO and Xiaopeng Motors surged to more than 10,000 units in one month. HuXiu says it was not because of the surge in production in September but because of the damage to the output in August due to supply chain problems. Therefore, September made up for the damaged output in August. From the perspective of quarterly delivery, NIO Q3's delivery did not exceed previous expectations.
However, some articles published by the Chinese automotive media from horizontal comparison expressed their views that NIO and Xpeng delivered "breaking 10,000" in September. This time, it is the turn of Li Auto'sproduction capacity to be limited.
The reason for this media called QCTT to make a judgment is that after 4 pm on October 1, Lixiang also released September data.
In September, Li Auto delivered 7094 Li ONEs, a year-on-year increase of 102.5%; from July to September, Li Auto delivered 25,116 vehicles, a year-on-year increase of 190%; from January to September, Li Auto delivered a total of 55,270 cars. Since delivery, Li ONE's' current cumulative delivery volume has reached 88,867 vehicles.
Therefore, compared with NIO and Xpeng, Li Auto's "upward momentum is blocked."
Time-weekly expressed concern about the chip problem. They interviewed some Chinese new energy automobile companies, such as Li Auto. The car company said that the issue of the month-on-month decline in sales data was mainly affected by the insufficient supply of chips.

How will China's new energy automobile industry develop?
On October 1, Time-weekly interviewed Ma Lin, Director of NIO Automotive Communications. Ma Lin believes that there are still uncertainties in the global supply chain. As long as the supply chain does not deteriorate further, the fourth quarter will grow positively from the previous quarter.
Source: Weibo, 163, HuXiu, Time weekly, QCTT
Do you want to go deeper? Check out the full history of mentioned automakers: