Changan Deep Blue (Shenlan) is a new EV brand under the Changan company. It is another collaboration between Changan New Energy, Huawei, and CATL. It was unveiled during the Changan Automobile Global Partner Conference. Changan Deep Blue will become a mainstream electric brand with two vehicles to launch in 2022.
Changan Deep Blue (Shenlan)
Before we get started, let's speak Changan Deep Blue name. During the conference, the international name of this brand wasn't unveiled. So we have only the Chinese word "深蓝" (Deep Blue). Shenlan is the transcription of this word. Some of you might remember it is the same Chinese translation as for the famous IBM Deep Blue chess computer. So before the international name is presented, we can call it Deep Blue.
Deep Blue is positioned as a mainstream all-electric brand under Changan New Energy. It is a bit confusing because previously, Chinese Media shared that the first car under Deep Blue will have EV and EREV variants. So there are two possibilities. The first one is that the rumor about EREV is fake. As for the second one, maybe Changan doesn't think EREVs are the new energy cars but all-electric ones. It is strange because, in China, new-energy vehicles (NEV) are: EV, PHEV, and FCEV. A range-extender EV is counted as PHEV if it can charge the battery from the outside (by a charging pile) and the inside (by a small gasoline engine). Anyway, we will follow Changan Deep Blue and call it an all-electric brand.
Worth mentioning that Changan Deep Blue is a joint project of Changan New Energy, CATL, and Huawei. Just like Avatr brand. The main difference between them is that Avatr is a high end all-electric brand while Deep Blue is a mainstream.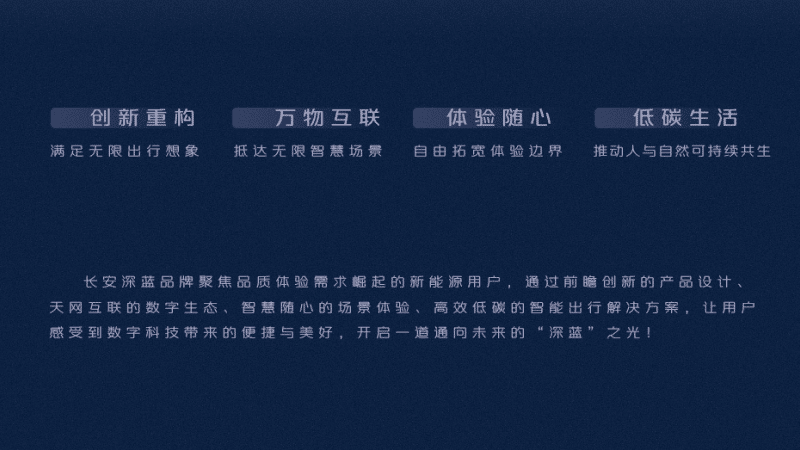 Changan Deep Blue's logo is yet to be presented. Instead, they shared with us some quirky brand values. Let's see what we can get from it. The first value is "Innovative Reconstruction". Somehow, it stands for "satisfying unlimited travel imagination". We may guess it means Deep Blue's EVs will have a decent range. The second one is "Everything is Connected". The third value is the "Pleased Experience". And the last one is the most concrete and stands for "Low-carbon Life". All of these values make little sense.
Changan Deep Blue Model Line
During the conference, Changan shared that the Deep Blue model line will comprise five electric vehicles. They belong to a mainstream segment. In 2022, two Changan Deep Blue EVs will hit the market. The first one is the widely known C385 electric sedan. As for the second one, it is an SUV with the code name C673. These vehicles are based on the EPA1 platform, designed for C-class cars. Let's get acquainted with them.
The C385 is an electric sedan with dimensions of 4800/1880/1480 mm and a wheelbase of 2880 mm. It is 106 mm longer than Tesla Model 3, but its wheelbase is only 5 mm longer. It has a modern aerodynamic design with a sporty facia, fantastic rear light bar, and pop-out door handles. From the side, the C385 even reminds sports cars a bit, thanks to its proportions. This sedan is equipped with an Automatic Park Assistant (APA) and an electric high-frequency pulse heating system. In addition, The C385 will use Huawei's "Hongmeng Smart Cockpit" system. Previously, there were rumors that the C385 would get EV and EREV versions. We see it is just an EV because Changan Deep Blue is an all-electric brand.
Changan Deep Blue has also shared with us some official images of the C385. For the first time, we can see the interior of this electric sedan. It has a giant floating screen, mounted on the center console. The instrument panel also is big. On the image, it shows tire pressure, range, and speed. It is clear it is customisable. The center tunnel of the C385 got a wireless phone charger and two cup holders. The steering wheel has a daring design with two spokes and sporty D-shape. In general, the C385's interior is nice and minimalistic. But there is one controversy about the logo. It is still nowhere in the interior and the exterior of the C385. Looks like Changan Deep Blue is still unsure about its logo.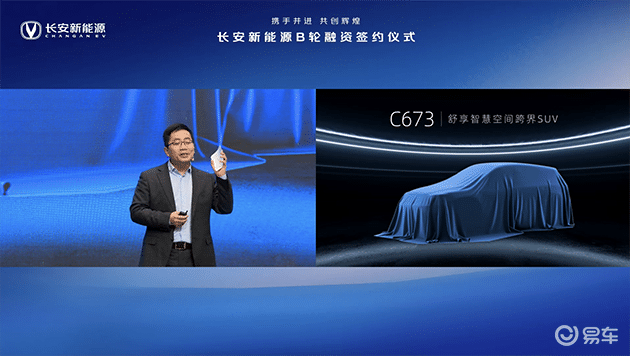 As for the C673, during one of the previous conferences, Changan shared it has a "smart space". We don't know if it is pure PR speech or if it has some sense. The SUV itself wasn't presented yet. We just saw its silhouette.
Now we know much more about Changan Deep Blue. But there is plenty of further information yet to be revealed. We will keep you informed, so stay tuned!
Source: Changan Weibo, Changan Shenlan Weibo, Sohu, Ifeng, Weibo