Skyworth Automobile has officially unveiled the HT-i PHEV, and the facelifted all-electric Skyworth EV6. The company shared the technical details of the new vehicles, as well as their prices. Skyworth also shared its huge plans with us. Let's take a look at what they are up to.
What is Skyworth Automobile?
Skyworth Automobile is a young automaker that has become controversial, mainly because of a mixed bag of various names. It was launched in 2019 with two major shareholders: Nanjing Golden Dragon Bus and Skyworth Group. Nanjing Golden Dragon Bus runs a bus brand called Skywell (Chinese: 开沃). So, in 2019, this brand got Skywell (Chinese: 天美) international name, after that bus brand. The English name was the same "Skywell" but the Chinese name was different.
But later, they decided to unify their car brand with Skyworth, an electronic giant. So they were renamed from Skywell Automobile to Skyworth Automobile. Its first car became the Skyworth EV6 that was presented back in July 2021. It's really confusing, but the EV6 has a lot of different names overseas, including Skywell ET5 (its original name), Elaris Beo, Imperium SEV.
Skyworth HT-i Based On BYD Hybrid System
The Skyworth HT-i is a PHEV, based on the EV6 SUV. In fact, it is just a hybrid version of the EV6. The exact dimensions of the HT-i are 4698/1908/1696 mm with a wheelbase of 2800 mm. Its powertrain comprises the DM-i hybrid system from BYD. It consists of a 1.5-liter naturally aspirated engine for 81 kW (116 hp) and 135 Nm, and an electric motor. The power of this motor is yet unknown. In pure electric mode, the HT-i can run up to 200 km (unknown cycle, probably NEDC). And its overall range reaches 1267 km.
The appearance of the Skyworth HT-i is very similar to the EV6. The key differences between them are a large frameless grille and a sporty bumper. As for its interior, it also stays in line with the EV6. It has a 12.8-inch screen with infotainment connected with smart home solutions from Alibaba, Huawei, etc.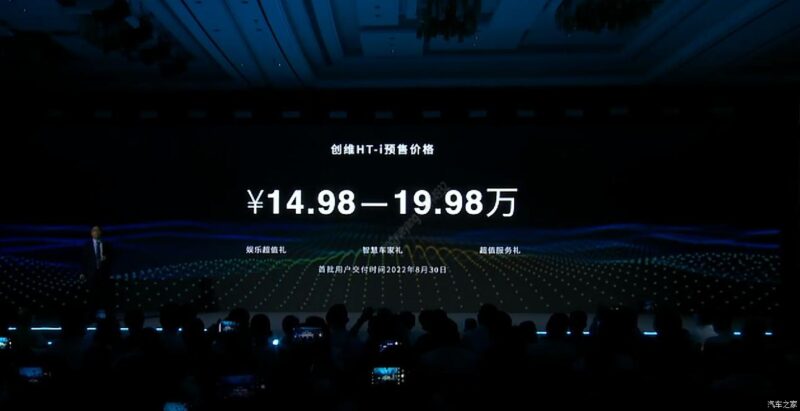 In China, the price tag of Skyworth HT-i is 149,800-199,800 RMB (22,660-30,220 USD). So, it will be a fairly affordable PHEV. The deliveries of the Skyworth HT-i will start in China on August 30 this year.
Skyworth EV6 Facelift With Larger Battery
Skyworth Automobile also launched the EV6 facelift. Its main features include an exterior with a new body color, a slick front bumper, as well as a more capacious battery. Let's take a closer look at the battery. It is a ternary (NMC) with a capacity of 86 kWh. With it on board, the range of the Skyworth EV6 will reach 620 km (NEDC). The current version of the Skyworth has two batteries for 55 kWh and 72 kWh. So it is a nice upgrade for this EV.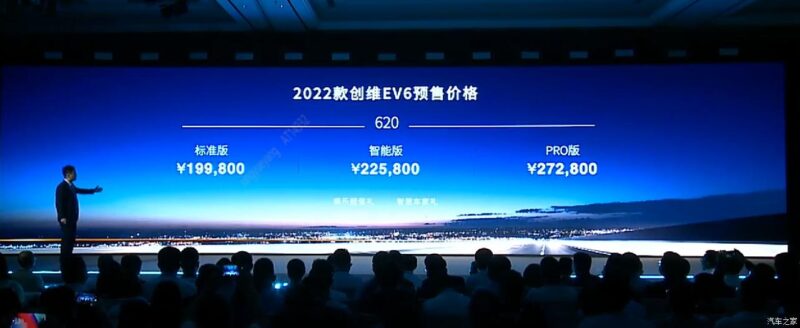 The EV6 is noticeably more expensive than the Skyworth HT-i. Its price range is 199,800-272,800 RMB (30,220-41,265 USD). The deliveries of the EV6 to the first customers in China will start soon – on June 30.
Skyworth Ambitious Plans

Skyworth also shared its plans for 2026. They are going to launch 7 new lines and 14 models. The next generation of Skyworth EV6 will be released in 2023. And the company also will introduce new "CE" and "AE" platforms in 2024 and 2025. The first car based on the CE platform will be a coupe with the code name EA7 and a price tag of about 200,000-300,000 RMB (30,250-45,380 USD). And the first car on the AE platform will be a vehicle codenamed EA3. So far, there are very few details about it. According to Skyworth, all-electric cars produced by it will also have a PHEV version.

The company plans to sell 30,000 vehicles in 2022, including 4,000 overseas. In 2023, sales should grow to 100 thousand, and in 2025 they will approach the mark of 250 thousand copies sold, including 80 thousand sold in foreign markets.
Source: Autohome, Skyworth Weibo