It's just 18 months since IM Motors was founded as a joint venture between SAIC, Alibaba, and Zhangjiang Hi-Tech, but their first model, the L7 full-electric sedan, is almost ready for customer deliveries.
In our first drive of this seductively curvy rival to the NIO ET7, we discovered a highly desirable car with plenty of tricks up its sleeve.
For those who prefer reading, read on for our IM L7 review. For those who prefer video, check out the link below.
Eye-catching Looks, Top Tech
From the outset the L7 makes a strong impression on the eye. The (∑) Epsilon-shaped daytime running lights are the first thing that catch your attention, giving a distinctive light signature you're not likely to mistake in your rear view mirror.
Further back, gently sculpted sides with a taut crease running to the rear lights make the L7 look lithe and dynamic, certainly less weighty than and slab-sided than both the Tesla Model S and NIO ET7.
At the back, it's much of the same, with a full-width lightbar, kinked in the middle into a duck-tail rear, rounding off the look.
Other notable features include the black roof that houses a full-length panoramic window, and the dome behind the windscreen which houses sensors and cameras.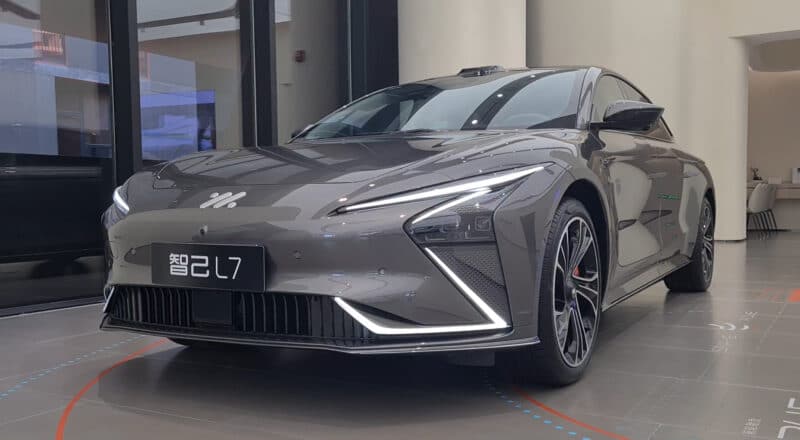 Inside the L7 the ambience is equally striking. Sitting atop the wide leather-covered dashboard is a 39-inch touchscreen display composed of one 26-inch screen and one 13-inch screen.
Both can be lowered by a couple of inches at the touch of a button or when race mode is activated, upon which G-sensors and timing clocks are displayed. Racy!
Beneath these, yet another screen, this time a 12.8-inch AMOLED affair where you'll control most functions in the car.
Seats clad in Bavarian-sourced leather and microfibre-lined upper surfaces give off a very premium vibe, while touch-sensitive buttons on the steering wheel, doors, and dash look attractive enough but aren't without their drawbacks.
Dynamic On The Road
While our short drive was only within Xi'an city, we were able to get a feel for how the L7 will behave in daily life.
Immediately apparent was how comfortable the car felt over poor surfaces. No crashing or thudding here, the L7 handles things in a composed and comfortable fashion. This is in part down to the Continuous Damping Control (CDC) system which has three modes: Comfort, Daily and Sport.
Like any electric car boasting 530hp (425kW), the L7 is no slouch. While we weren't able to test this ourselves, IM claim it can hit 100kph from standstill in 3.87-seconds. No Model S Plaid, and a touch down on the NIO ET7's 3.8-seconds, but more than enough.
Steering too has good feel, at least at city speeds. With a chassis honed by Williams Advanced Engineering, you'd hope so, but even they gave the L7 high praise calling it "the best model we have adjusted".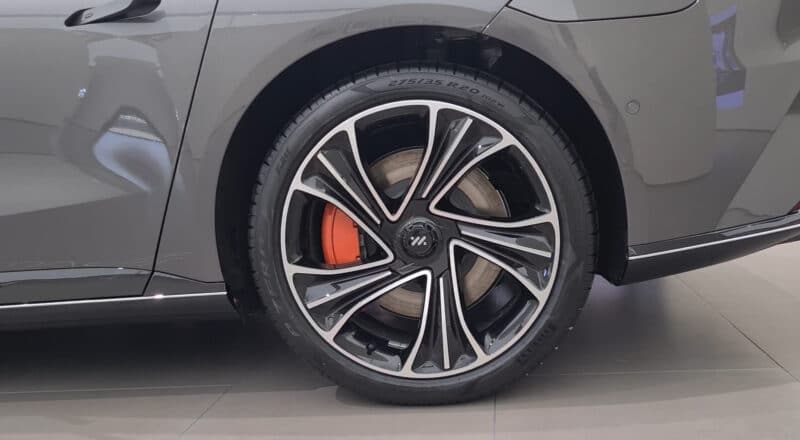 The car features aluminium alloy suspension as well as four-wheel steering, where the rear wheels turn slightly in opposite directions to the front. This should give 'snake-like' handling and a decent turning circle, something we'll be hoping to try out in a full test in future.
It also comes with 50:50 weight distribution and different width Pirelli P-Zero Custom tyres on the front and rear (245mm front, 275mm rear).
The L7 comes equipped with Brembo brakes all round, meaning that if you need to stop quickly, you'll be able to. The 100-0kph stop comes in at just 32.69-metres, which IM claim is class-leading.
One small curio we found with the L7 is the shape of the steering wheel, which is slightly flatter on top and curves inwards at the bottom. While no issue in normal driving, you do notice it when turning full lock.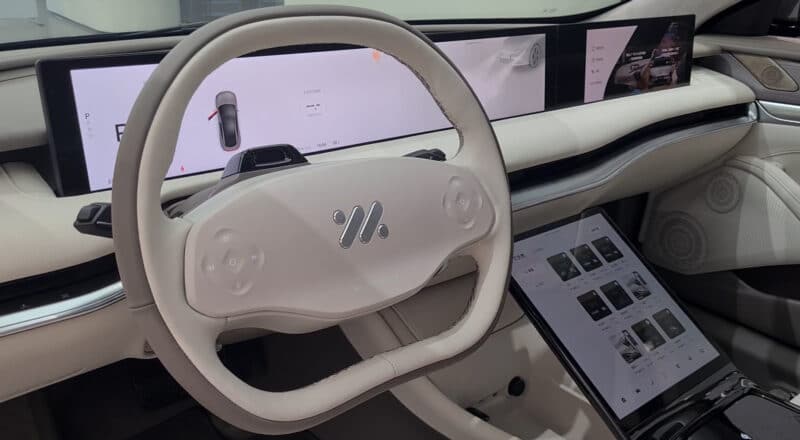 Comfortably Luxurious
For a car retailing at 368,800 RMB ($55,200) to 408,800 RMB ($61,173), the IM L7 is as luxurious as they come. As well as semi-aniline Bavarian leather, the same kind used on cushy sofas and available in black, cream, and brown, the L7 also features wood sourced from Lake Como around the cabin.
Front seat riders can heat, cool, and massage their derrieres, while rear passengers can heat theirs. Each seat comes with a speaker inside the headrest.
With this, sat nav guidance can be delivered to the driver without impacting others, while front seat passengers can watch videos on their screen without distracting the driver. They form part of a 22-speaker system capable of pumping out 1120 watts of aural entertainment.
Head and legroom is good throughout, although passengers taller than 178cm with upright haircuts may find they're brushing the ceiling a little.
Also, with the L7 being a low car, while legroom length is no problem, passengers may find the rear bench a tad low under the thighs, an observation also made of the NIO ET7.
In another interesting addition, the L7 features multi-million pixel projection lights, similar to those on the HiPhi X. These can beam non-colour images onto walls and there's even a button to shine a zebra crossing onto the road for pedestrians. We'd certainly be curious to see how many people will use this function!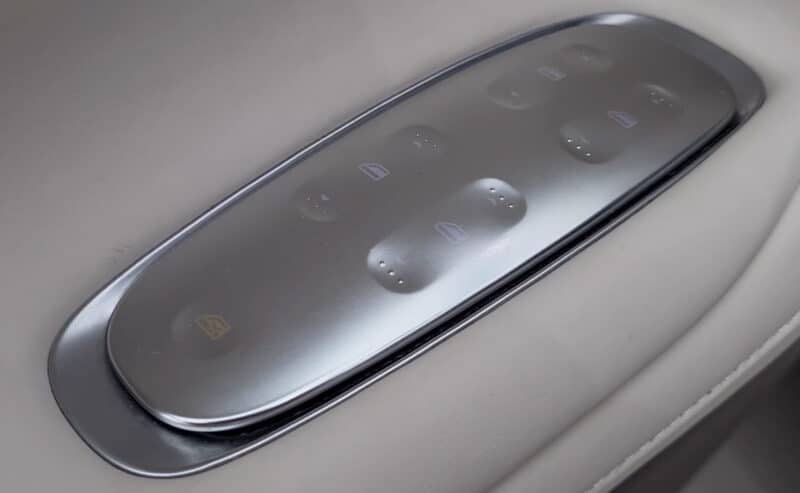 A Touch Too Far?
As mentioned earlier, touch-sensitive buttons abound in the cabin, the only clickable buttons being those to open the doors electronically.
The use of touch-sensitive buttons is becoming more and more common in new cars and while they require less moving parts (possibly, although the buttons provide a kind of buzz when pressed), they're not without issues.
First, the lack of tactile feedback means you often have to look at the button rather than knowing it from memory, which can be a distraction while driving
Second is the obvious issue of fingerprints. Thankfully, only the door-mounted buttons in the L7 may have an issue with this, but it could still annoy those with OCD.
Third is the issue of visibility. The five buttons embedded in the silver strip along the L7's dashboard require your hand to be in the vicinity before they light up, and then can be hard to see in bright light.
Many have lamented the over reliance on touchscreens for simple controls and I suspect some may also question the future of this new trend.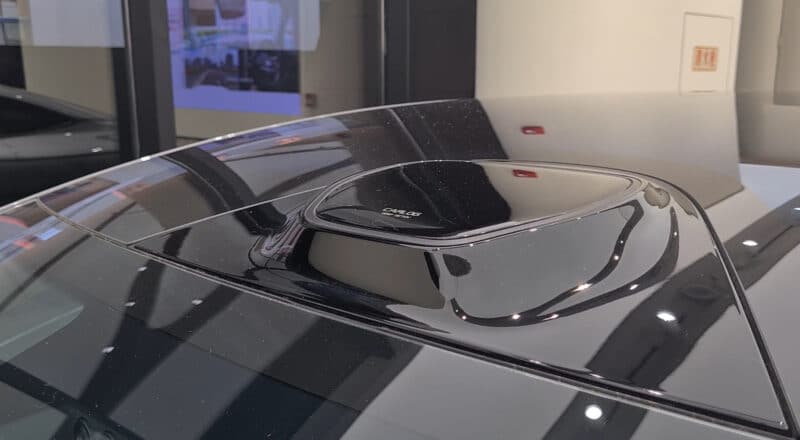 Specs, Safety, and Powertains
Currently the L7 is available in two versions, Dynamic and Pro. Dynamic is the cheaper of the two and comes with 19-inch wheels rather than the larger 20-inchers on the Pro, but these can be upgraded.
Both versions come with all-wheel drive, with a 175kW (235hp) motor on the front axle and 250kW (335hp) motor on the rear. Combined, they produce 725Nm of torque.
There's just one battery option, a 93kWh unit, which offers 615km (382 miles) of range on the NEDC cycle. Wireless charging up to 11kWh is also available, which requires the car to drive over a charging pad, though there aren't many of these facilities around yet.
L7s are 5,098mm long, 1,485mm tall, 1,960mm wide, and have a wheelbase of 3,100mm, so while a little more compact than the NIO ET7 in all dimensions, the L7 comes with more space between the axles. It also has a slippery 0.21 drag coefficient.
On the ADAS front (Advanced Driving Assistance Systems), the L7 is also well-equipped.
Powered by an NVIDIA Jetson Xavier chipset, the L7's safety net comprises 12 ultrasonic sensors, 11 HD cameras, five millimetre wave radars, two positioning units, and two LiDAR units (not present on the test car but standard on delivery cars).
That should enable Level 3 autonomous driving in locations where it's permitted, and includes things like automatic lane keeping assist and adaptive cruise control (activated by paddles behing the steering wheel), and highway- and city-level autonomous driving. Level 3 autonomous functions still require drivers to be alert and ready to intercept at all times.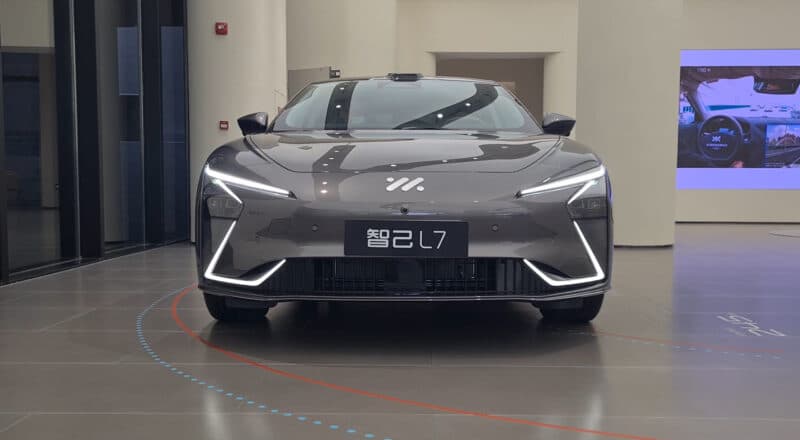 First Conclusions
The IM L7 is a fantastic first effort from a brand only 18 months old. Aside from looking rather alluring in the flesh, it's a genuinely luxurious place to spend time and IM has clearly put a lot of effort into this area.
In comparison to the NIO ET7, the facts and figures are broadly similar, with the L7 looking likely to be the more nimble and engaging of the two while the NIO holds the greater range and battery swap trump cards.
From a personal perspective, the L7 makes a visually more appealing case, but will IM quality and technical development hold up against the more experienced NIO in the long run? Only time will tell.
One thing is clear. It's a great time to be in the market for a full-size electric sedan.