The Hengchi 5 is an electric crossover from the China Evergrande Group. It was finally launched in China with 602 km of CLTC range and a price tag of 179,000 RMB (26,700 USD). Mass production of the Hengchi 5 will start in September.
First, Hengchi wanted to launch its first car on May 20. But they have silently postponed it till now. So let's get acquainted with this long-awaited project from the troubled Evergrande.
What is Hengchi?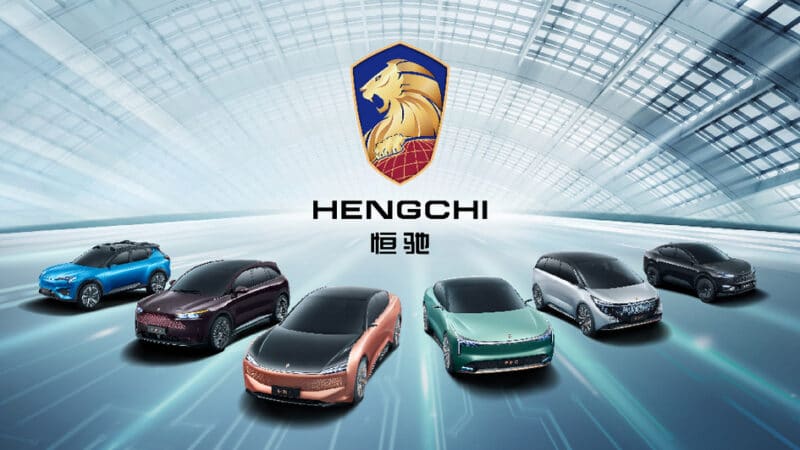 Hengchi is a car brand under Evergrande New Energy Auto, an Evergrande Health Industry Group subsidiary that, in turn, belongs to the China Evergrande Group. This company seems big, but it struggles to repay its debts, which reached 300 billion RMB (44.4 billion USD) in September 2021.
Despite its parent company's financial problems, Evergrande New Energy Auto continued to push its car business. In November 2021, it sold 64.2 million USD of shares to fund the development of new EVs. As a result, they managed to launch their first car. And it is the Hengchi 5.
Hengchi 5 Specs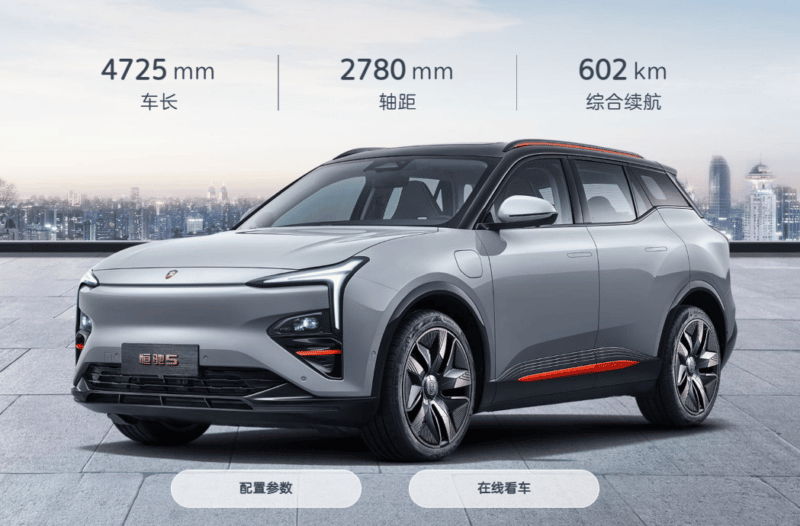 First, let's talk about some basics. The Hengchi 5 is a D-SUV with five seats. Its dimensions are 4725/1925/1676 mm and a wheelbase of 2780 mm. Speaking about performance, the Hengchi 5 has a single electric motor on the front axle for 150 kW (204 hp) and 345 Nm. As for its zero-to-hundred acceleration, it is 7.8 seconds. So it hasn't got the performance benefits that many people expect from EVs.
On the other hand, the Hengchi 5 has an LFP battery with a capacity of 72.8 kWh made by CATL. With it on board, it can run up to 602 km of CLTC range. Moreover, the first Hengchi SUV is equipped with an L2 autonomous driving system named 'Hengchi H-Pilot'. It comprises Lane Change Assist, the Self-Parking system, etc.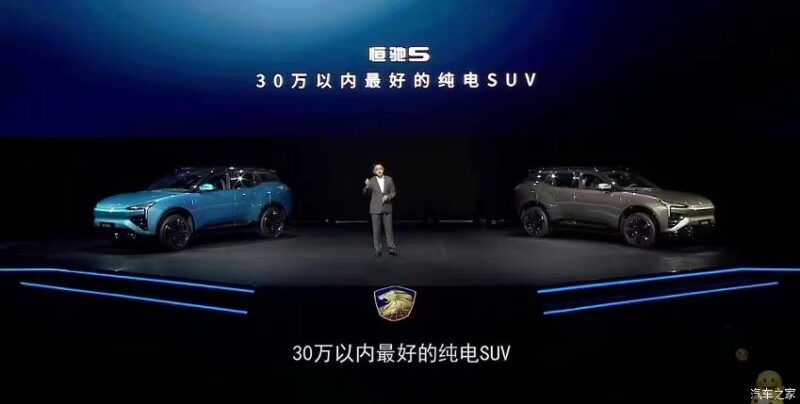 During the online presentation, Hengchi mentioned that the 5 is the best electric crossover with a price tag under 300,000 RMB (44,750 USD). It looks like rude, aggressive marketing, and this statement is really questionable. For 300,000 RMB in China you can buy Volvo C40, XPeng G3i, Weltmeister W6, GAC Aion LX, Rising Auto Marvel R, Mustang Mach-E, BYD Tang EV, etc. So there is a vast number of strong competitors.
Hengchi 5 Exterior and Interior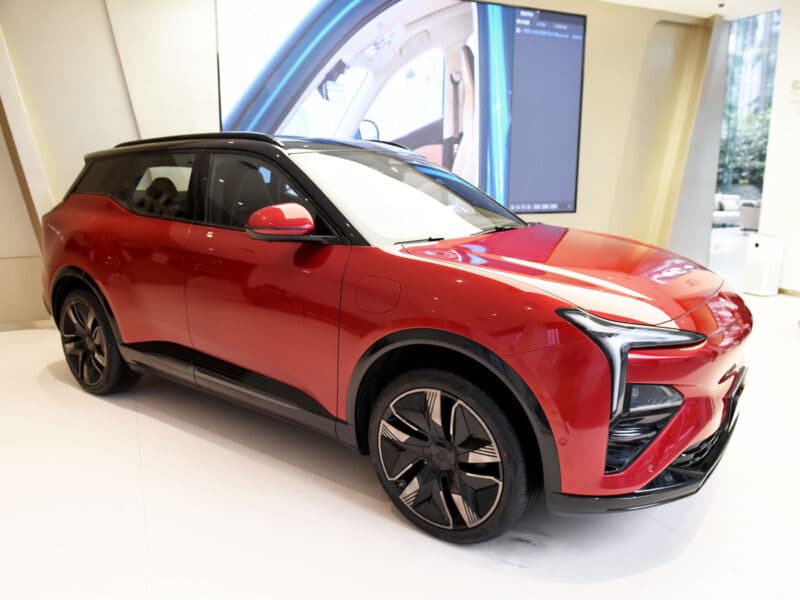 The Hengchi 5 looks nice with many exterior details like wide fenders, a sporty roof spoiler, and boomerang-shaped lights. It has a smooth aerodynamic look with retractable door handles and hip wheel covers.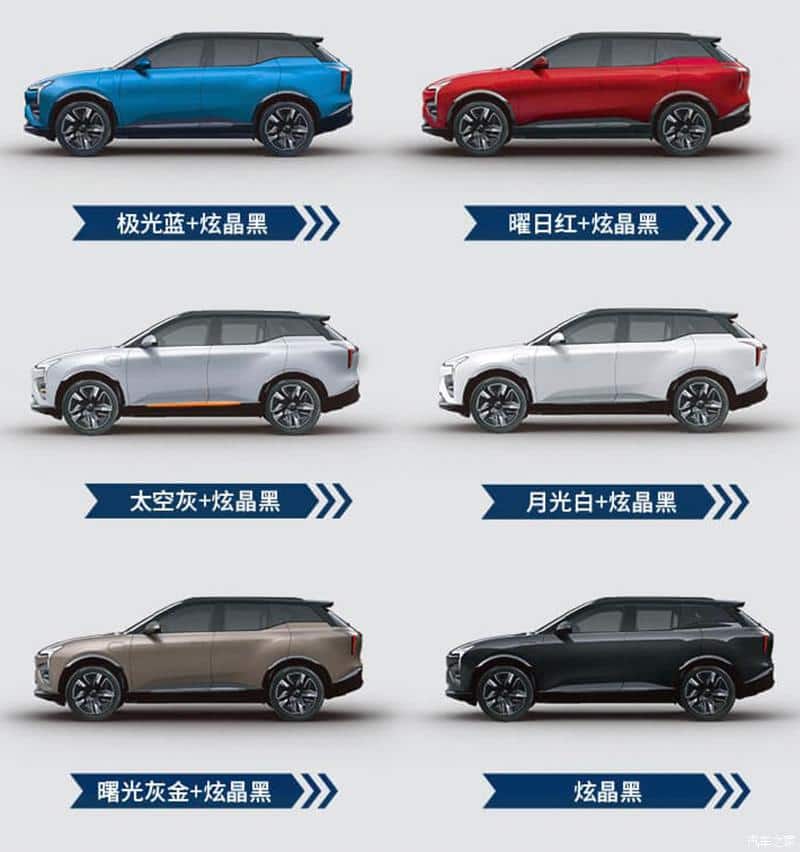 The Hengchi 5 is available in 6 color schemes:  blue + black roof; red + black roof, grey + black roof; white + black roof; golden + black roof; black.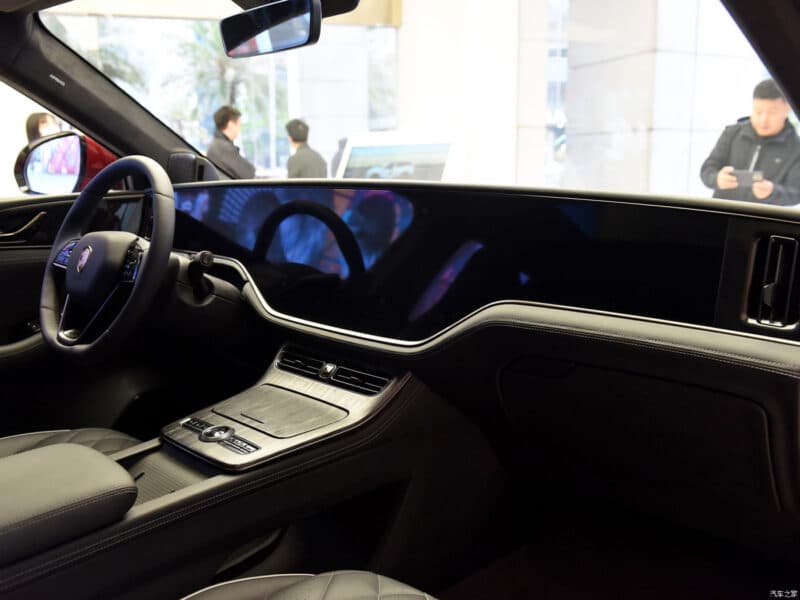 The interior of the Hengchi 5 looks modern and hip, with three screens and a large sunroof. There are two 10.25-inch screens for the driver and the passenger. As for the main screen, it has a diameter of 14.6 inches. This triple screen system has a 5G connection and works in the Baidu ecosystem. There is a sporty steering wheel with a flat bottom. On the center tunnel, we can see a wireless phone charging pad, a Start/Stop button, and some hard buttons. The gear shifter is located behind the wheel to make the interior look more clean and straightforward.
Hengchi 5 Price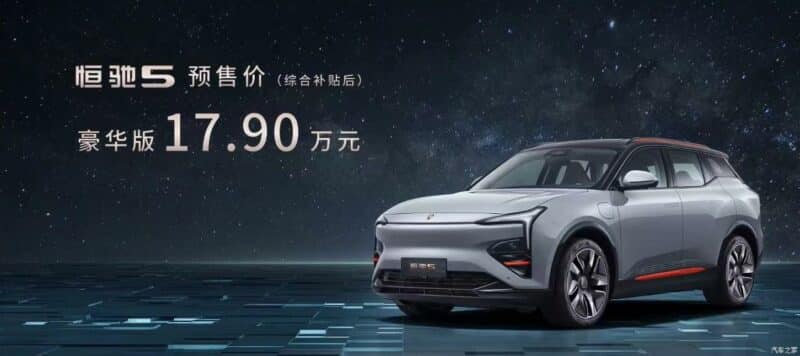 There is just one model with a pre-sale price of 179,000 RMB (26,750 USD). It is called 'luxury' (豪华版). It is yet unknown when other versions of the Hengchi 5 will hit the market. Worth mentioning that the mass production of this SUV is scheduled for September 20. The Hengchi 5 will be assembled in the Evergrande New Energy Auto Plant. In 2021, Hengchi claimed that its production volume could reach 1 million vehicles per year. This number is very questionable.
Advantages of Buying Hengchi 5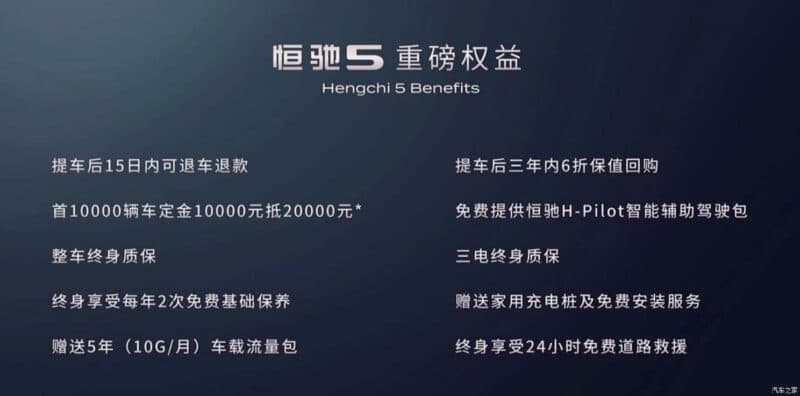 Hengchi understands that its parental company got a doubtful reputation. So they try to attract buyers' attention with some interesting purchase benefits. For example, after buying the Hengchi 5, a client can refund it in 15 days. The Hengchi 5 has a lifetime vehicle warranty (including the battery pack). Moreover, its buyers get lifetime maintenance twice a year, a free home charging pile (with free installation), lifetime free road assistance, and a free 5-year (10 G/month) on-board internet connection.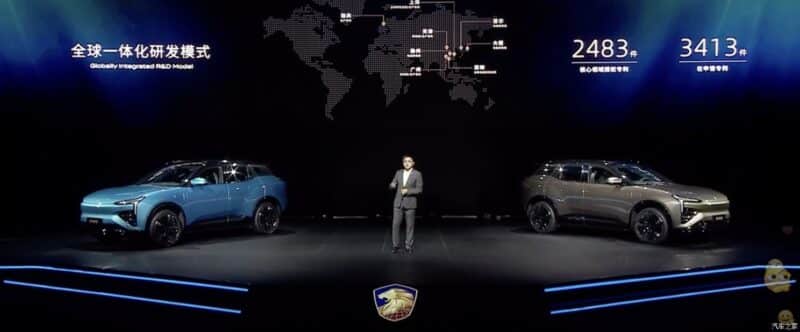 So the Hengchi 5 may not be the best vehicle out of its competitors, but Hengchi offers plenty of purchase benefits. As a result, clients can actually choose it among other EV SUVs. Anyway, we will keep an eye on the Hengchi 5, so stay tuned!
Source: Hengchi, Hengchi Weibo, Autohome