On December 1, Li Auto announced that it delivered 15,034 cars in November 2022. Li Auto, also known as Li Xiang, is a Chinese electric vehicle manufacturer headquartered in Beijing, with manufacturing facilities in Changzhou. The sales data for November 2022 is the highest single-month delivery for the brand. It records a year-on-year increase of 11.5%. The cumulative delivery of the brand as on November 30, 2022, is 236,101.
The L9 is an extended-range EV (EREV) and features two electric motors with a combined output of 330 kW (449 hp) and 620 Nm. It has a turbocharged 1.5 four-cylinder engine with a 44.5 kWh battery. The vehicle has a pure electric battery range of 215 km and a comprehensive range of 1,315 km under CLTC conditions. The SUV can accelerate from rest to 100 km/h in 5.3 seconds. The L9 has a size of 5218/1998/1800 mm and a wheelbase of 3105 mm. On the contrary, the Li L8 has the same turbocharged 1.5 four-cylinder engine which powers a 42.9 kWh battery. It has a pure EV range of 210 km under CLTC conditions. The L8 can accelerate to 100kph in 5.5 seconds. It is also an EREV with identical power figures, i.e. 330 kW and 630 Nm. Li L8 has a size of 5,080/1,995/1,800 mm and wheelbase of 3,005 mm.
Yanan Shen (Co-founder and Executive Director & President of Li Auto) said, "The starting of delivery of both L8 and L9 have consolidated its market position in the price range of 300,000 to 500,000 Yuan (42,340 – 70,550 USD)." The brand currently has 276 showrooms covering 119 cities. It has 317 after-sales maintenance centers and authorized body painting centers covering 226 cities.
Vehicles launched by Li Auto
The company has two models on sale in the market: L9 and L8. There is also Li ONE which stopped production, but you can still buy it, however, sales are minor compared to the previous two. The L9 was positioned as the flagship six-seater large SUV. It is available in a single model with a price tag of 459,800 Yuan (64,880 USD). The L8 came in two models with a price tag of 359,800 Yuan (50770 USD) to 399,800 Yuan (56,415 USD), positioned as a luxury six-seater mid-size SUV. The brand will also unveil Li Auto L7 and L6 in 2023. The upcoming L7 will be an ideal successor to Li Auto One. It would be available in two models with a price tag ranging from 339,800 Yuan (50,217 USD) to 379,800 Yuan (56,130 USD). The brand will position it as a flagship five-seater medium and large SUV. It plans to position L6 as a luxury five-seater medium-sized SUV. The price would range from 300,000 Yuan (44,435 USD). However, more details about the vehicle have yet to be made available. The brand teased both L7 and L6 during the launch of L8. The brand also has plans to unveil pure electric MPV models in the future. In related news, NIO also announced its deliveries for November 2022.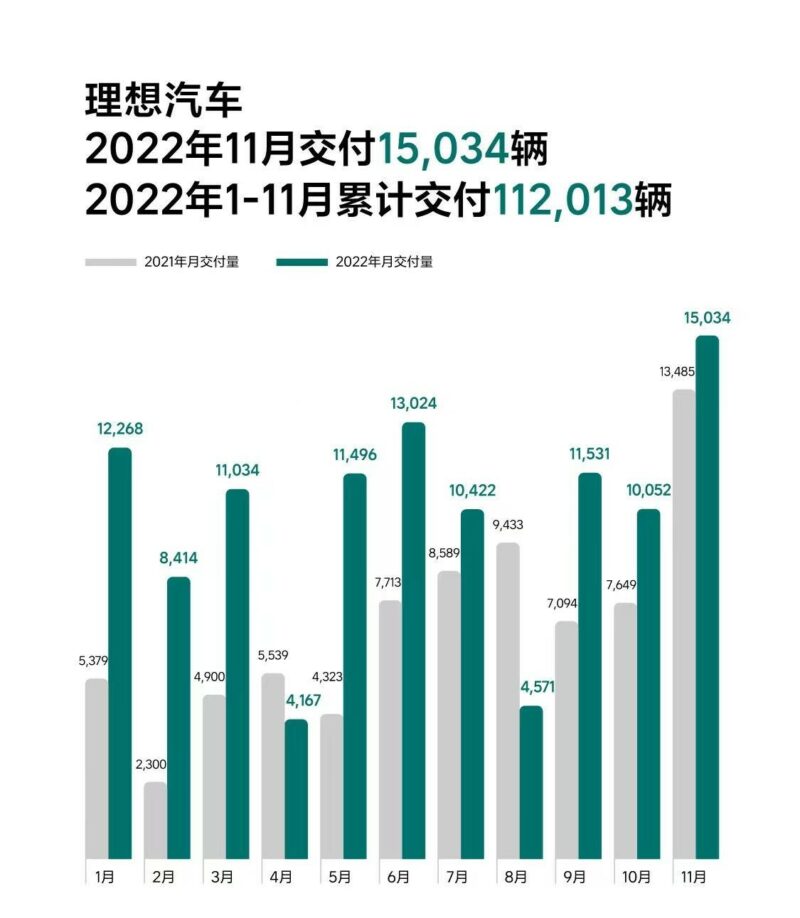 Source – Sohu, Finance Sina, Sina News