The JMC Baodian is a living legend in China. The first generation of this pickup truck was launched in China back in 2002. Nowadays, its newest version has hit the Chinese market. It has optional 4WD, petrol or diesel engines, a refreshed exterior and interior, and a starting price of 85,800 RMB (12,460 USD). Let's get to know the Baodian 2023 better.
What is JMC?
We will remind you that JMC is an abbreviation that stands for the Jiangling Motors Corporation. This company was founded in 1993 as a commercial vehicles, SUVs and truck maker. We should also mention that JMC is a part of the Jiangling Motors Corporation Group (JMCG) which was established in 1947 as an automotive industry holding. Currently, JMCG runs partnerships with other manufacturers, including Ford, Isuzu and Changan. Moreover, recently we have discovered that JMCG will give a hand to a young Chinese car brand Jenhoo with the production of its first vehicle called EV48.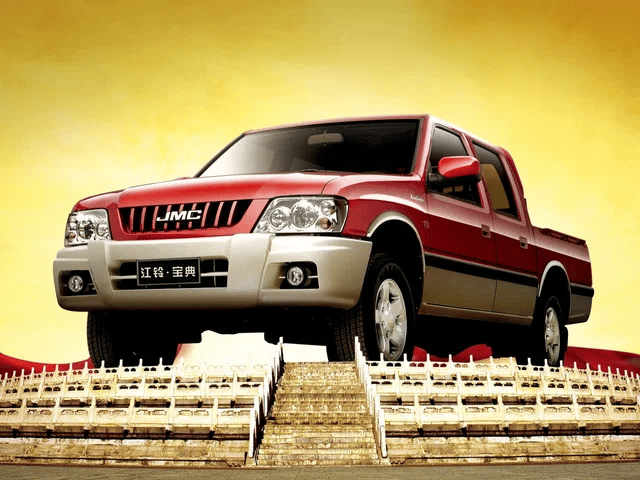 The first JMC Baodian rolled off the production line in 2002 in China. It was the utilitarian pickup truck based on the Isuzu Faster. JMC even launched this model in several foreign markets back in the days. In 2020, JMC launched the all new Baodian. It was based on the JMC Yuhu 3 (Tiger 3). And now, JMC has come up with a facelift of the Baodian.
JMC Baodian 2023 Styling And Dimensions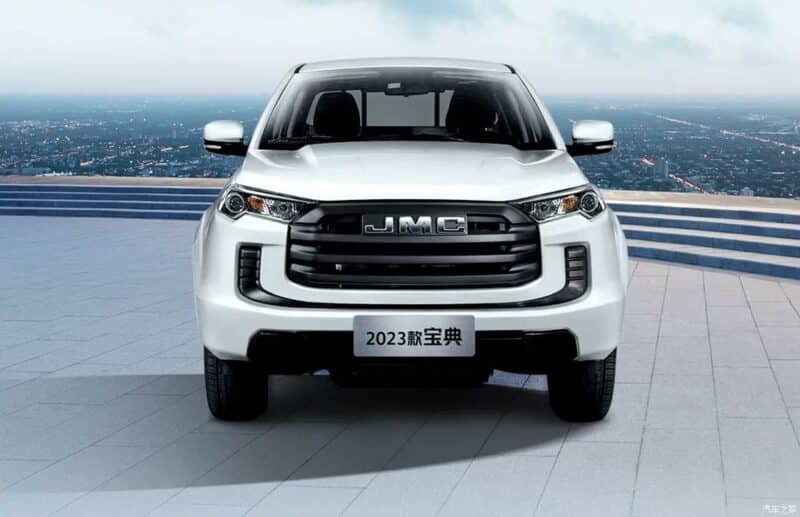 The Baodian's exterior now stands in line with the JMC's Yuhu (Tiger) series. Its front end has small, blocky headlights, a big black grille with a chrome JMC logo, and a rugged bumper. All in all, it maintains the same Stormtrooper vibe that the JMC Yuhu (Tiger) once has started. We can also underline wide wheel arches and a high road clearance of the JMC Baodian 2023. According to JMC, it reaches 200 mm.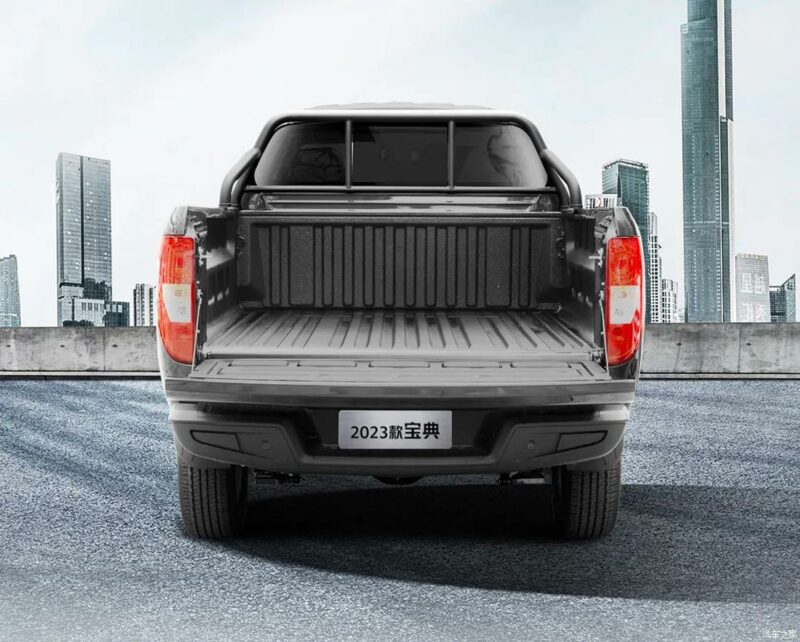 From the back, there is nothing special about the JMC Baodian's look. Here, let's talk about the size of this pickup truck. First, we should underline that it has two versions. The first one has a short wheel base of 3085 mm and dimensions of 5301/1905/1782 mm. As for the second one, it has a longer wheelbase of 3350 mm and dimensions of 5656/1905/1782 mm. The size of the new Baodian has slightly decreased due to changes in exterior design. As for its carrying capacity, it reaches 1,200 kilos.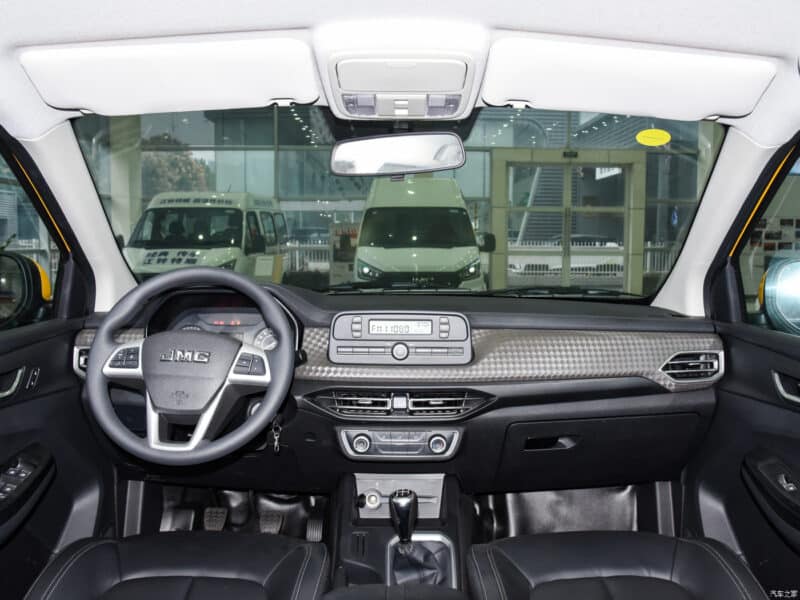 The interior of the Baodian 2023 hasn't changed that much. All we can highlight is the huge touch screen mounted on the center console. The rest interior is the same. We should mention that it looks alright for the pickup truck with a starting price below 90,000 RMB.
JMC Baodian 2023 Powertrain And Price Range
We have finally reached the Baodian's 2023 powertrain. As mentioned, it has two versions, the first one has a 1.8 petrol-powered turbocharged engine for 177 hp and 280 Nm. It works in pair with a 6-speed manual transmission. The second version of the Baodian is equipped with a 2.5 turbocharged diesel engine for 140 horses and 315 Nm. It pairs with a 5-speed manual. Both versions can be optionally equipped with 4WD.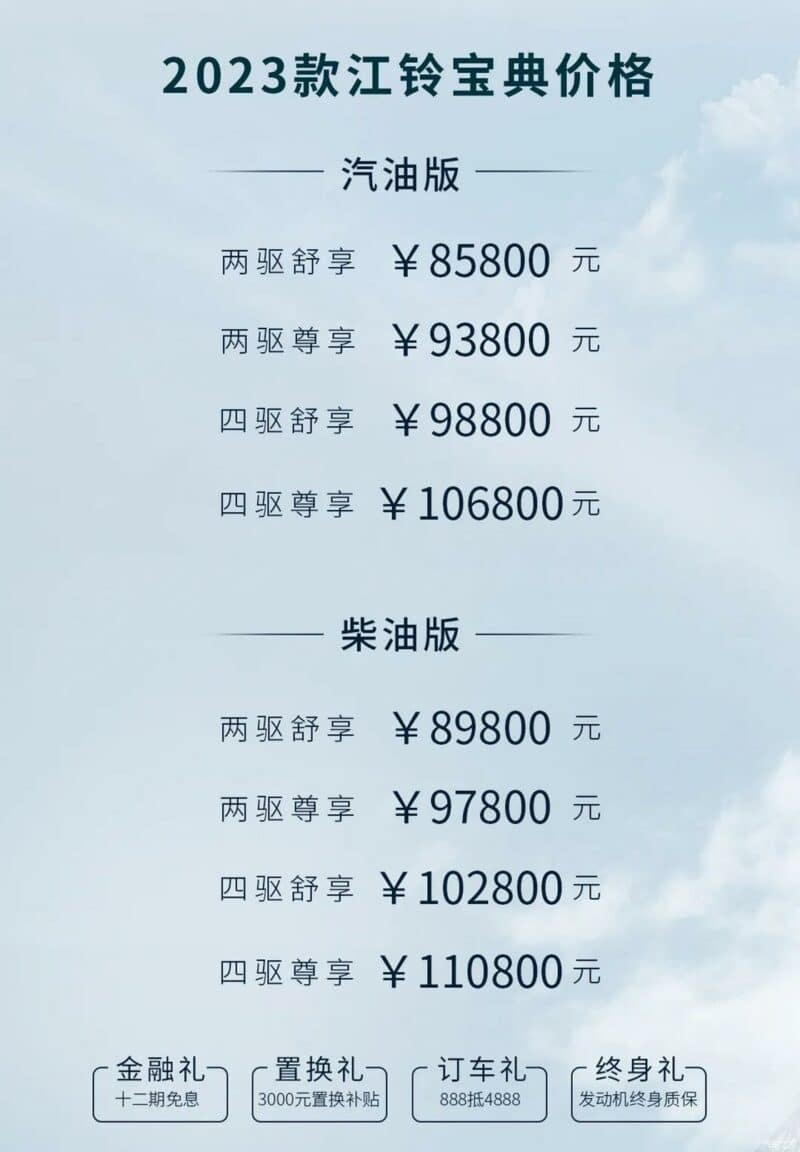 And at last, let's talk about the Baodian's price range. Chinese folks can buy the petrol version of the Baodian 2023 for 85,800 – 106,800 RMB (12,460 – 15,510 USD). As for the version with a diesel engine, it is a bit more expensive with a price range of 89,800 – 110,800 RMB (13,040 – 16,090 USD).
Source: Autohome