The SWM Big Tiger EDi was officially unveiled in China, with a mixed range over 1,000 km and a price tag of around 100,000 RMB (14,750 USD). It is the cheapest Chinese EREV SUV yet. Let's get to know it better.
Briefly About SWM

In the previous article about the SWM Big Tiger, we have mentioned that the SWM Company used to be an Italian motorcycle maker till 2014. But later it was acquired by Shineray. As a result, Shineray maintained the motorcycle business and launched the automobile brand under the same name. The SWM Design Center is situated in Italy while the actual production of cars is in China. Here, we should also mention that the JV between Shineray and Brilliance produces SWM vehicles.
SWM Big Tiger EDi Exterior and Interior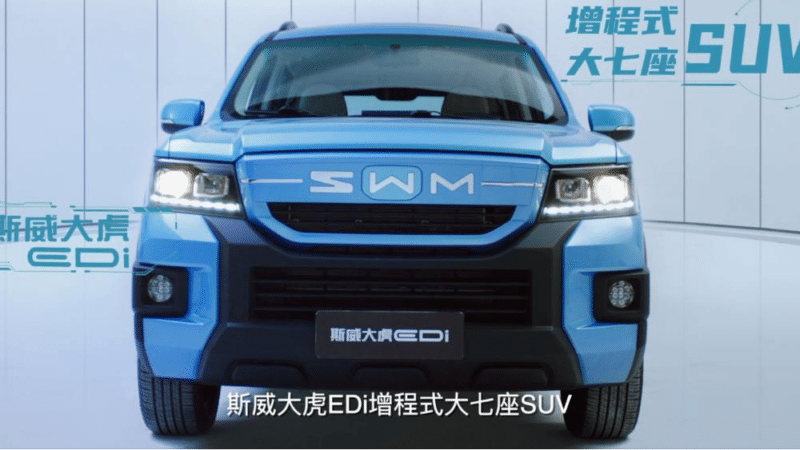 Today, SWM has unveiled the Big Tiger EDi via a short video. They have shown us this vehicle's exterior and interior and shared some exciting specs. To be honest, the SMW Big Tiger looks a bit outdated and cheap with rough shapes, small wheels and blocky headlights. But its exterior is also practical because of the wide wheel arches and plastic trim all around the lower part of its body. Worth mentioning that the ground clearance of the Big Tiger EDi is 195 mm. But it isn't an off-roader for sure since it has got front-wheel drive only. Anyway, this ground clearance can also be pretty useful while driving in the cities. As for the size, the Big Tiger isn't so big. Its dimensions are 4605/1815/1825 mm with a wheelbase of 2780 mm.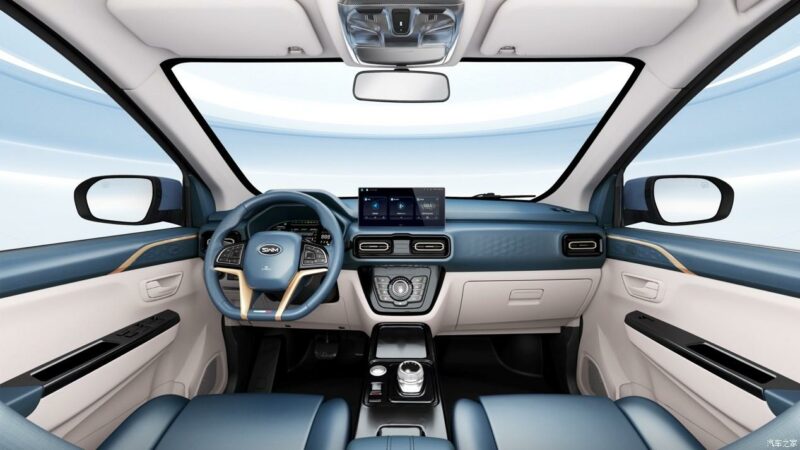 The interior of the SWM Big Tiger EDi looks nice. It is finished in blue and white colors and has some bronze trim on the steering wheel and door cards. But we should remind you that it is a cheap vehicle, so all the materials here are probably made of hard plastic. Its center console has a 10.25-inch floating screen. Under the screen, we can notice a set of physical buttons. Its instrument panel is digital and sits right behind the steering. As for the wheel itself, it has a D shape and some buttons. As for the center tunnel, it has got a Start/Stop button and a rotary gear selector. In addition, it can have two seat layouts: a standard 2+3 and 2+2+3.
SWM Big Tiger EDi Powertrain and Price
The powertrain of the Big Tiger EDi was jointly developed by SWM and FinDreams, a company under BYD. The Big Tiger EDi is equipped with a 1.5-liter four-cylinder petrol engine. As it is an EREV, this ICE only powers the battery and doesn't distribute power between wheels. The Big Tiger has also got an electric motor for 105 kW (143 hp) and 210 Nm. As for the battery, it is LFP. Its all-electric range reahces 51 km. The mixed range of the Big Tiger EDi with a range-extender on overcomes 1,000 km.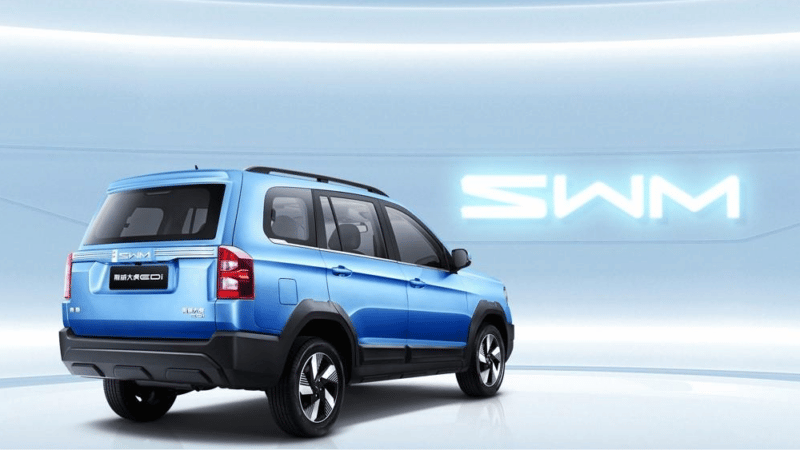 As mentioned, the price tag of this exciting EREV will lie around of 100,000 RMB (14,750 USD). So it is the least expensive EREV SUV in China. It will hit the market this year. We will keep an eye on it, so stay tuned!