According to data from the New Zealand Transport Agency, in February 2023, Tesla sold 168 electric vehicles in the country, while BYD sold 143. Hyundai ranked third with 136 EVs sold.
In January in New Zealand, BYD sold 235 EVs, while Tesla sold 194. Tesla's increase in sales in February allowed the company to overtake BYD in New Zealand's EV market. However, if you add up the data from the two months, BYD still leads with 378 EVs sold, while Tesla is close behind with 362. The competition between Tesla and BYD in New Zealand is expected to continue, with both companies vying for a larger market share.
Regarding model ranking in February, BYD ATTO 3, with 143 sales, took the top spot. The MG ZS EV and Tesla Model Y followed closely behind, with 104 and 95 sales, respectively. BYD only sells one EV model (ATTO 3) in New Zealand.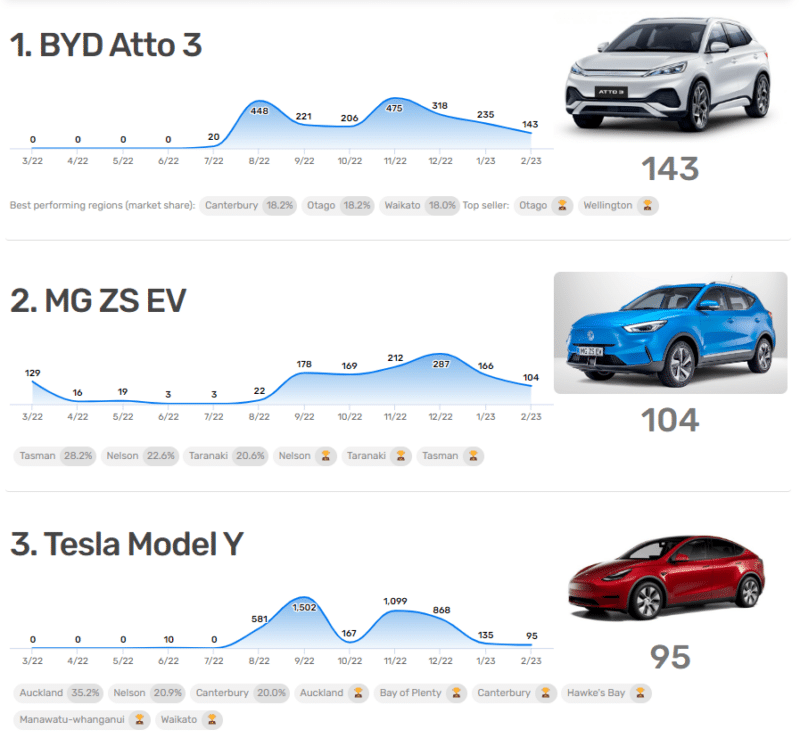 The electric vehicle market is expected to grow rapidly in New Zealand, with the government's push for cleaner transportation and reduced emissions. According to the New Zealand government's electric vehicle program, the country aimed to achieve 64,000 EVs on the road by the end of 2021. As of December 2021, there were over 36,000 EVs registered in New Zealand, marking a significant increase from previous years, but failed to meet the goals set by New Zealand.
New Zealand's Government has set the goal to have 35% of the new vehicle registrations be electric vehicles by 2035. As there are approximately 100,000 vehicles sold each year, so they want to sell around 35,000 EVs each year, starting from 2035.
Meanwhile, BYD is focusing on the New Zealand market and expanding its reach globally. The company exported 15,002 EVs in February, marking an 11-fold increase from the previous February. Tong Shu, an analyst at BYD, believes that BYD's export volume of EVs in 2023 will be between 300,000 to 400,000. BYD was also the sales champion of pure EVs in China, Israel, Thailand, New Zealand, and Singapore in January.
Editor's Comment
Tesla and BYD are the world's leading EV manufacturers, with fierce competition in China, Australia, Thailand, New Zealand, and other places. Tesla is expanding its production capacity and will build a new car factory in Mexico. BYD is also increasing its exports and is building a new factory in Thailand. The competition between the two EV giants will significantly promote the reform of the automobile industry. Tesla may launch a smaller Model 2 (rumored name) in the future, and BYD's ATTO 2 (Dolphin) has also disclosed that it may be listed in New Zealand in the third quarter of 2023.
Source: EVDB