Ford has never quite got it right in China. While not as bad as Chrysler, a company that has now withdrawn from the market after the cessation of local Jeep production, Ford has always lagged GM, and by some margin.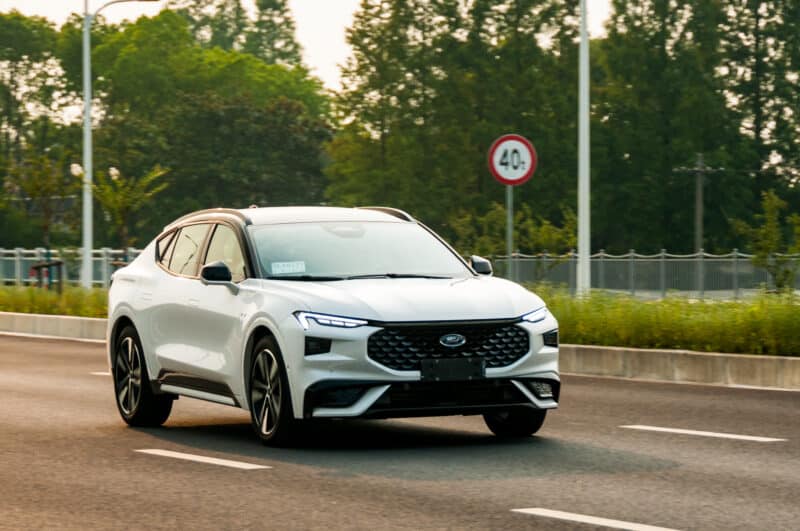 Probably the biggest reason has been the product mix. Ford Motor Group hopes to turn its fortunes around with three new cars designed especially for China and all based on the same platform. We drove the first of these, the Ford Evos, to see if it has what it takes. With sales in China peaking at 951,396 back in 2016 before plummeting all the way down to 232,555 in 2019 Ford certainly needs this car to be a success. Since 2019 sales have stabilized and moderately increased but Ford needs some winners.
Exterior
First shown at the 2021 Shanghai Auto Show the Ford Evos is not quite as category bending as the Citroen C5X. Nonetheless, the Evos aims to fill the place which would traditionally have been filled by a family sized saloon/wagon. Although a 4920mm crossover its dimensions are far more car like than those of a soft roader with a height of just 1600mm. As such the Evos cuts a sleek, sporty profile.
Speculation suggested that this car would replace the Mondeo/Fusion in the European and North American market but so far it is a China only model = one that was largely developed in country by Ford's newly enlarged local design team. What came as more of surprise was that soon after the Evos Ford actually showed a new design in China Mondeo for the Chinese and Middle East markets meaning that the Evos isn't actually a direct replacement for the Mondeo in China after all!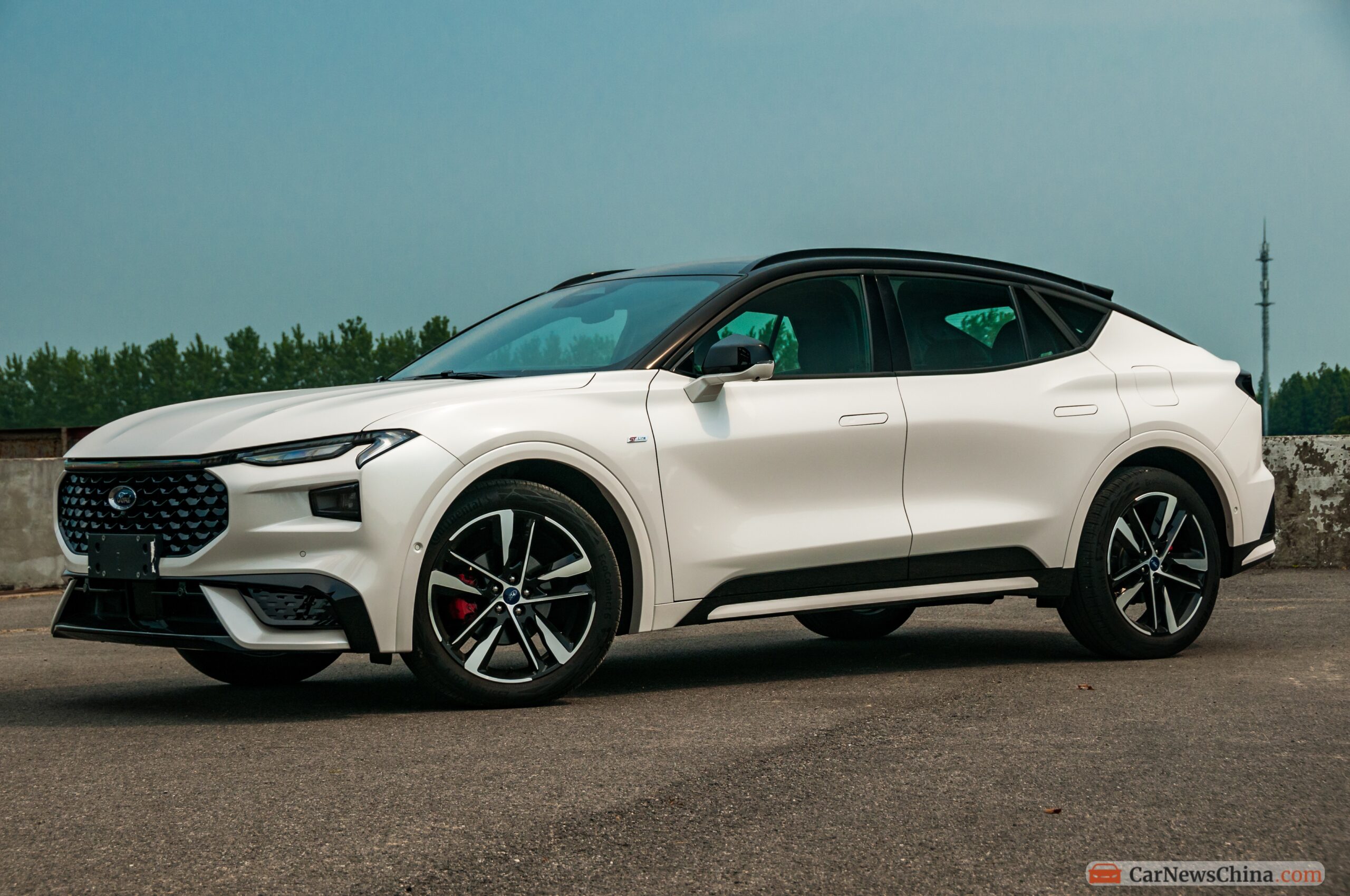 One really interesting aspect of the design is the front grille. Made up of interlocking plastic pieces that flutter when you unlock the car. This feature seems to be a development of the grille seen on Ford's concept art piece shown at the 2020 Beijing Auto Show which got the internal nickname dragon scale grille.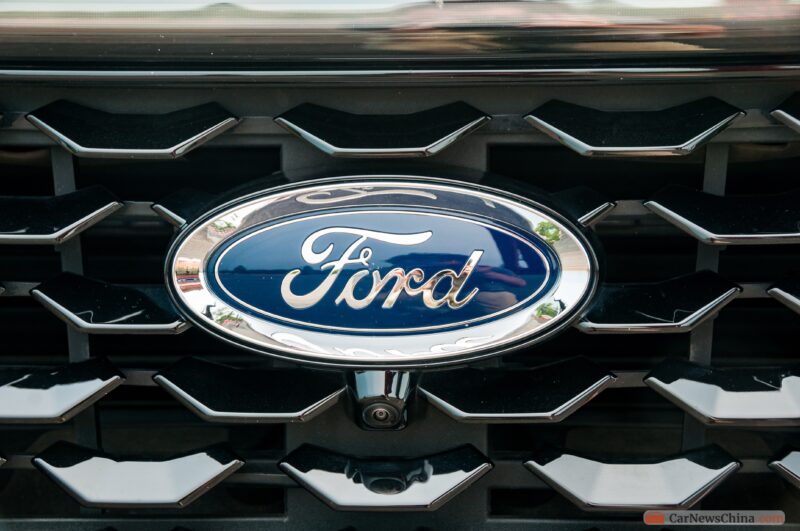 Interior & Infotainment
If you think the exterior of the Evos looks bold for a Ford, wait until you see the interior; it is quite unlike anything you've seen in a blue oval badged before! The first thing you're likely to notice is that 1.1 meter long length of screen which dominates the dashboard. Although a continuous molding it's actually made up of two screens – a 12.3-inch digital instrument screen along with a 27-inch infotainment screen. The latter actually can split into two meaning you can have a central infotainment screen and a separate screen for passenger entertainment – and when split you can throw things from one screen to another. Navigation seems intuitive and response time is good. There is also voice activation for controls.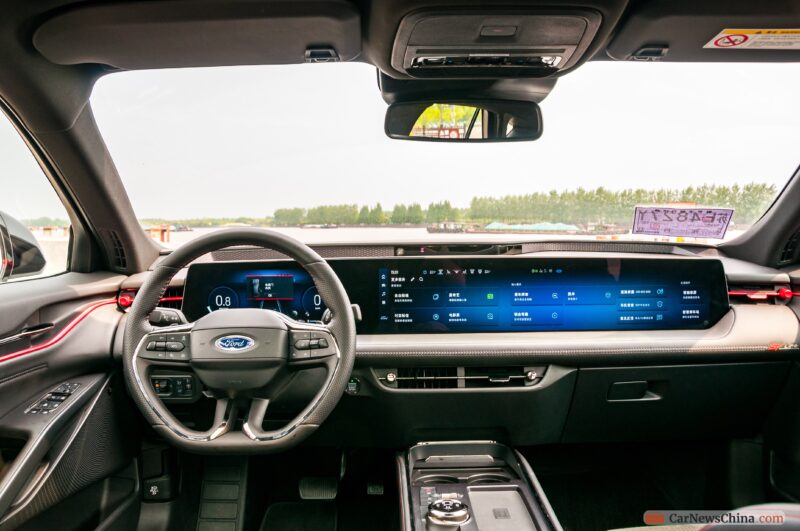 Our test car was the ST-line version which sits second from the top in the Evos range and so it certainly wasn't short of equipment. It came with heated seats for both the front and rear and a 10 speaker B&O sound system.
Thanks to the combined sunroof panoramic roof the cabin has a nice airy feel to it. In general, the materials are of good quality, however the seats are partly leather, partly microfiber and tend to mark quite easily. The ST-line gains red highlighting which runs around the interior and there is also red stitching on the seats.
In the front, there is a wireless phone charging pad along with both a Type A and Type C USB port. Rear passengers also get one of each on the back of the center console. This also contains a pair of air vents and controls for the rear heated seats. Our test car had a poor join on the right hand side at the back of the console.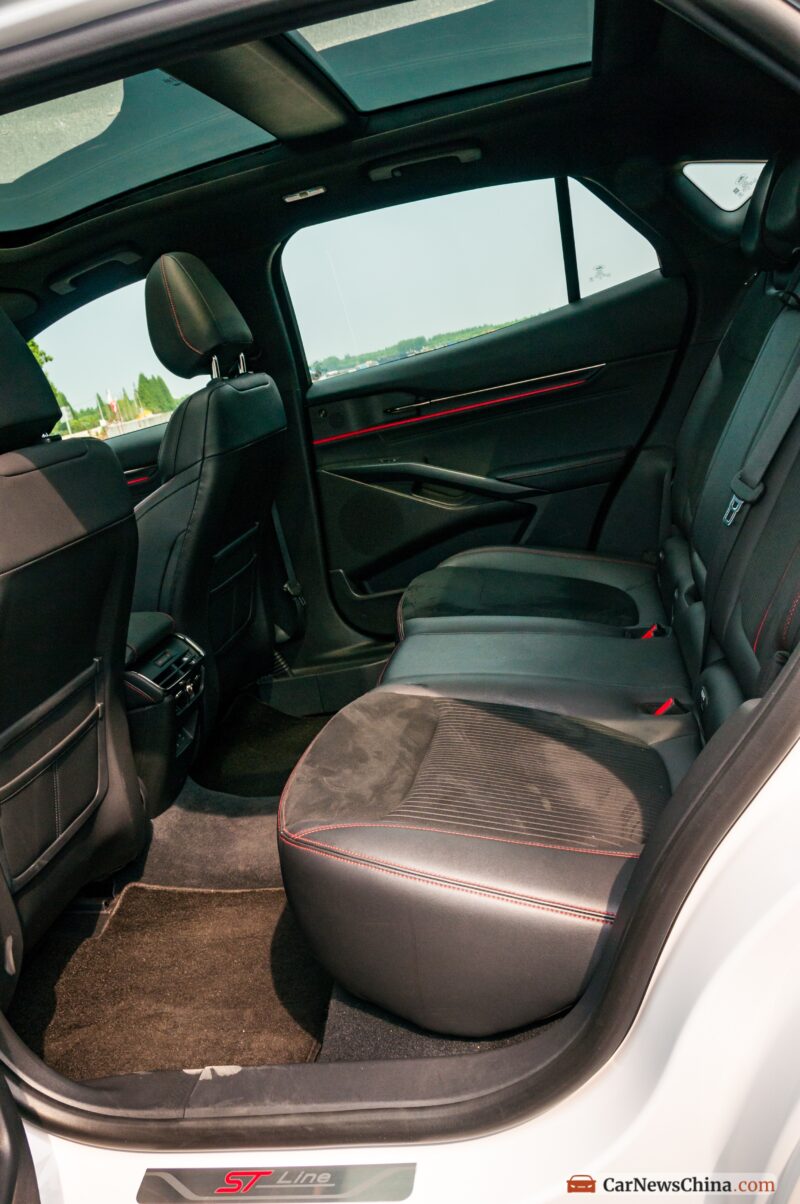 Rear seats have manual rake adjustment and there is plenty of legroom. Where things are not so good is with headroom. I am 1.75m and when I sit upright I can fit around three fingers between my head and the roof.
To open the rear trunk you press Ford's blue oval badge, the tailgate itself is electric. There's no official capacity figure for the trunk but it is large. Under the sturdy floor is a space saver spare wheel.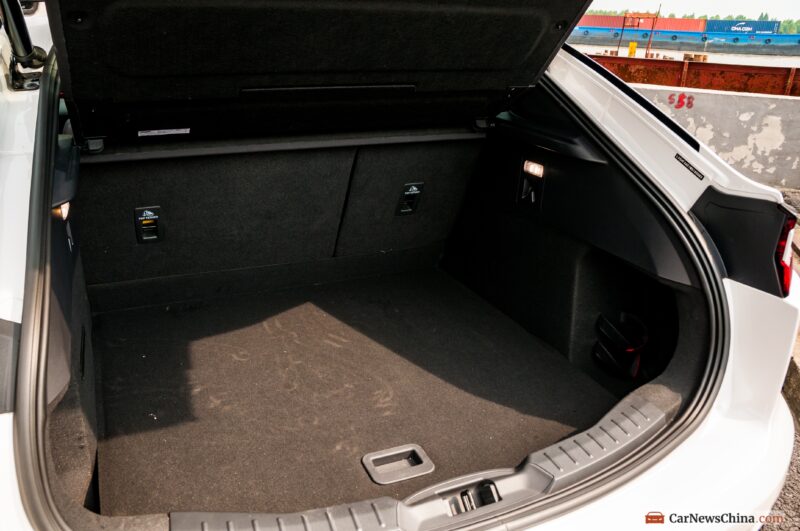 Performance and Driving Feel
Currently, the Ford Evos only comes with a 2.0 liter turbocharged Ecoboost engine coupled to an eight speed automatic. Such an engine might seem a bit small for what is a large car that weighs in at 1651kg but it delivers 175kW (238hp) and 376Nm of torque. And in a straight line, it's fast – it takes just 6.6 seconds to 100km/h (62mph). I say in a straight line because the Evos is not a car you want to be driving hard around corners where it wallows and doesn't hold the road particularly well.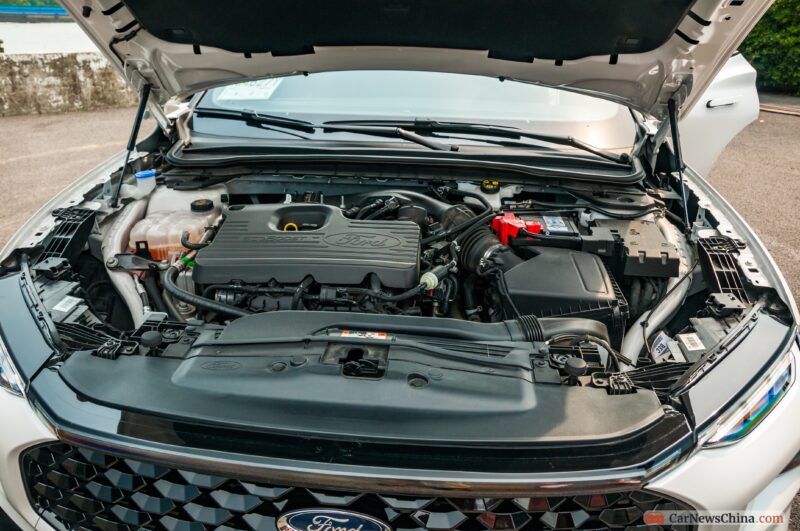 Furthermore, the gear mapping seems all wrong. No matter which drive mode Eco, Normal or Sport it seems to hold gears for too long making the engine overly rev. Changes themselves are smooth enough and there are also paddle shifts if you want to take more control. There is meant to be auto stop/start but on our test it never once stopped the engine which perhaps was due to the need to run the AC on a very hot day.
Despite the damping being very much for the softness of the ride the steering is well weighted and precise. While you do feel a bit higher than in a regular car, it equally doesn't feel like being in an SUV.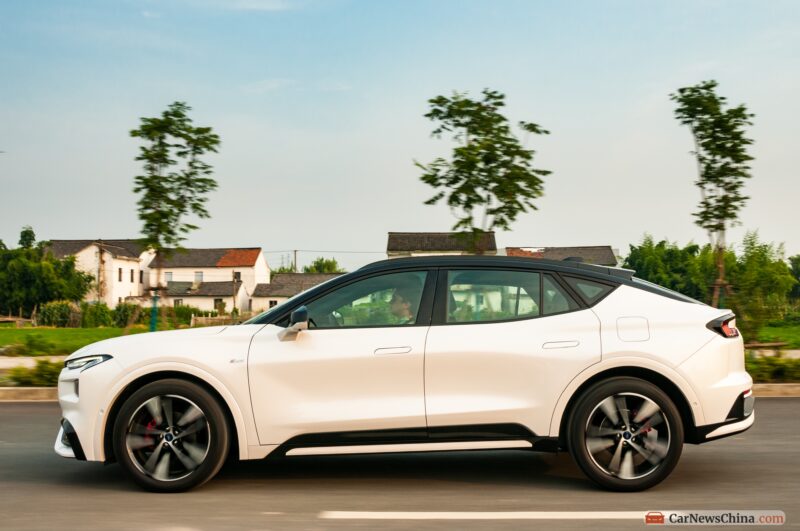 Although the Evos doesn't come with a head up display, it does get an augmented reality display. These are becoming increasingly common on Chinese market cars and show a picture of the road ahead in the instrument panel onto which navigation prompts such as which lane to take and where to turn onto another road are overlaid. While generally a bit of a gimmick they can be useful on unfamiliar roads with complicated layouts.
Sum up
The Ford Evos is a very distinctive car with an interior very much designed with young tech-minded consumers in mind. However, the question is whether such buyers are interested in the Ford Evos seeing as there are currently no electrified drivetrain options. Certainly, it would make sense for Ford to launch a PHEV version of the Evos possibly with a smaller engine to help bring down weight. It would seem that Chinese consumers agree, so far sales have yet to break through the four figure barrier in any given month.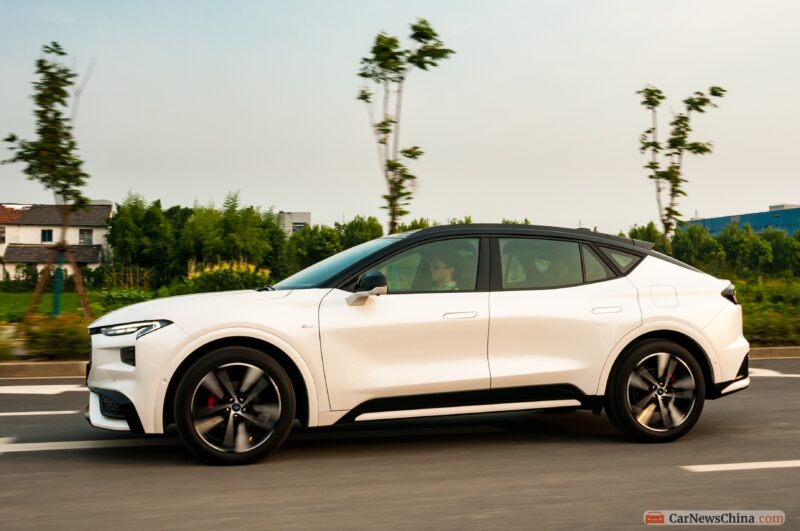 Would the Evos do well in foreign markets? Certainly, the exterior would I believe attract potential buyers, it is really quite different from most cars on the road. The interior might though be a bit too high-tech for the European market and once again the lack of a PHEV version would likely hinder sales.
Official prices range from RMB 181,800 (USD 26,550) up to RMB 241,800 (USD 35,300). The ST-line we tested comes in at RMB 239,800 (USD 35,000). Given the sales performance and the general weakness of the Chinese car market, official prices are likely to be highly discounted.
Verdict
| | |
| --- | --- |
| Power & Drive feeling | 6 |
| Passenger space | 8 |
| Tech & UX | 8 |
| Price quality ratio | 8 |
| The best thing | That 1.1 meter long screen |
| The worst thing | Gear Ratio Mapping |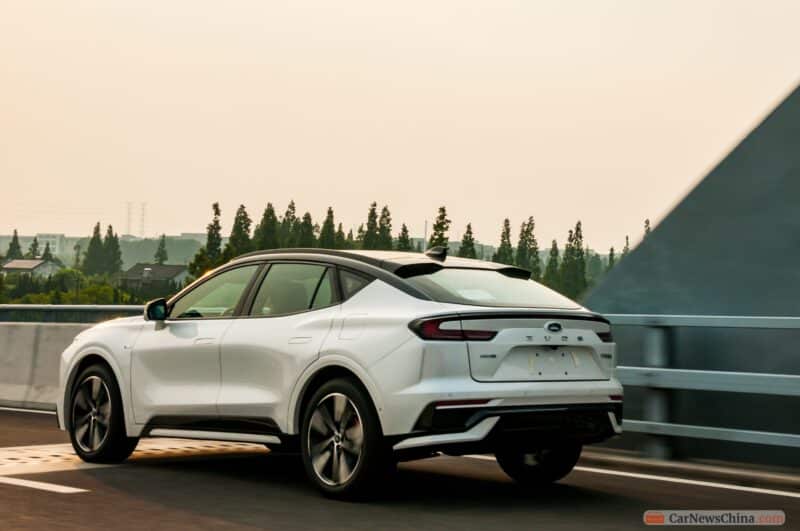 Overall: Undoubtedly one of the most interesting Fords for a long time. While the Evos may have been designed for China so far it doesn't seem to be resonating with Chinese consumers and it might well be better suited for overseas markets. Currently, there seems to be a mismatch between the ICE only powertrain and an interior that looks more like it should be in an EV with that huge 1.1 meter expanse of glass with the two screens.
A PHEV version would go a long way to boost the attractiveness of this car both in China and for possible overseas markets. At the moment though it seems the car's good looks and comfort are not enough to carry it alone.
Based in Shanghai, Mark Andrews is one of the leading English language authorities in the Chinese auto industry. You can follow him on Twitter.