German Federal Transport Authority KBA published vehicle sales data based on registrations for April 2023. 202,947 vehicles were registered in the country, marking a 12.6% growth compared with the same month last year.
All-electric vehicles recorded a 34.1% increase and sold 29,740 units, marking a 14.7% market share. Plugin hybrid cars registered 11,787 units, -54.7% YoY, keeping a 5.8% market share.
Among German brands, almost all showed a growth trend as Porsche sold 2,768 units (+32% YoY), Mercedes-Benz sold 20,990 units (+10.3%), Audi sold 17,788 units (+24.5%), and VW 34,940 (+23.7%) with a total 18.2% market share.
Among foreign brands, Tesla sold 2,420 cars in Germany, marking a growth of 272%. All percentage growth is compared with April of 2022.
For Chinese brands, the winner is SAIC-owned MG, with 1,163 sold cars, almost 50% down from March when they sold 2,010 vehicles. MG is followed by China-made Polestar, with 544 EVs (756 in March), and third place goes to Lynk&Co, which sold 194 PHEVs (429 in March).

Great Wall Motor registered 101 units of their Funky Cat compact EV. BYD registered 47 EVs, up from 7 units in March. Geely's Lotus reported 37 units, and Nio 25 units, down from 122 units the previous month. Nio cumulative registrations in Germany since the October launch are 545 units. Aiways didn't register a single car in Germany in April.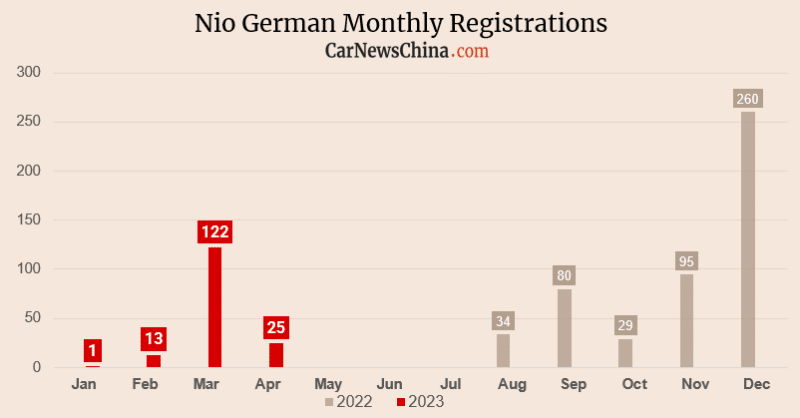 Lynk&Co started sales in Germany in early 2022, BYD started the presale of their Han and Tang EVs in September 2022, and Nio launched in Germany in October 2022 and currently delivers three models – SUV EL7 (ES7 in China), premium sedan ET7 and mid-size sedan ET5. The ET5 makes about 70% of Nio sales in China, and it started deliveries in Germany on March 31 with big hopes to boost its sales.
Nio Norway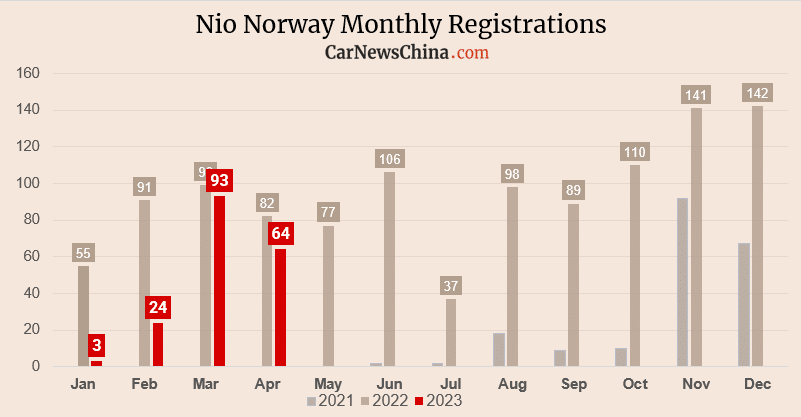 Nio's oldest European market is Norway, which they officially entered in September 2021 by launching their first generation ES8 SUV. Nio registered 64 EVs in the Nordic country in April, down from 94 in March. The April sales were driven by ET5, which sold d34 units, followed by ES8 (NT1) with 21 registered units and EL7 SUV with 8 units. ET7 premium sedan registered 1 unit. Nio's cumulative deliveries in Norway since the launch in 2021 are 1511 units.
BYD and Nio in China
Nio sold 6,658 EVs in China in April, down 35% MoM. BYD sold 104,346 EVs and 209,464 passenger vehicles in total (including PHEVs). BYD phased out ICE cars production last April.