Dongfeng is a Chinese automaker that is well-known for launching lots of brands. Up to now, Dongfeng owned such brands as Forthing, Fukang, Fengon, Aeolus and M-Hero. And now, this prolific company launched one more brand that is called Nammi. It will manufacture small electric cars, and has an annual sales goal of 400,000 units. What is interesting that the first car under this brand will support a solid state battery. Let's get to know Nammi better.
Nammi introduction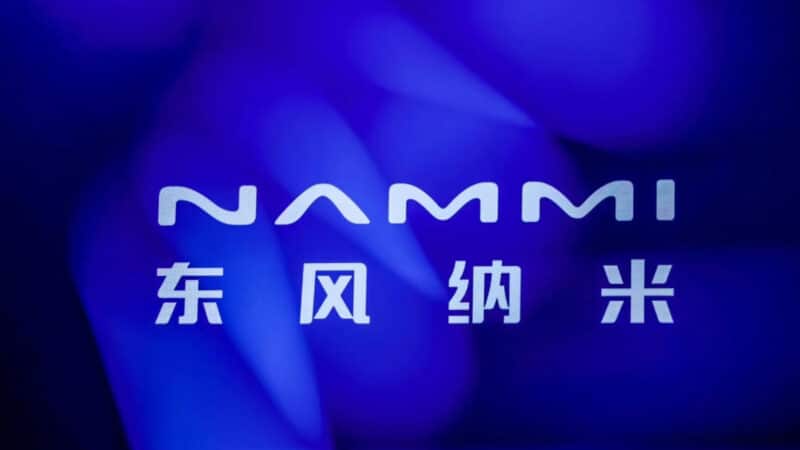 The Chinese name of the Nammi is 纳米 (Nami, Nanometer). So, we can see that its international name just added a letter 'M'. According to Dongfeng, it stands for 'Me' and underlines that the Nammi brand focuses on users' experience. The name of this brand has already defined its market segment. But Dongfeng made it clear by sharing that Nammi will focus on the small electric vehicles market. We will also underline that Dongfeng has already got the vehicle called Nano Box.
They have also stated that the Nammi EVs will be underpinned by the first national pure electric architecture. We aren't sure what Dongfeng meant with this statement because lots of Chinese state-owned companies such as SAIC and FAW already have pure electric architectures. So, it sounds more like a PR-speech.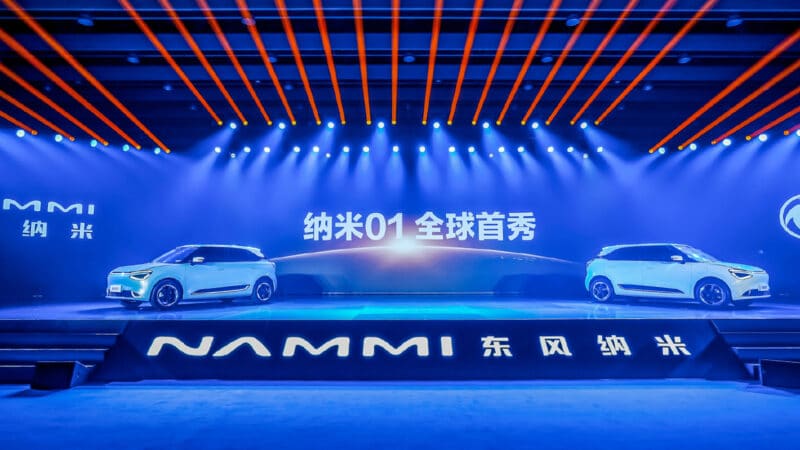 The Dongfeng Nammi brand has also got its own ambitious strategy for 2023-2025. Its first model will hit the market in Q4 this year. In 2024, Nammi also wants to launch 1-2 new models. And in 2025, two more models will hit the domestic market. According to Nammi, it has a goal of selling 400,000 units in 2025. Its key customers are small families who live in big cities. What exactly will Nammi offer them? Let's see.
Nammi 01 market launch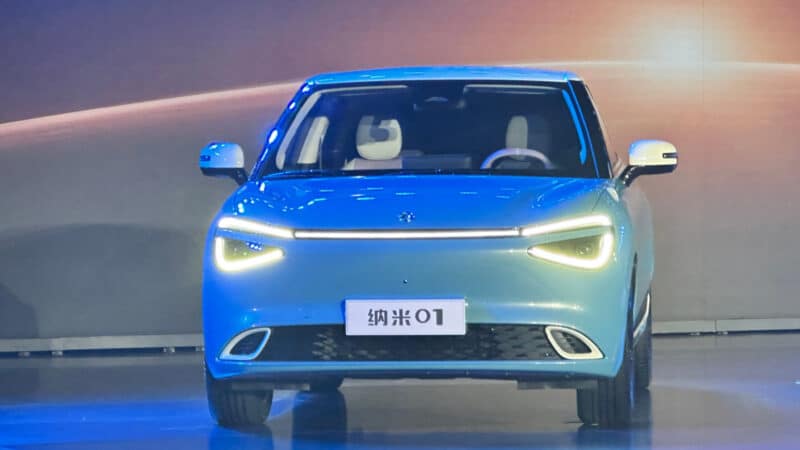 During the launch event, Nammi introduced its first model that will start sales in late 2023. It is the Nammi 01 small electric hatchback. Some netizens immediately began comparing this vehicle's exterior design with the Smart #1, calling the 01 a copycat. We should admit that the first Nammi car, in fact, stays really close to the Smart #1 in terms of styling. However, it has different headlights and taillights. Other features of the Nammi 01 are retractable door handles, a floating roof, 17-inch wheels and short overhangs. Its dimensions are unknown.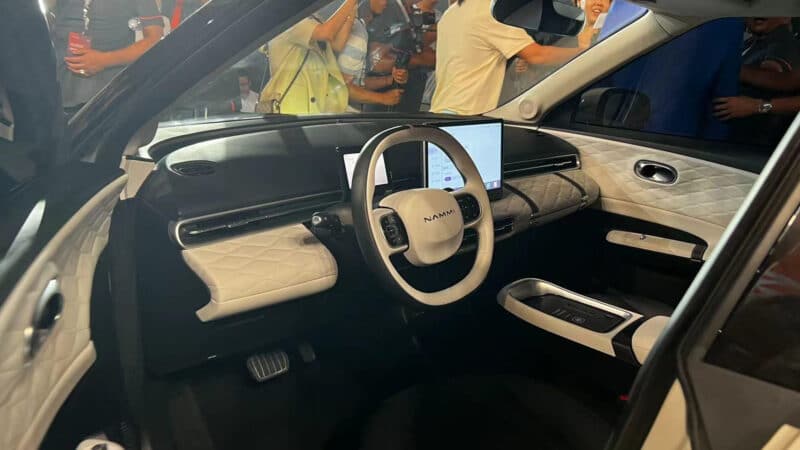 Inside, the Nammi 01 has a large floating screen, a floating two-spoke steering wheel, and a small LCD instrument panel. The gear shifter of the Nammi 01 also sits behind the wheel. The center console and door cards of this vehicle are covered with leatherette. As for the center tunnel, it has a wireless phone charging pad. We will underline that it is a pre-production version of the Nammi 01. The mass-production model can be equipped with less expensive materials.
As we have mentioned earlier, the Nammi 01 stands on the new electric platform. As a result, it supports L2 active driving assistance features, including AEB and automatic parking functions. It also has a single electric motor for 163 hp. As for the battery, it will be a sodium solid-state battery. And it is where this car becomes interesting.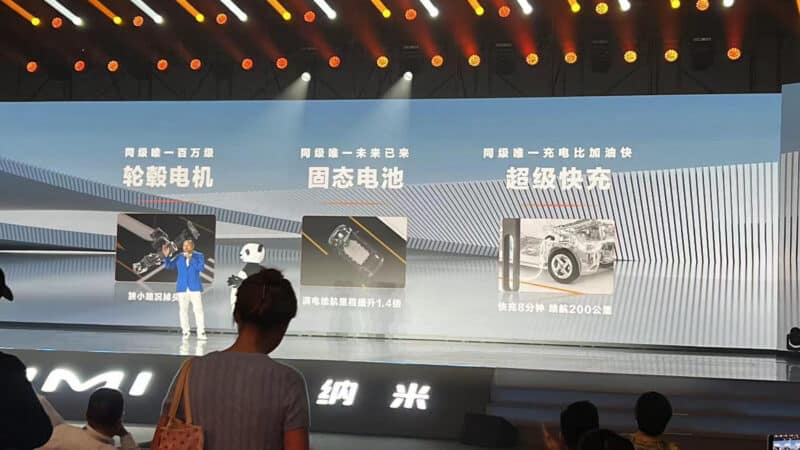 According to Nammi, it will be able to charge 200 km of range in 8 minutes. Moreover, it will support the external discharge function (like V2L). Unfortunately, Nammi didn't provide further details on its battery. But we will remind you that Dongfeng has previously tested the solid state battery mounted on Dongfeng Aeolus E70 sedans. Its energy density reached 157 Wh/kg. As for the manufacturer, it was Ganfeng Lithium. However, we aren't sure that exactly the same battery will power the Nammi 01. Anyway, we will keep an eye on this vehicle, so stay tuned!
Update (27.08.2023)
According to Dongfeng, the first Nammi EV will be underpinned by the new platform that supports solid-state batteries. However, it wasn't proved that the Nammi's first model will actually have the sodium battery on board. We will carefully look for more information on this cute electric city car.