During week 40 of this year, October 2 – 8, almost all automakers' sales were down as China celebrated the National holiday. Tesla was the biggest loser, with an almost 90% drop in sales, while GM – SAIC's Wuling was the winner, being up 10%.
The data were published by Li Auto, and they represent weekly sales. The background data are weekly insurance registrations. The numbers are rounded and present new energy vehicles (NEV), the Chinese government term for BEVs and PHEVs. To be completely precise, it also includes hydrogen vehicles (FCEVs), but their sales are almost non-existent in China.
BYD sold 51,400 vehicles despite the holiday, down 17% from 62,600 units the week before (W39). Despite the 17% decrease seeming significant, it is pretty good compared to other automakers, which saw a 30 -70% slump in sales. That is not surprising as most people leave cities during the more than a week-long holiday to visit their families.
Another winner of the holiday week was Li Auto, which sold 6,900 vehicles, down 9%. Next week will show if Li Auto will break 40k deliveries/month in October, but it looks pretty likely.
Li Auto sells only range-extended electric vehicles (EREVs), which are EVs with ICE as a power generator for the battery, not connected to wheels. In December, Li Auto will launch its first all-electric car, Li Mega. It will be a massive MPV priced above 500,000 yuan (70k USD).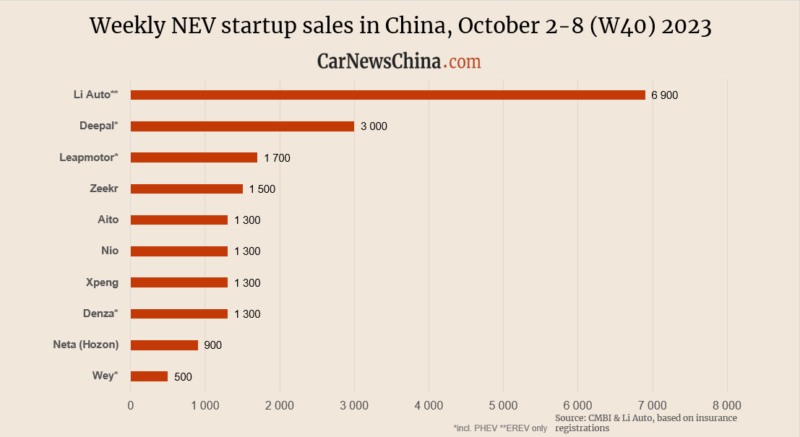 For Tesla, the first week of October wasn't good. Their sales were down 86% week-on-week, and they sold only about 1,000 vehicles in China. That isn't enough even for the top 10 EV makers, so you don't see them in the first leaderboard chart. All 1000 registered vehicles were Model Y, with Model 3 registering only about 10 units.
In the last week of September (W39), Tesla sold 7,200 EVs, down 47% from the week before (W38), when they sold 13,500 units in China.
On October 1, Tesla launched a slightly updated Tesla Model Y SUV in China with more power and the same price tag. On September 1, the US automaker started the presale of the facelifted Model 3 in China. The new electric sedan is 12% more expensive than the previous version, which is a brave move in the ultra-competitive Chinese market. The RWD Model 3 starts at 259,900 yuan (35,900 USD), making it on par with Model Y price. The deliveries will begin in Q4; Tesla didn't specify the exact date yet.
Tesla sold 74,073 China-made vehicles in September, down 11% compared with the same period last year and 12% down month-on-month.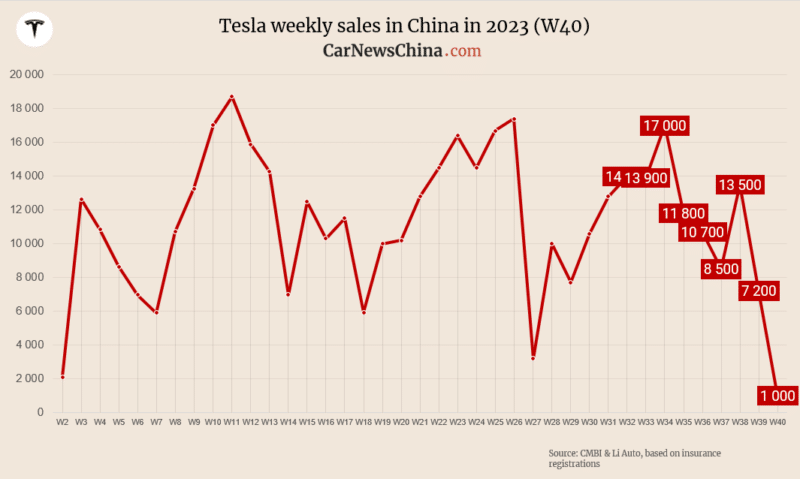 Nio was pretty strong in the last week of September (W39) and the week before (W38), as they sold 4,400 and 4,000 vehicles, respectively. But during the holiday, their sales dropped 70% to 1,300 units.
The W40 sales consist of 520 units of ES6 SUV bestseller, 400 units of ET5 (including ET5T), 220 new generation EC6 SUV Coupe that launched in September, and 170 units of large SUV ES8.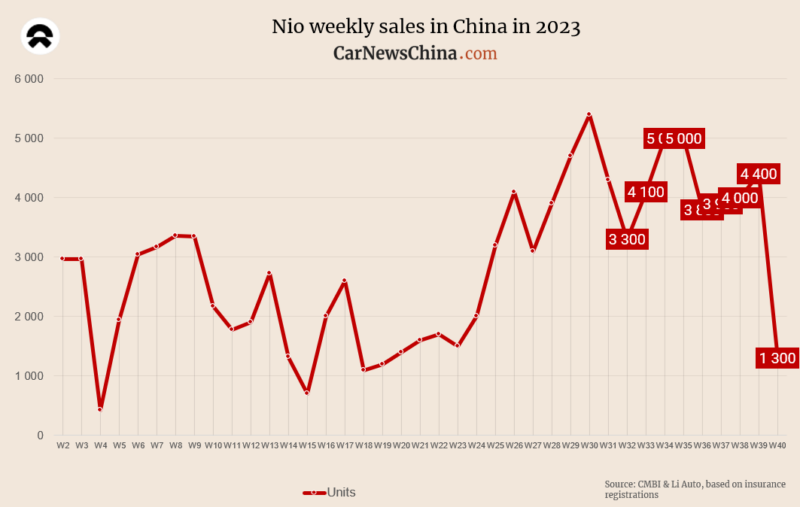 Interestingly, the only automaker up in the first week of October was Wuling, which grew 10%, selling 12,000 new energy vehicles. Wuling's bestseller is Wuling Bingo, a compact, affordable hatchback that competes with BYD Seagull.
As for other automakers, GAC Aion was 40% down, Volkswagen 39%, Leapmotor 60%, and Changan's Deepal 32% down.
Editor's comment
From the winners of week 40, BYD and Wuling use the traditional dealership model, while Li Auto uses the direct sales model. From the losers, Volkswagen uses dealers, while Nio and Tesla use a direct sales model. So, this has most likely no influence.
I would conclude that if you spend your holidays shopping for a new car, that shows some big desire and brand loyalty.