The Roewe D7 NEV sedan from SAIC Group has entered the Chinese market with a starting price of 125,800 yuan (17,300 USD). Its electric version has up to 610 km of CLTC range and 211 hp. The PHEV version has a mixed range of 1,250 km (WLTC). 
Roewe is a passenger car brand under the SAIC Group. It owns MG, Maxus, IM, and Rising brands. SAIC is also a part of the SGMW joint venture that manufactures Wuling Bingo, Hogguang Mini EV, Baojun Yep, etc. In China, the Shanghai-based automaker also manufactures Volkswagen, Buick, Cadillac, and other vehicles. Back to Roewe, it was launched in 2006. Now, it has launched its newest product, the D7 sedan.
Roewe D7 EV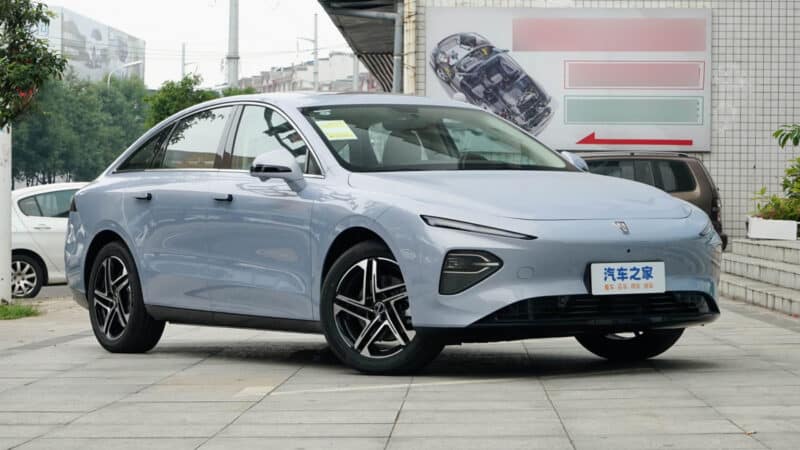 The Roewe D7 EV is an electric mid-size sedan that adopts a new design language with thin LED running lights and headlights integrated into the front bumper. It also has retractable door handles. From the back, the D7 EV has two thin taillight units. The dimensions of the Roewe D7 EV are 4890/1872/1510 mm with a wheelbase of 2810 mm.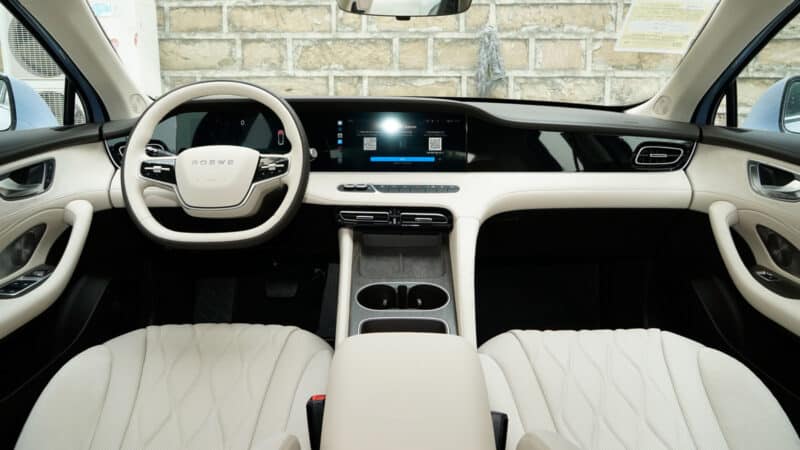 Inside, the Roewe D7 EV has a twin screen. It comprises a 12.3-inch LCD instrument cluster and a touch screen of the same size. It also has a two-spoke steering wheel with a gear shifter behind it. In the center tunnel, the D7 EV has two cup holders and two wireless charging pads.
The Roewe D7 EV has two powertrain options with batteries made by the SAIC-CATL joint venture
RWD, 197 hp, 0-100 km/h in 7.3 seconds, 59.2-kWh LFP battery, 510 km range.
RWD, 197 hp, 0-100 km/h in 6.5 seconds, 68.5-kWh NMC battery, 610 km range.
The price range of the Roewe D7 EV is 149,800 – 176,800 yuan (20,575 – 24,280 USD).
Roewe D7 DMH (PHEV)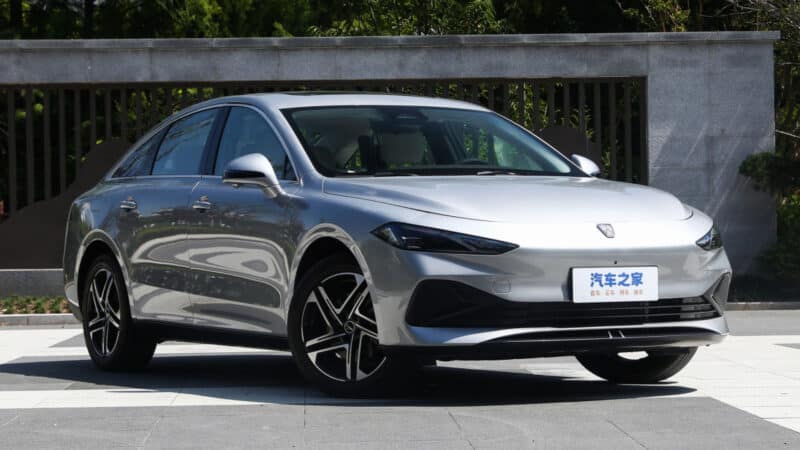 The Roewe D7 DMH is a PHEV variant of this sedan. It has a slightly different exterior styling with bigger headlights and a big air intake in the lower part of the front bumper. In contrast with the electric version, the D7 DMH has traditional door handles. Its dimensions are also slightly different at 4890/1890/1510 mm. The wheelbase is 2810 mm.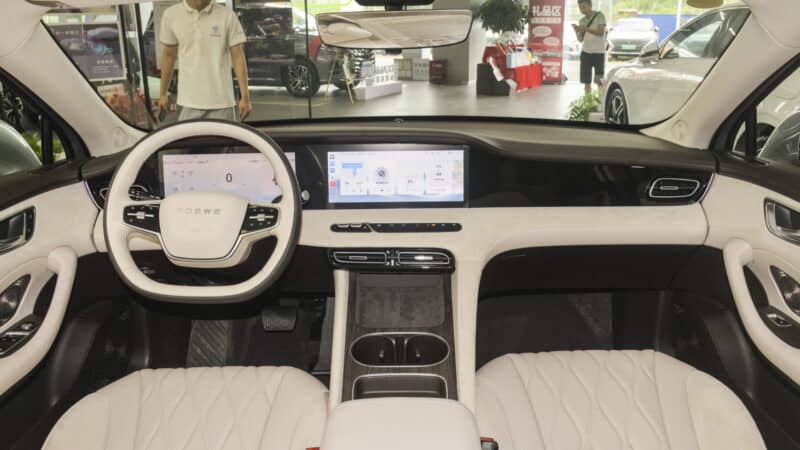 The interior of the D7 DMH has a center console of a different shape. But screens, steering wheel, gear selector, and center tunnel are the same. The Roewe D7 DMH has a single powertrain option:
FWD 1.5L ICE for 112 hp, e-motor for 204 hp, 0-100 km/h in 7.9 seconds, 21.4-kWh LFP battery, 125 km of electric range (CLTC), 1,250 km of mixed range (WLTC).
The price range of the Roewe D7 DMH is 125,800 – 145,800 yuan (17,300 – 20,000 USD).
Source: Autohome