Volkswagen never bothered to make an all-electric Beetle. Well, if you wait too long somebody else will do it for you, whether you like it or not. This is an all electric Beetle Convertible made by a company called 'Jixing Diandongche', which translated as 'Lucky Star Electric cars', they are from Suzhou in famous copy-cat Zhejiang province.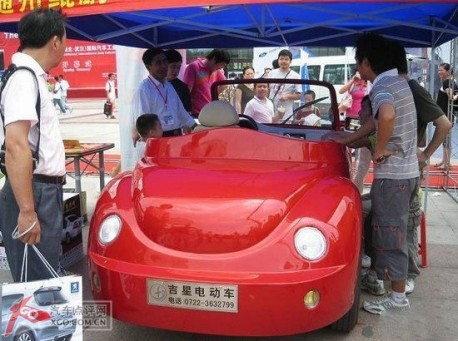 Lucky Star Electric cars is a part of a bigger company, called Kun Peng Corporation, based in Suzhou as well. The company's main business is the "production of glass reinforced plastic products", this Beetle Convertible is made from that stuff.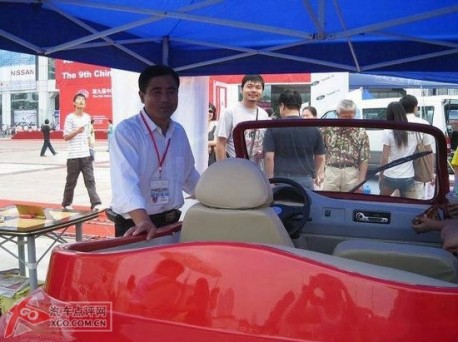 Lucky Star calls this Beetle a 'Wedding Vehicle'. Me guess that your new wife will file for divorce as soon as she sees this thing. A few 'parameters' we have: size: 42500X1600X1710, wheelbase is 2550. Weight is 900kg, max load is 300kg. Wife can be heavy…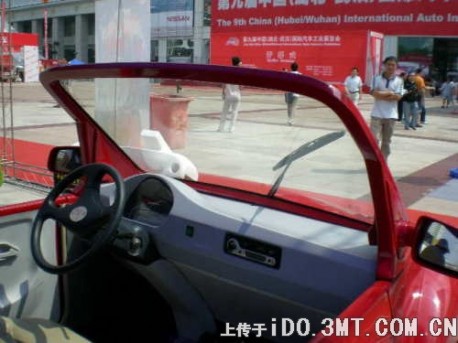 Maximum speed is 40 km/h, just enough to escape from the village when everybody is laughing is you, and throwing eggs at you. Charging time is 8-10 hours. Max range is a neat 100km, just enough to get far enough, from that village. Unfortunately Lucky Star does not reveal anything about the engine itself, this likely means they buy it somewhere else. Zhejiang has enough 'factories' for that, all very small, very family and very crappy. Still, a 100km ain't bad.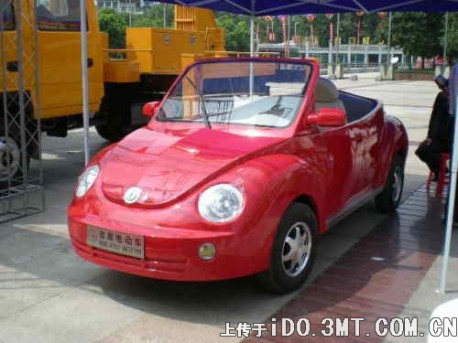 Nice job from Lucky Star, no on to the new Beetle.
Via: 3mt.com.cn, Xgo.com, and Lucky Star (corporate website).