It has been an interesting week. We saw a Chinese car company copying the true American Ford F150 and Chevy Silverado Colorado. This one however, beats all. Here we have a Chinese beer brand from the great city of Jingzhou in Hubei Province called 'Jeep Beer' (吉普啤酒). 'USA Jeep Group Limited', a pic of a Jeep, 'Jeep's Premium Quality Beer', and 'Just for Man'.
Stealing Jeep-things for beer is really bad, but what really pisses me off is that they also copied the famous tilted 'e', the red star, and the label's overall design from the great beermaker Heineken from the Netherlands, My Home Country! That 'e' alone has been copyrighted a zillion times!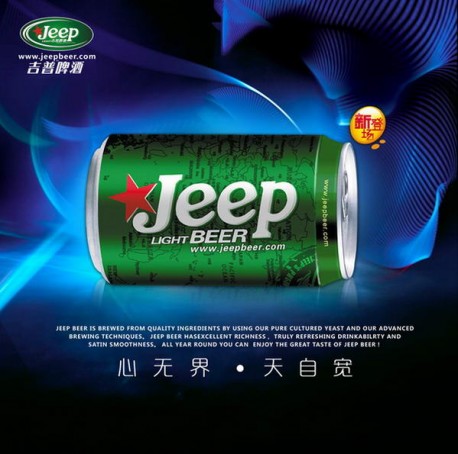 The full name of the company is 'Hubei Jeep Brewery Corporation', established only in 2010. I never heard of them before and I have been drinking a lotta beer in the seven long years I have been in China. Guess I have to go to Hubei to taste me a Jeep.
They introduce themselves on their website with a brilliant piece o' work. Translated by Google but you'll get the point:
[quote]
Hubei Jeep beer has become a symbol of a free and conquered, in the world.
★ Hubei Jeep infinite vitality exists, even in the harsh environment remains highly viable. Car culture, movies, culture, and fast food culture, collectively referred to as the modern United States' three cultures, and Jeep is one of the most representative of the brand, it is concentrated expression of the American adventurous and determination of the character, be regarded as materialized a symbol of American spirit.
★ kind of the Jeep to conquer difficulties, chasing the heroic spirit, the Jeep kind of pioneers. Aloof pride of the brave … has been a realistic portrayal of the next-generation cowboy.
[unquote]
Well indeed!, but at least this Hubei Jeep Brewery genuinely seems to like America, wit those cowboys and all.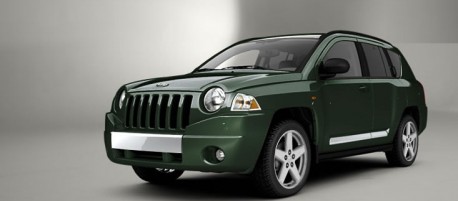 Best thing: they offered a real Jeep as an award for the distributor who could sell the most Jeep Beer. It was apparently won by a man who sold 60.000 liter. Google again:
"To do the JEEP beer business, Award JEEP off-road vehicle!"
Hubei Jeep Brewery got some other interesting beers: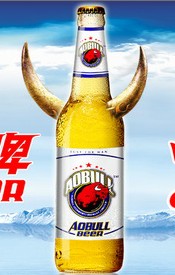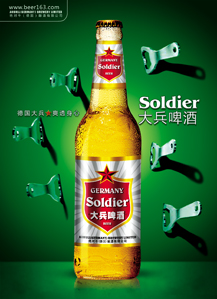 Aobull and Germany Soldier, that last one will mix fine with a a Jeep.
Website: JeepBeer.com. Download JeepBeer logo's here.
All right, that's it, I am gonna get a myself Carlsberg and call Heineken in Amsterdam.