The rumors were true. JAC will indeed launch a spectacular sports car on the Beijing Auto Show. This is the JAC Heyue SC coupe, design-wise based on the TJ Innova S11 concept car that debuted at the 2009 Shanghai Auto Show.
The Heyue SC is no concept, it is for real. It will be listed on the China car market this year, price will start from 200.000 yuan. Power comes from a 2.4 with 121kw and 217nm, mated to be 5-speed manual, good for a 205km/h top speed. Best thing: it is rear-wheel drive. This JAC Heyue is the biggest surprise for the Beijing Auto Show up until now, and a fine one it is.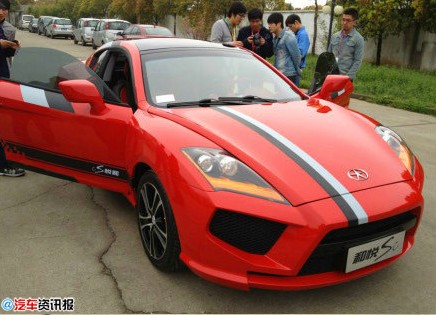 'Heyue' is best translated as 'Harmony & Happiness' and that indeed is a very interesting name for a sports car. The Heyue's design is still sharp after three years, it seems JAC didn't change much at all. The Heyue SC will compete only with the Brilliance BS6 Coupe and the BYD S8, but it is a much wilder looking thing than those two combined.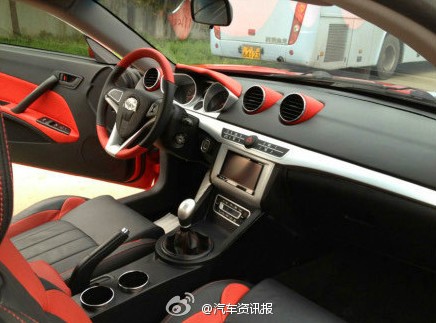 A decent and sporty interior. Techy. Screen is placed very low for maximum distraction. Red air vents a nice touch.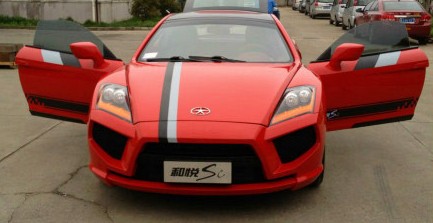 Racing stripes a bit questionable, I would take 'm off, but Chinese car buyers like this sorta sexy.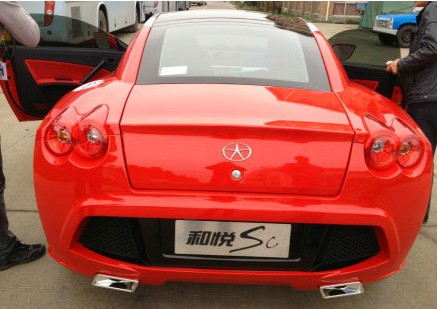 Rear-lights very Ferrari. Exhaust-pipes small but shiny.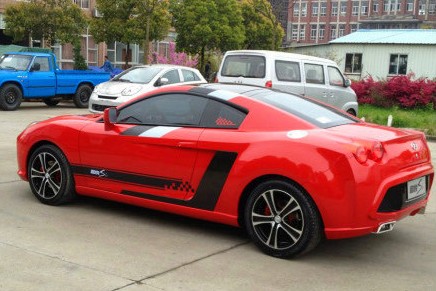 Can't wait to see this thing in the flesh, it will debut on April 23. We will be there…
Via: Weibo.