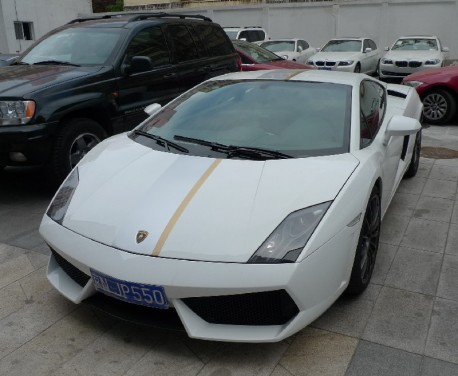 A dusty Lamborghini Gallardo LP550-2 Balboni, seen on a parking lot not far from my home in Beijing. The Balboni was a limited edition Gallardo made to honor Lamborghini test driver Valentino Balboni, only 250 vehicles were made in the 2009 model year. It came only in white with a gray-gold racing stripe.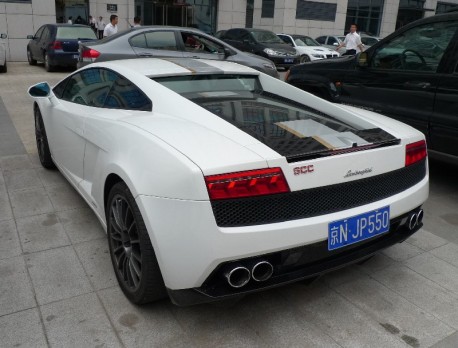 The Balboni was the first Gallardo with rear-wheel drive. Power came from the mighty 5.2 liter V10 with 542 horses, good for a 320km/h top speed and 0-100 was gone in 3.9 seconds. Mr Balboni helped setting up the Balboni with extra sporty suspension and an even faster gearbox. The idea of a rear-wheel drive Gallardo appealed to the market and Lamborghini continued with the unlimited Gallardo LP550-2.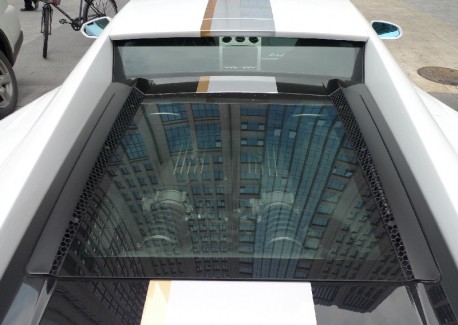 Balboni power. Other notable Gallardo spupercars we have seen in China: LP550-2 GZ8 Edizione Limitata, : shiny green, chrome, Reventon, crash, GZ8 Edizione Limitata, shiny-blue, matte-black & orange, water melon, red wheels,  HK20, pink, matte-black, gold, pink, another pink, lime-green, in gold, one purple, another purple, Gold Edition, and a Spyder Performante.