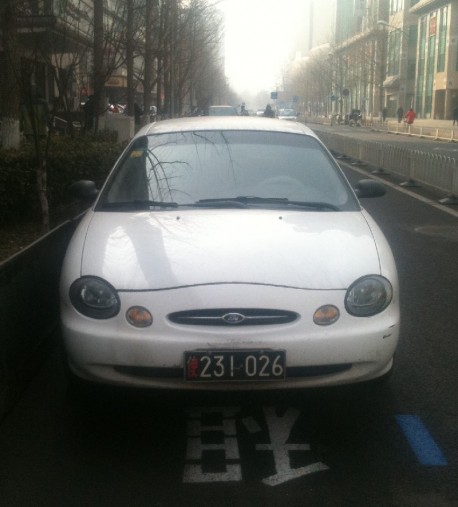 Here we have a very smooth third generation Ford Taurus, seen parked on a taxi stand on a street nearby my home in Beijing. The third generation Ford Taurus was manufactured from 1996 until 1999 with a facelift in 1998, this is a facelifted car. The Ford Taurus was never officially exported to China. This white 'n dirty vehicle however has a diplomatic license plate, indicating it was imported via diplomatic channels.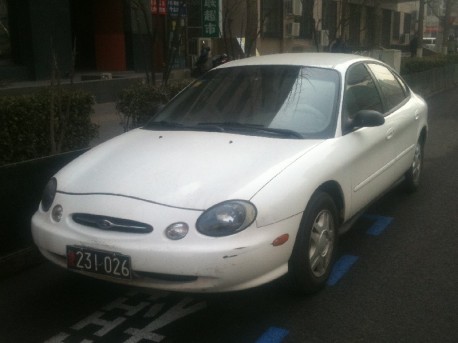 The Ford Taurus used a rounded, oval-inspired design that cause a lot of controversy when it debuted in late 1995. The exterior was designed by Jack Telnack, who was also responsible for the 1979 Ford Mustang, 1983 Ford Thunderbird, 1984 Ford Tempo, 1994 Lincoln Mark VII, and the 1986 Mercury Sable.
The styling of the third generation Ford Taurus was partly a response to the revolutionary 1993-1997 Chrysler Concorde. Sadly, the styling of the Taurus proved just too much for must car buyers and the production was terminated after only three years.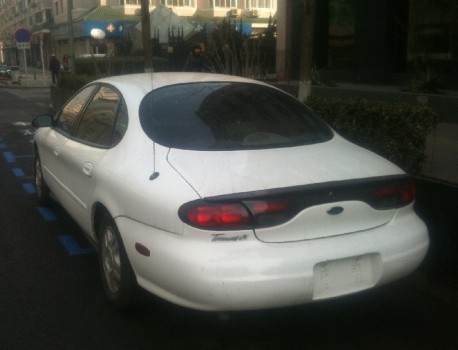 Brilliantly designed unit for the rear lights. More ovals there, and more again in the rear window. This particular vehicle was a top op the line Taurus LX. Power came from a 200hp 3.0 V6, which was specifically developed for the Taurus. Transmission was a four-speed automatic.
The fastest Taurus was the famously mad SHO, powered by a 235hp Yamaha-Cosworth 3.4 liter V8. Strangely, it used the same four-speeder as the rest of the Taurus range.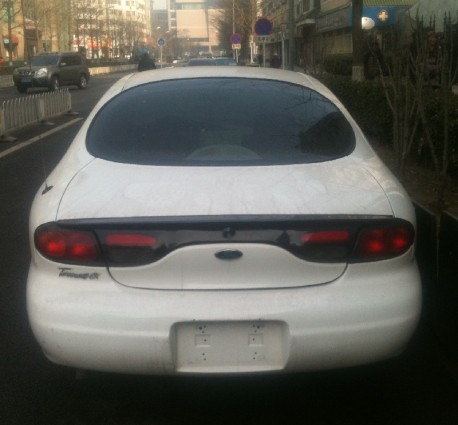 Oh those mad 1990's…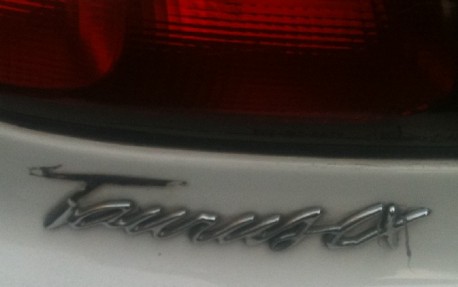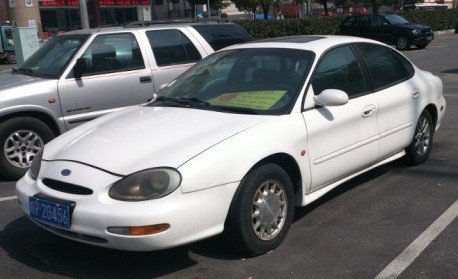 Coincidentally, reader & serial spotter Navigator 84 made another white Taurus in Shanghai, at approximately almost the same day as I met mine in Beijing. It's a Taurus World! This white Taurus is a rather special export version (non-North America) which came with different headlights and a much larger indicator unit in the bumper.