A very lowriding Mercedes-Benz W220 S600, seen in the great city of Xiamen in Fujian Province by reader Pinut187, thank you for the pictures! The good limousine has been lowered by at least ten centimeters and almost eats the ground. Sadly, Pinut187 tells us the vehicle's brake pads were rusty and rotten, indicating this great Benz didn't make a ride for quite a while.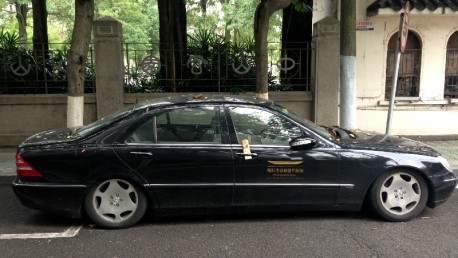 Strange indeed, which man who owns a car like this will leave it alone for long? I certainly would not! The Mercedes-Benz W220 S-Class was made from 1998 until 2005. The vehicle we have here is the very rare pre-facelift S600, which was only made in the model years 2001 and 2002. Power came from a 5.8 liter V12 with 362hp and 530nm.
The W220 was only the second Mercedes-Benz S-Class that was officially exported to China, after the W140. We got us a small collection:  stretched, low rider in Beijing,and matte black.