A very funky Maserati GranCabrio, seen parked in front of a very funky restaurant in the funky city of Chengdu in Sichuan Province. The GranCabrio is wrapped in a manic shiny blue wrap which is sucking all the lights out of the street, even at daytime indeed.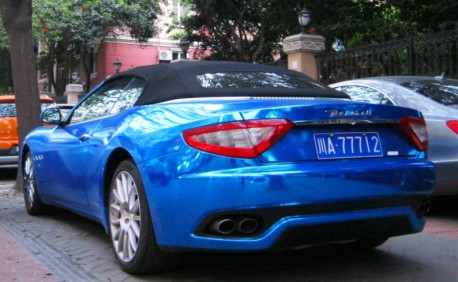 The Maserati GranCabrio is powered by a 4.7 liter V8 engine, good for 434hp and 490nm. The GranCabrio is a rare car to see in China as 99% of buyers go for the GranTurismo coupe. Price in China for the GranCabrio starts at a hefty 2.68 million yuan or 437.000 USD.
Time now for our Famous China-Maserati GranX Collection™: glitter, GranTurismo S in Bling, with whipping babe, crash, Beijing-Bling, crash, and DMC.