A beautiful black Mitsuoka Orochi, seen in the great city of Zigong in Sichuan Province. The vehicle is used to attract buyers for fancy new apartments, accompanied by a pretty girl dressed in Pink.
Using super cars to sell houses is pretty common in China, especially in second and third tier cities. Earlier on we saw a Ferrari Enzo in Putian, a Bentley Mulsanne & Gallardo & Hummer on a red carpet in Wuhan. Super cars are also used to promote all sorts of other businesses, like karaoke bars and wine shops.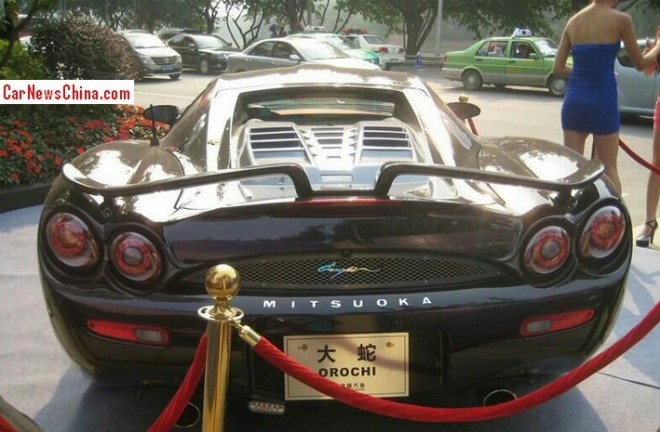 Another sales girl joins the party.
The Mitsuoka Orochi is a mid-engined mad-sorta-super car that debuted on the 2003 Tokyo Auto Show. Two engines available: a Toyota-sourced 3.3 liter V6 with 233hp and a 305hp 3.5 liter V6 turbo, which is based on the Toyota unit. Both engines are mated 5-speed automatic. Price in China starts at 1.95 million yuan or 317.000 USD, and that is enough money for a very decent house in Zigong.
Mitsuoka arrived in China in early 2012. The mad Japanese brand has dealers in Beijing, Shanghai and Guangzhou. So far we met a white Orochi, two Himiko roadsters and one Galue sedan,