A gigantic Dodge RAM 3500 Laramie Longhorn Edition, seen in the north east of the capital by reader Dominik H., thank you for the pictures! On the first photo stands the RAM next to a tiny Volkswagen Jetta in a parking lot, which is barely big enough for the old school American gas-guzzler.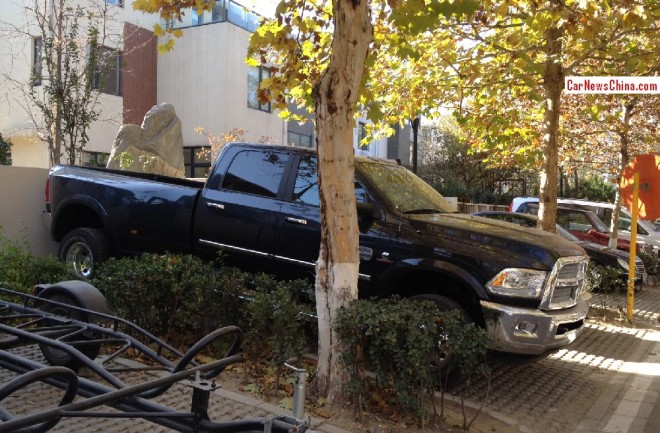 The rare Laramie Longhorn Edition was launched in 2011 in, where else, Texas! It is the most luxurious variant of the RAM-series ever build. It came with special high quality paint, extra chrome, extra shiny wheels, a full leather interior, and all the goodies imaginable for a cowboy. A certain Ryan Nagode, who was at the time head of design for RAM, said this about the special truck:
"We took Ram Laramie Longhorn's design cues from traditionally handcrafted, time-tested wares, such as the antique pocket watch, a fine pair of hand-tooled leather cowboy boots, a collector's-grade shotgun or a horseman's saddle."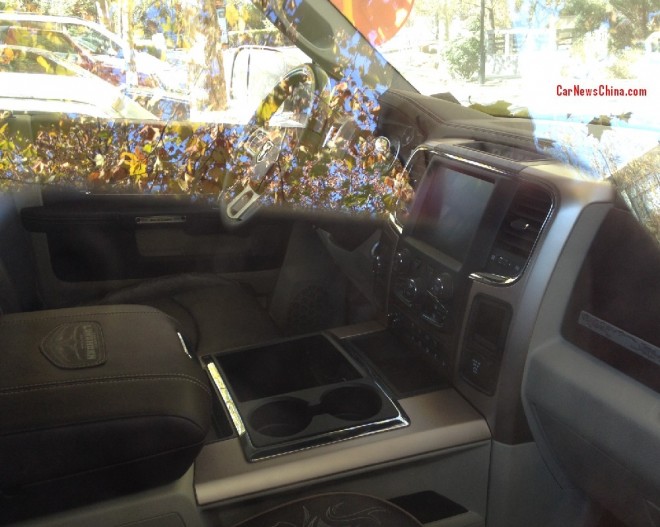 Laramie Longhorn Edition badges all over the place, and they look a but like those thingies hanging off a saddle indeed. Beutiful leather seats, fantastic plastics, more chrome, even some wood, and a big TV-screen in the center console. A dream to drive on the endless freeways of the Lone Star state. For Beijing however a truck as giant as the RAM 3500 is not an easy own. The roads themselves are not too wide, especially downtown, parking is simply hazardous and most gates are simply not wide enough. In China, a RAM needs an owner who loves a RAM.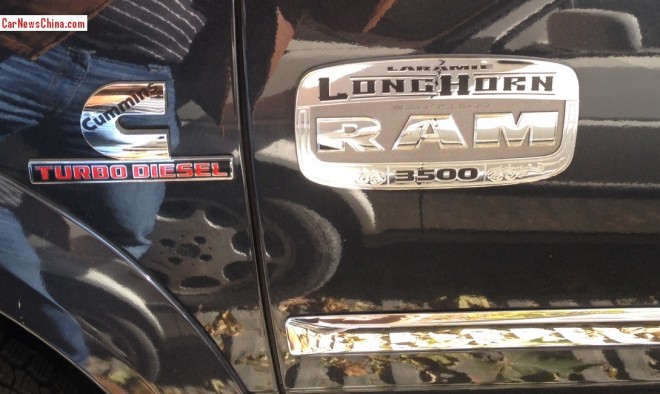 More trouble comes from the engine because the RAM 3500 is powered by a fatass six-in-line Cummins 6.7 liter turbo diesel engine with 385 hp and 1150 nm. Big power!, but hard to register in China. Diesel engines in passenger cars are forbidden in most Chinese cities, so if the owner wants a legal license he needs to register the RAM as a commercial vehicle, and that comes with all sorts of limitations again. This particular RAM didn't have license plates…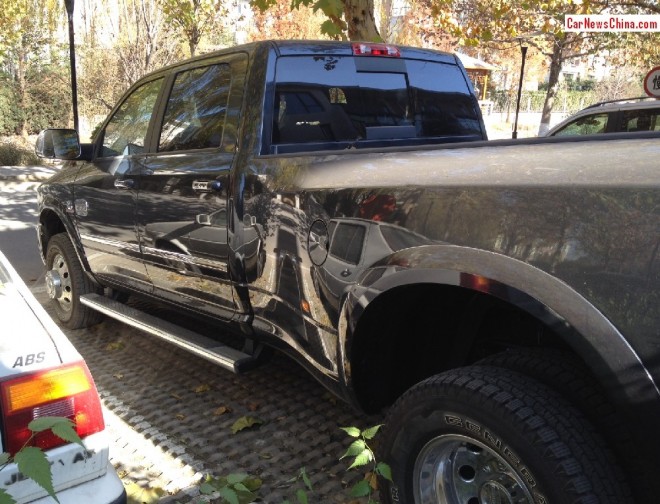 Big? Big. Chrysler doesn't export the RAM to China , exactly because of all this. However, those who really need one can go to the thriving gray market and buy one for shitloads of extra money. A base RAM goes for some 80.000 USD. Most RAM trucks in China come from dealers on the U.S. West Coast and are sold directly to dealers in China. Warranties and parts not guaranteed, but nobody really cares about that.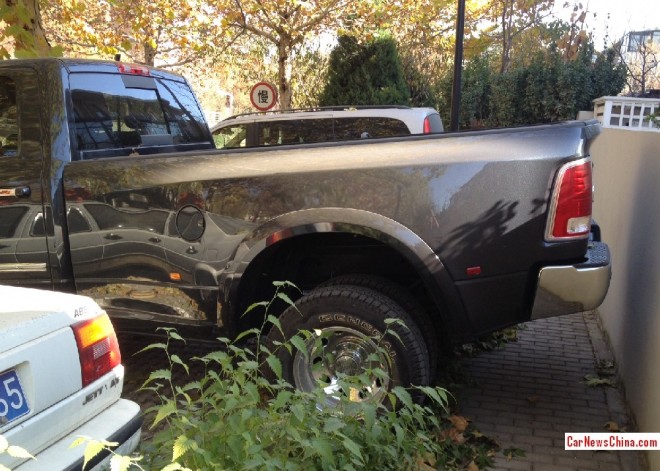 RAM destroys a fresh green perk to park.
Time now for our small but rather impressive China-Dodge RAM Collection™: SRT-10 in Gulf livery, Ram 1500,  Dodge Ram Crew Cab, sec-gen Dodge Ram Van RV, and a Dodge Tomahawk.