A very hip Suzuki Alto Happy Prince, seen on a car market in east Beijing. The good Alto was wrapped in a trendy BAPE wrap and further sexed up by a black grille, an H on that grille, and red-yellow-green dots on that grille. BAPE refers to Bathing Ape, which is an ultra coolio hip hop gangsta clothes-and-such brand from Japan using similar camouflage patterns on their designs. Earlier on we met a MP-4 12C and a 458 in BAPE.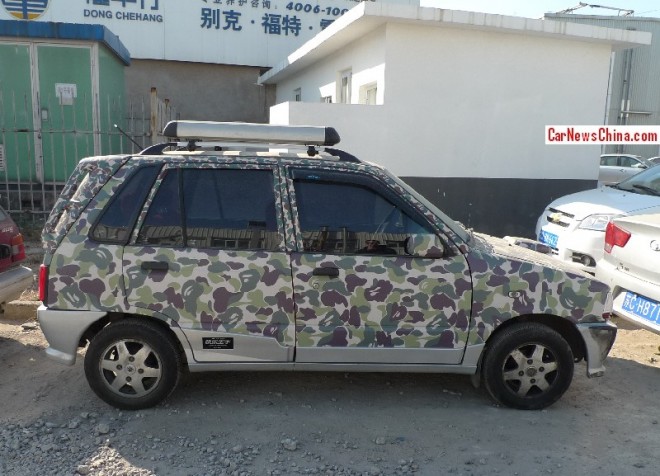 The Suzuki Alto Happy Prince was a sporty variant of the China-made Suzuki Alto. The whole body kit was factory standard, including sporty alloys, the fake air intake on the bonnet, the rear-window spoiler, and the rood rack. This particular car has a strange secondary roof rack on top of the factory-roof rack. The secondary roof rack is an after-market addition, and not a very good one at that.
The Suzuki Alto was made in China by the Changan-Suzuki joint venture. The Happy Prince was made from 2001 until 2008. Power came from a tiny 3-cylinder 0.8 engine with 54hp. Price in 2008 was only 36.800 yuan, not too much money for a China-only sporty Alto with a fuzzy name.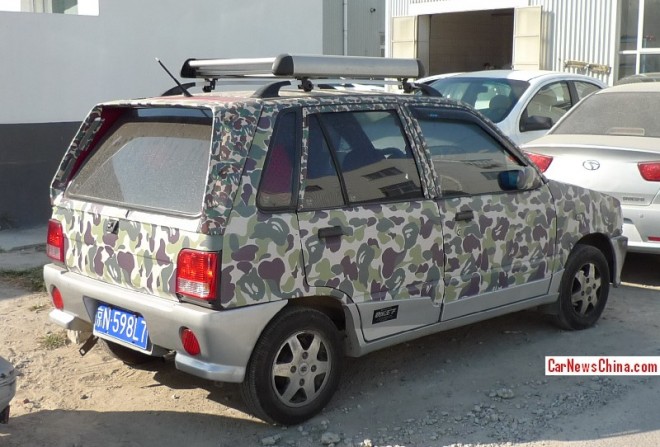 BABE wrap loox very good on Alto, but it is a shame the bumpers are not wrapped in too. The bumpers are gray which doesn't contrast with BAPE, so there seems no good reason for exclusion. The wrapping artists apparently thought otherwise.