A super sonic McLaren MP4-12C  and Ferrari 458 Italia, seen in the faraway suburbs of the great city of Hangzhou in Zhejiang Province. The two speedy sleds are wrapped in a BAPE wrap, BAPE stands for Bathing Ape, which is a ultra coolio hip hop gangsta clothes-and-such brand from Japan. The owner of BAPE, a man called 'Nigo', likes to dress up his cars, with some interesting results.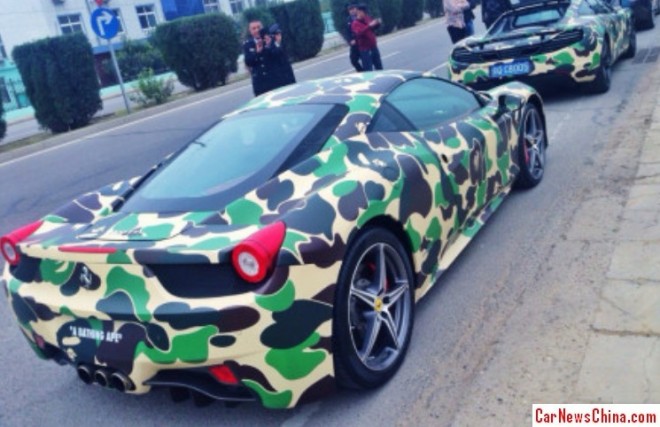 The owners of the two cars in Hangzhou got nothing to do with the company, they just thought Japanese apes very cool. The wraps seem to be of the highest quality, neatly extended over the bumpers. The wrap is extended over the mirrors of the Ferrari, but not over the mirrors of the McLaren. That is messy and not very good. The cars will be exhibited in local auto shows, so head to Hangzhou if you need.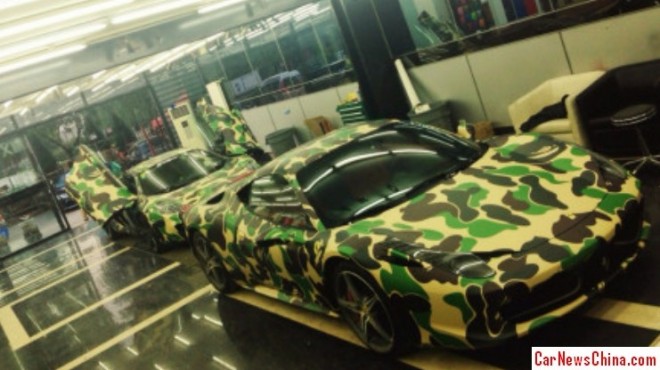 The BAPErs in a local tuning shop. The Ferrari 458 Italia is the most popular mid-segment super car in China. Price starts at a staggering 3.88 million yuan or 636.000 USD. Power comes from a 4.5 liter V8 with 570hp and 540nm.
Time now for our Extremely© Famous China-Ferrari 458 Collection™: license (KF458), Novitec license (FM458), speed, license (450OU), license (FM458), the Galaxy, with Aventador, with F12, license (458Z8) China Special 1/20, crash, license (458F1), license (FF458) Pink, Spider @ speed, license (458OY) with Roller, pinkish Spyder, license (458AX), shiny red, matte gray, license (458MW), shiny green, China Limited Edition 2, on a truck, matte purple, blue Spider, bling, crashed, China Limited Edition, shiny red & matte black, baby blue, crashed, pink (scroll down), China Limited Edition debut,  purple, with horse, crashed, pink, silver, some silver & some white, and with a friend.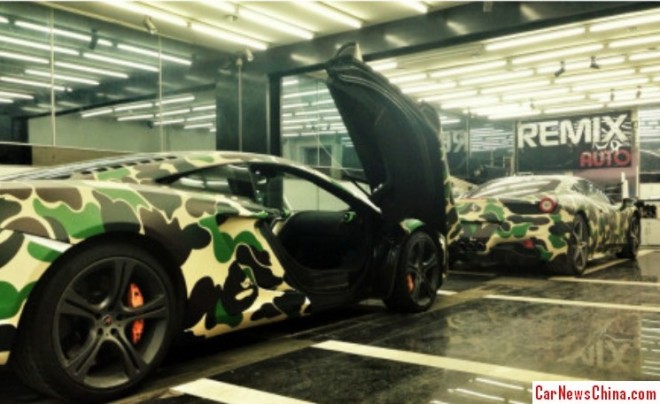 Orange brake pads normally very cool but no good with BAPE. The McLaren MP4-12C was launched in China only in September, more than two years after it debuted in Europe. Price is a steep 3.38 million or 552.000 USD. Power comes from a 4.0 liter turbocharged V8 with 590hp.
Time now, for our Famous China-McLaren MP4-12C Collection™ (all imported before the official launch via the gray circuit): white, orange with Gallardo, more white, Bling, times four, @ the show, gray, with speedy friends, and with the wrong wheel.