A very hard crash involving a Ferrari 458 Italia in the great city of Chongqing in China. The 458 apparently hit a taxi full-bang in the back. The taxi driver suffered minor injuries and the Ferrari driver was unhurt. The taxi was a yellow Suzuki SX4 sedan that seems basically undamaged except for a part of the rear bumper that fell off. The 458 however, doesn't look that good…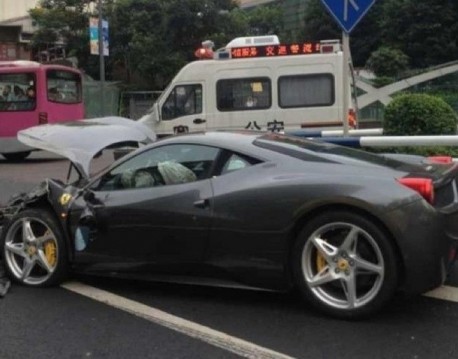 The front is gone, but the back seems all right. The the cause of the accident is under investigation. Witnesses told local media that the Ferrari drove much too fast. Well, what else to expect with a 4.5 liter V8 with 570hp and 540nm? Crashing Ferrari supercars, always a sad sight. The China smashed: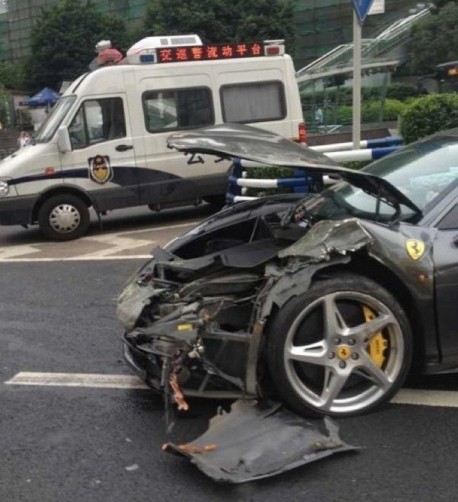 FF hits a truck, F12berlinetta hits MPV, FF again, 458 & California hit a highway, 458 Spider in a hedge, 458 gets horse-kicked, Ferrari 612 hits pickup truck,  Ferrari Enzo hits a barrier, 458 hits a barrier, Ferrari FF on fire, and a Ferrari California on fire.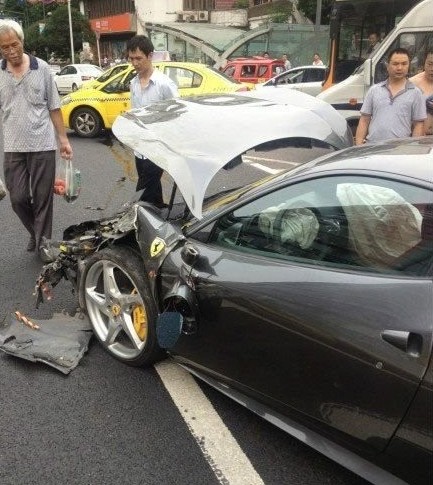 Fortunately we have also seen a many 458 Italiaas that didn't crash, yet. Here is our Extremely© Famous China-Ferrari 458 Collection™: license (458F1) license (FF458) Pink, Spider @ speed, license (458OY) with Roller, pinkish Spyder, license (458AX), shiny red, matte gray, license (458MW), shiny green, China Limited Edition 2, on a truck, matte purple, blue Spider, bling, crashed, China Limited Edition, shiny red & matte black, baby blue, crashed, pink (scroll down), China Limited Edition debut,  purple, with horse, crashed, pink, silver, some silver & some white, and with a friend.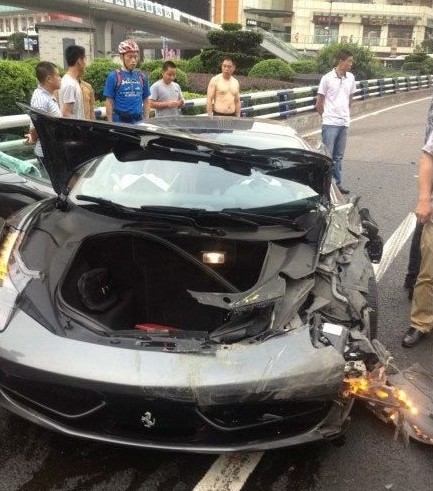 Did somebody say suitcase?