A very sleek Spyker C8 Spyder super car, Spotted in China in a super car dealer at the Beijing Tuning Street. The C8 Spyder is painted in a stealthy kinda gray and stands on matte black 'propeller' alloys. The Spyker C8 arrived in 2001 and production continued on and off until 2009 when it was replaced with the soon-to-be-ready Spyker C8 Aileron.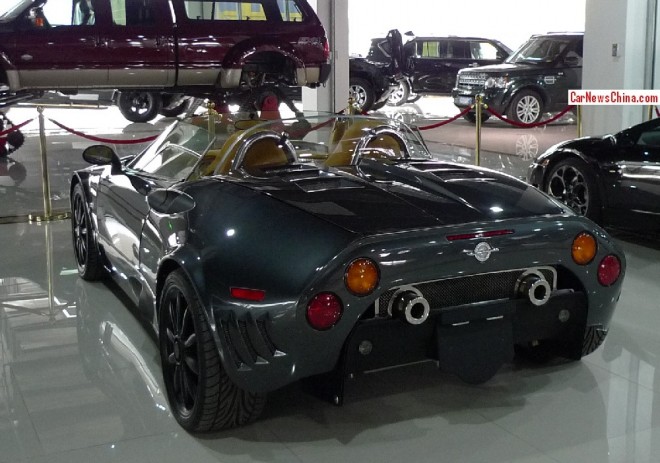 Beautifully crafted rear end! The Dutch Spyker brand was an early bird in China, they opened their first shop in Beijing in 2004, earlier than Aston Martin or Lamborghini. The ties between Spyker and China have been getting more tight ever since, in December last year Spyker announced it sold 30% of its shares to Chinese carmaker Youngman Automotive.
The Spyker C8 Spyder was powered by an Audi-sources 4.2 liter V8 engine, good for 400hp and 480nm. Not a maddening amount of horses but curb weight was only 1250kg, so top speed was a very decent 300km/h and 0-100 was gone in 4.8 seconds. This particular car was on sale for 2.5 million yuan or $411.000.
Time now, for our small but precious China-Spyker Collection™: LM85 in orange, red LM 85 & Spyder, one-off Spyder in chrome.
---