Last week we had the first photos of the first Pagani Huayra super car arriving in China, destined for the owner of a very expensive hotel. Today we have the vehicle standing in front of the hotel for a photo shoot, with and without Chinese actor-singer-model Lin Chao, also known ans Julian Cheng, who was once married to a Hong Kong movie chick called 'Anita'.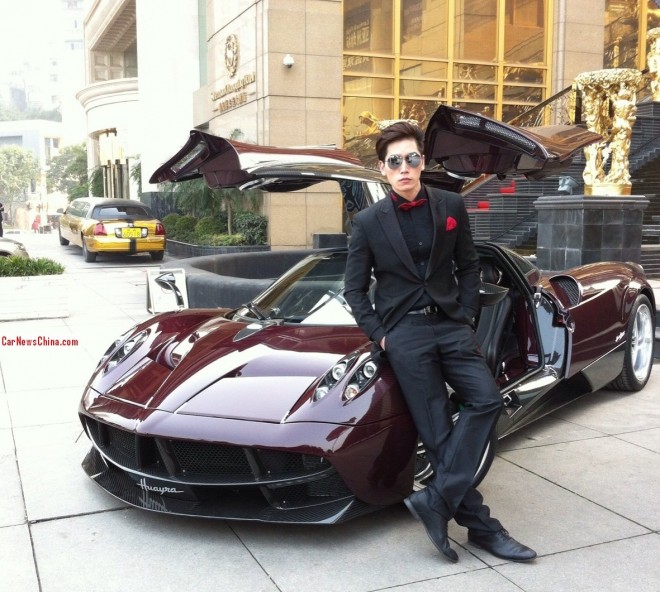 Lin Chao wears a black suit matching perfectly with interior of Pagani. Sun glasses so cool. Hair style very speedy. Note gold wrapped Lincoln limousine on the left. The 'Chongqing Sheraton Hotel' is built in the typical Chinese nouveau riche style, with lots of gold, lots of Bling, and lots of other shiny decorations. Some call this style beautiful, some call it ugly. I call it fucking great.
Well now!, time to leave mr. Lin at it, here is the car it all its naked Paganiness: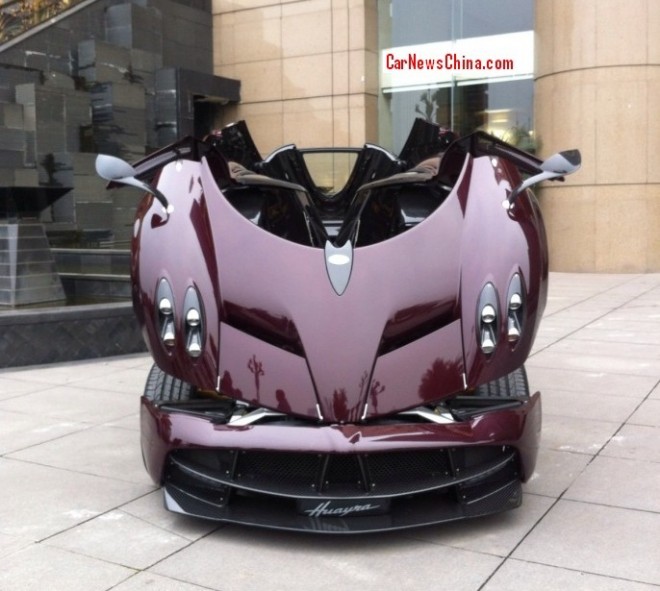 The Pagani Huayra hasn't been officially launched on China yet. The owner must have found another way to get his super car in country, likely via the misty gray market dealer-to-dealer channels that connect Chinese super car buyers with sellers all over the world. Most gray super cars in China arrive via dealers on the U.S. West Coast. The Huayra will officially debut in China on the April 2014 Beijing Auto Show. Price will start around 40 million yuan or 6.58 million USD.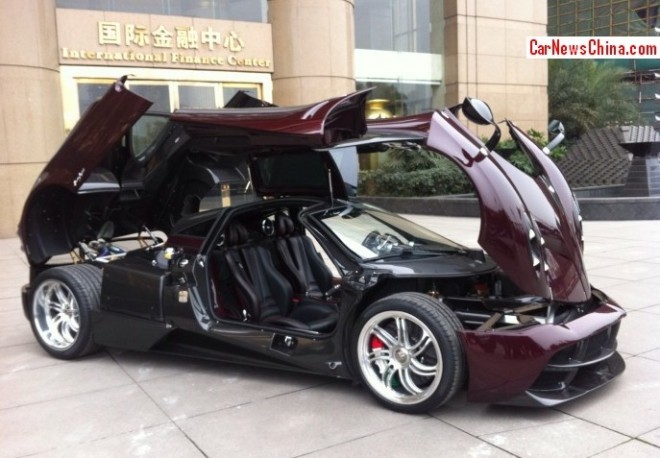 The Pagani Huayra is powered by a twin-turbo 6.0 liter V12 AMG engine, good for 720hp and 1000nm. Top speed is 372km/h and 0-100 is gone in 2.5 seconds. This example has been painted in some sorta wine red. Good color and such but the red brake pads and shiny silver alloys just don't match up very well.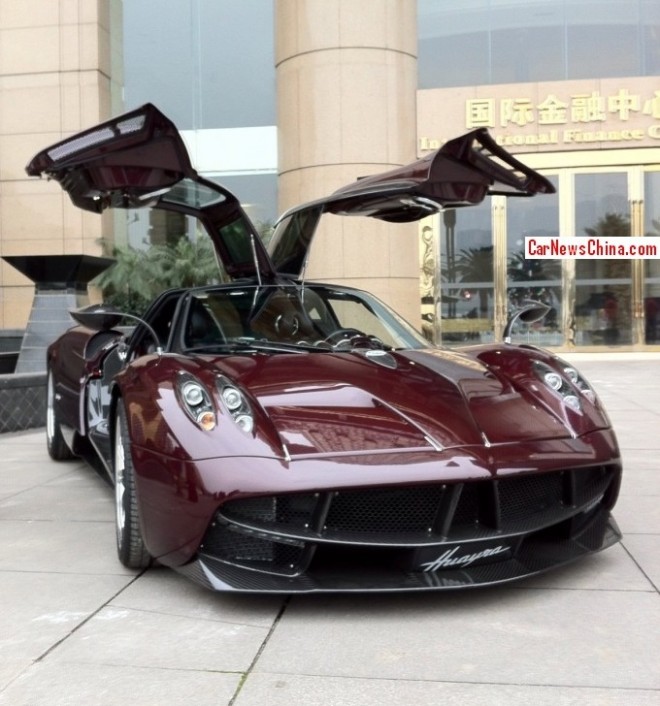 Otherwise; wadda beauty!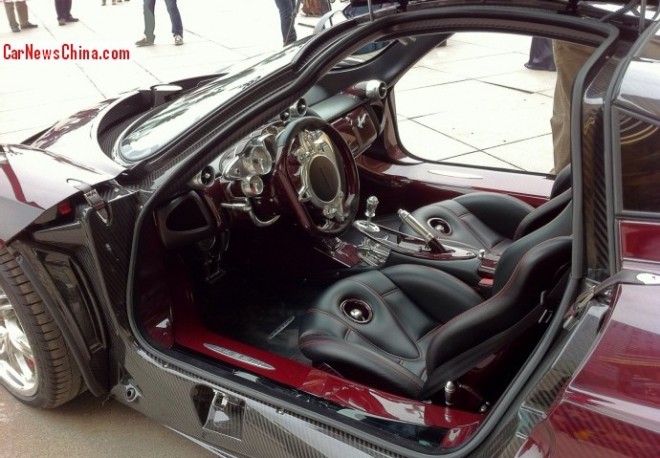 It can race and it can race fast. But the interior is of such delicacy, who really wants to risk all that on a track? This car is more for poseurs than for racers indeed, and so perfectly in place in China. Pagani will likely sell many, so matter for how much.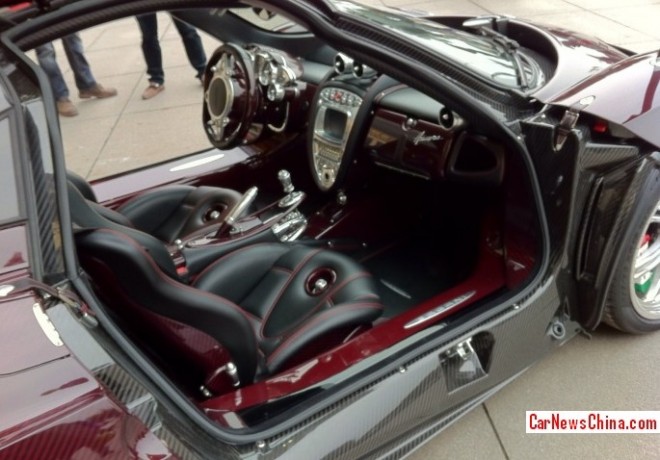 Tiny little gear lever a work of art.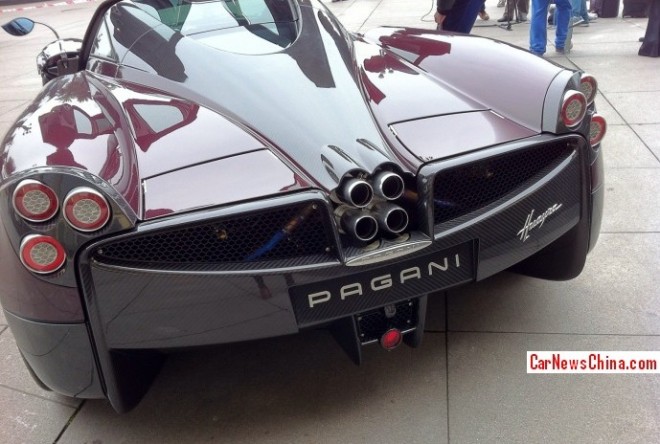 AMG engine says 'blurb blurb blurb blaaargh blurb.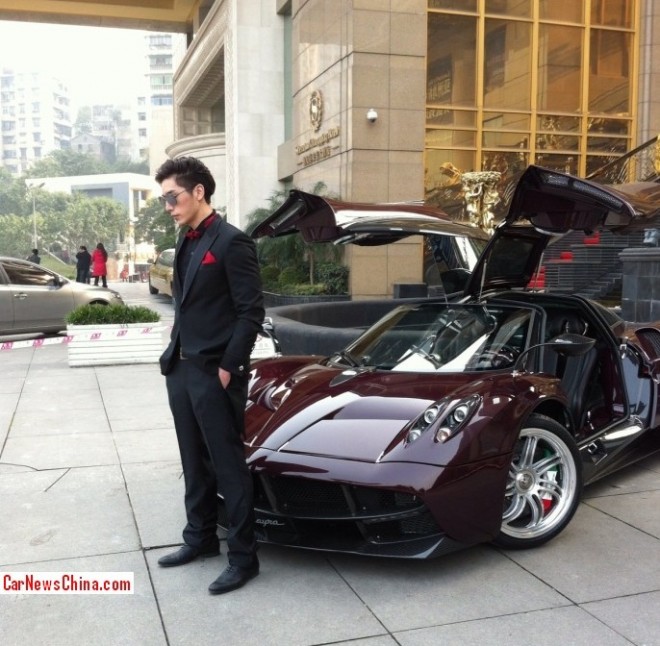 And we say goodbye to Lin Chao, seen here looking at our logo.