A very porny Porsche Panamera, Spotted in China at the Solana mall in Beijing. The good Porsche was wrapped in en eye murdering shiny red wrap, and further porned up by black mirrors, black door handles, darkened windows, darkened head lights, black winglets in the grille, and black fantastic five-spoke alloys. The vehicle was a beacon of light on a very dark and dirty day, with heavy pollution smogging all life out of town.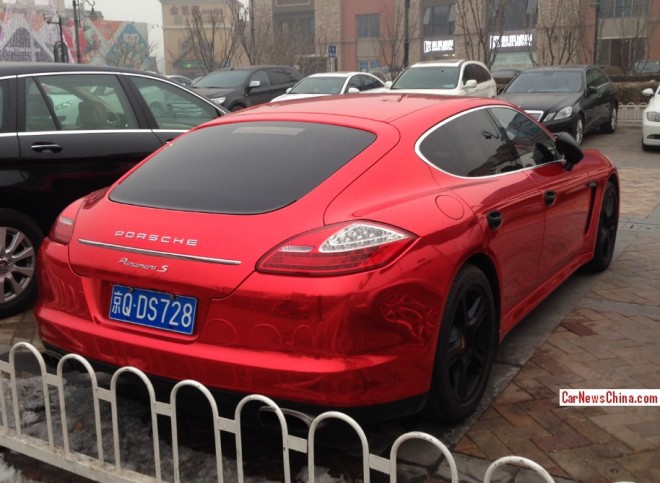 Black rear window perfectly in contrast with shiny red body but I am not so sure about the chrome strip around the windows. Chrome and shiny and so is the body, so there isn't any contrast there. Strip would have been better in black!, otherwise a strikingly beautiful car. The 970 Porsche Panamera S was powered by a 3.0 liter twin-turbocharged V6 with 420hp and 520nm, good for a 286km/h top speed. Fast Red Porsche!
Time now, for our Famous China-Porsche Panamera Collection™: shiny silver, matte black, Bling gold, pink alloys, Mansory, all-Pink, wearing jeans, and the RUF XL.
---