A fiery red Ferrari 458 Italia, Spotted in China in the great city of Shenzhen in Guangdong Province, a hotbed of supercars in China! The fast Ferrari looks the business and is made even faster by a speedy license plate reading A·458 TK, and that is one of the best license plates we have seen on a Ferrari 458 Italia in China. Sadly however the plate covers part of the horse head, which isn't very good.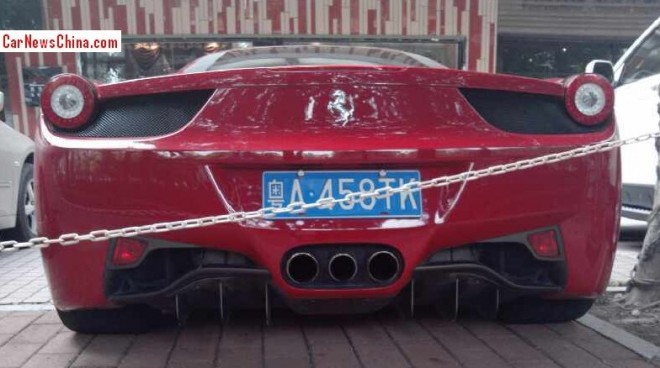 Caged Ferrari, ready to break the chain with its triple exhaust pipe weaponry. The 458 is a very popular sporty car in China, but expensive; price starts at 3.88 million yuan or 636.000 USD. Power however is big too, the screaming 4.5 liter V8 poops out 570hp and 540nm.
Time now, for our Famous China Ferrari 458 Italia License Plate Collection™: license (B·IC458), lucky license (PG888), license (MF458), license (KF458), license (OD458), license (FM458), license (458Z8) license (458F1), license (FF458) license (458OY), license (458AX), license (458MW).
---