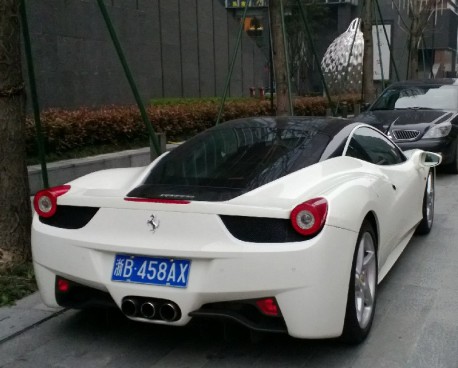 This is the very best license plate for a Ferrari 458 we have seen in China so far, even better than 458MW. The 458AX was seen in the great city of Ningbo in Zhejiang Province by reader Ralf Manje, thank you for the pictures! The fast Ferrari is painted in a beautiful pearl-kinda white with a black roof, and completed by silver gray five-spoke alloys.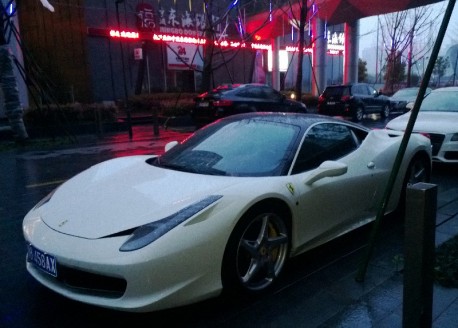 The vehicle was seen while a rain shower poured down, making the Ferrari's sleek lines look even more brilliant. Note the small white stripe going over the side window, an interesting detail I haven't seen on an 458 before. The Ferrari 458AX Italia is powered by a 4.5 liter V8 engine with a manic 570hp and 540nm, good for a 325km/h top speed and 0-100 is gone in 3.4 seconds. White Speed!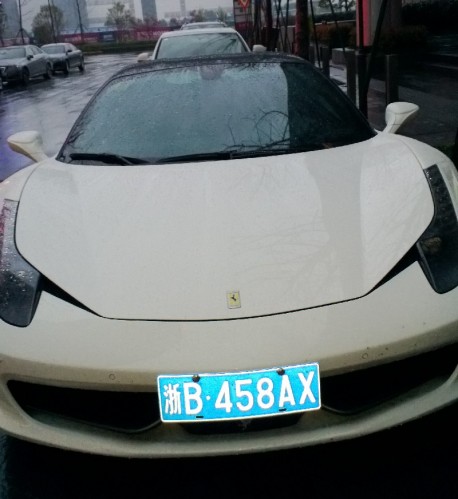 License plate in ya' face! Time now for our Famous China-Ferrari 458 Italia Collection™: shiny red, matte gray, license plate, shiny green, China Limited Edition 2, on a truck, matte purple, blue Spider, bling, crashed, China Limited Edition, shiny red & matte black, baby blue, crashed, pink (scroll down), China Limited Edition debut,  purple, with horse, crashed, pink, silver, some silver & some white, and with a friend.