A fiercely fiery Novitec Rosso Ferrari 458 Italia, seen on the Beijing Tuning Street here in the Capital. The license plate reads FM458 and that is one of the best numbers we have seen on a Ferrari 458 Italia in China, but sadly the plate hits the head of the horse.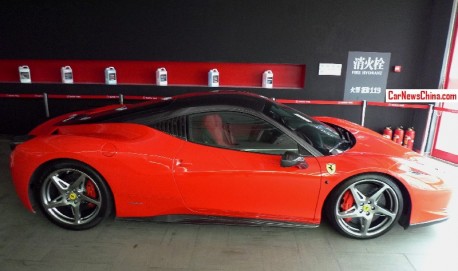 The feisty Ferrari was made much feistier by a full size Novitec Rosso body kit, consisting of a shipload of carbon fiber parts for more lightness and more down force, special 5-spoke alloys, and huge red-painted brake calipers.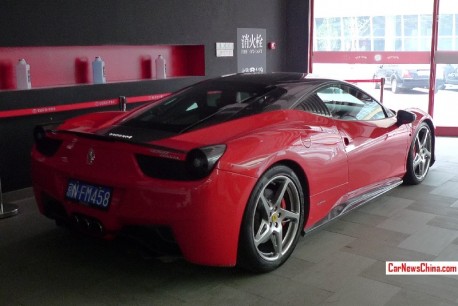 This particular car was chip-tuned to a very neat 600hp, 30 more than the standard 458. Price for all this pretty was 4.18 million yuan or 682.000 USD, the standard car starts at 3.88 million. Novitec Rosso is well known in China for those in the known, but this was the first Novitec 458 we met. Earlier on we saw some older Novitec metal: yellow 360, white F430, and the mad F430 707.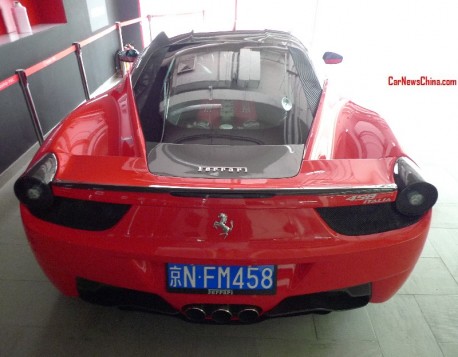 Carbon covers on the rear lights shave another 50 gram! Carbon rear wing loox speedy. Great Ferrari, great force, and thus a great car.
Time now for our Extremely© Famous China-Ferrari 458 Collection™: speed, license (450OU), the Galaxy, with Aventador, with F12, license (458Z8) China Special 1/20, crash, license (458F1), license (FF458) Pink, Spider @ speed, license (458OY) with Roller, pinkish Spyder, license (458AX), shiny red, matte gray, license (458MW), shiny green, China Limited Edition 2, on a truck, matte purple, blue Spider, bling, crashed, China Limited Edition, shiny red & matte black, baby blue, crashed, pink (scroll down), China Limited Edition debut,  purple, with horse, crashed, pink, silver, some silver & some white, and with a friend.