A bright yellow Ferrari 458 Spider seen in the great city of Shanghai, shining like a sun on a summer's day. Its license plate reads: 458F1, and that is by far the coolest license plate we have seen on a Ferrari 458 in China so far, even cooler than FF458, 458AX, 458OY, and 458MW.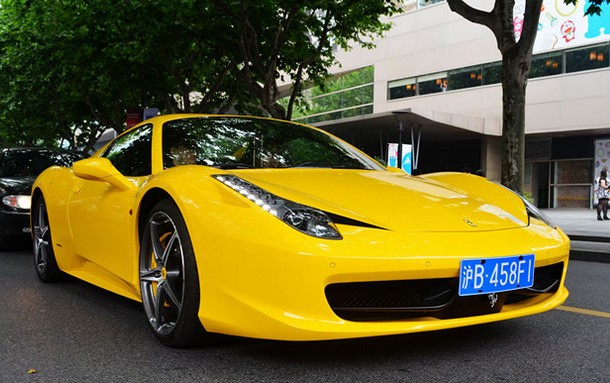 The same vehicle at another location close nearby. The Ferrari 458 Italia is powered by a screaming 4.5 liter V8 with 570hp and 540nm, good for a 325km/h top speed and 0-100 is gone in 3.4 seconds. Speed, but no cheap. Price for the Spider starts at 4.43 million yuan or 715.000 USD.
Time now for our Extremely© Famous china-Ferrari 458 Collection™: license (FF458) Pink, Spider @ speed, license (458OY) with Roller, pinkish Spyder, license (458AX), shiny red, matte gray, license (458MW), shiny green, China Limited Edition 2, on a truck, matte purple, blue Spider, bling, crashed, China Limited Edition, shiny red & matte black, baby blue, crashed, pink (scroll down), China Limited Edition debut,  purple, with horse, crashed, pink, silver, some silver & some white, and with a friend.