Today in China Car History the magnificent Nanjing NJ230 truck, seen at the Dalian Classic Car Museum in the great city of Dalian in Liaoning Province. This particular example is a military variant with a single cab cabin and large flatbed load bay. She was parked in an outside area of the museum, standing very close to a Jiefang CA10 fire truck.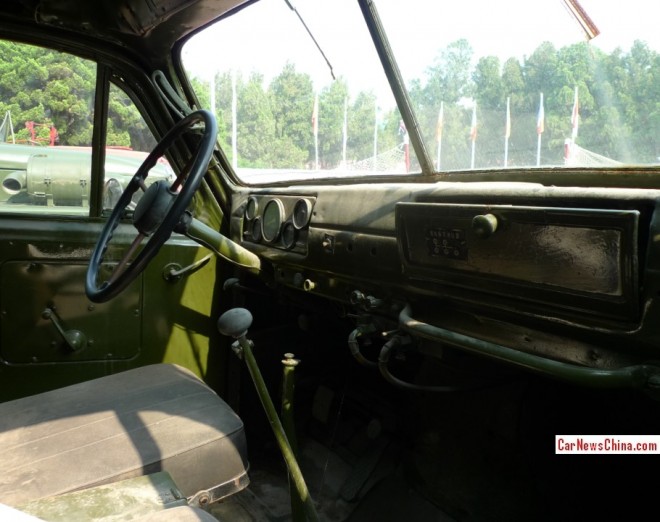 Cabin in a surprisingly good condition. Dusty and dirty but nothing seemed broken or missing. Even the cloth on the seats looked original. Staff told me the good old truck is in working order, with the engine running all right, but smokey. The museum makes some extra money by renting out the to movie companies and even wedding companies (!), so they got to make sure it looks at least all right.
That door needs some work there and wheels are getting rusty. Dalian is near the sea with a lot of rain, so rust is a much more dangerous threat than in dry Beijing,
The Nanjing NJ230 was manufactured by the Nanjing Automobile Factory, later called Nanjing Auto, and today part of the Shanghai Auto Industry Corporation (SAIC). Production of the NJ230 started in 1965 and ended all the way up in 1980. The NJ230 was the successor of the Nanjing Yuejin NJ130.
The NJ230 was based on the Soviet-Russian GAZ-63, which was a reverse-engineered copy of the Dodge WF-32 cargo truck that was shipped in great numbers by the United States to the Soviet-Union during the Second World War under the Lend-Lease program. So here we have it: a Dodge went from America to Russia and ended up in China. The Chinese army kept using the NJ230 until the late 1990's, and some are still around even today.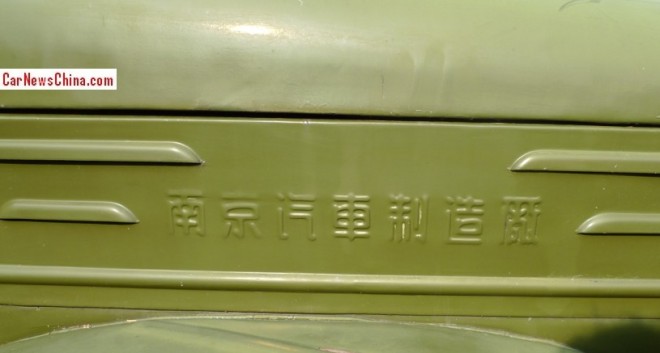 Nanjing Automobile Factory written in classic characters.
The NJ230 was powered by a 3.5 liter six-in-line diesel engine with about 120hp. The engine was based on Soviet design but manufactured in China. Transmission was a four-speed manual. Max load was a decent four ton, much better than the tiny 2.5 of the NJ130.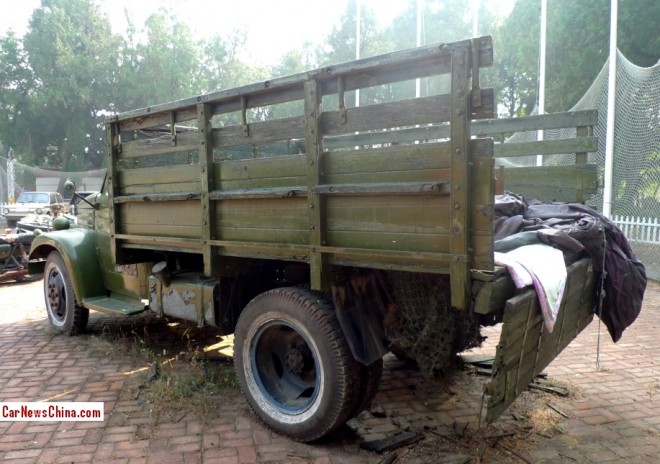 White-walled tires are original army. Load bay is made of wood that started to look rather bad. The plastic sheets are used to cover the truck when it rains, but they looked like they couldn't stop a drop. Let us all hope this great Chinese truck will stay around in Dalian for a long time coming.  Great wedding car, any way…