A bad & beautiful black Dongfeng EQ2050 Brave Soldier, Spotted in China in the Beijing Tuning Street. The EQ2050 is also known as the 'Chinese Hummer', which in a way it certainly is. The monster started life as a purely military vehicle but car buyers with the right connections can get one too. This particular car is painted in black and fitted with blue civilian license plates.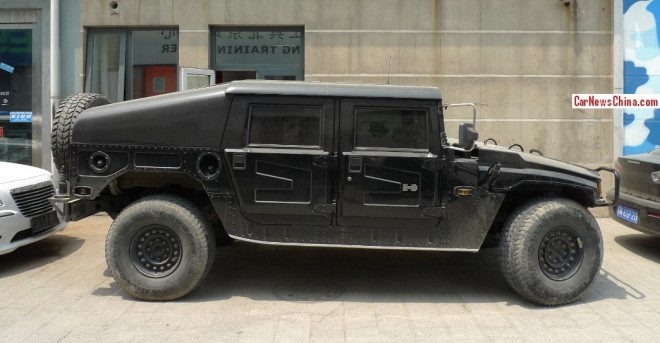 Dongfeng is also working on a real-civilian variant of the EQ2050. On the 2012 Beijing Auto Show they showed the EQ2050 M3D concept, and they were back again with the EQ2040H on the 2014 Beijing Auto Show, but so far none has made it to the market yet.

Fake H1 badge for a bit more Hummer.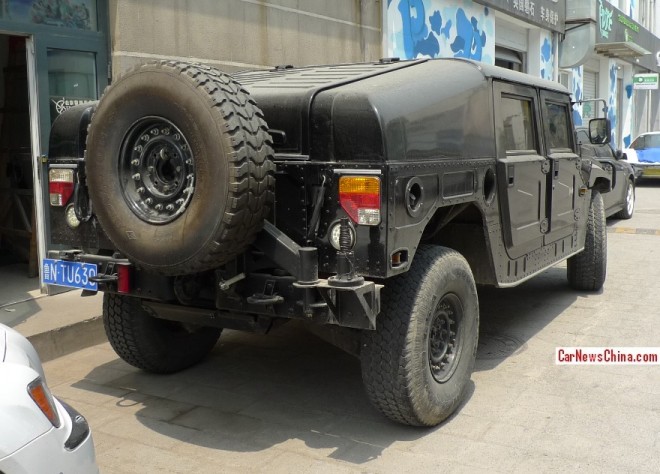 The army-spec EQ2050 exists in many variants. This is a scout car, made for speed with a very light sloping rear roof. Foot for the antenna still visible on bumper, just under the right-rear light. Dongfeng also makes a heavily armored fast-attack vehicle based on the EQ-2050, with a gun turret on the roof. We do not expect, but certainly wish for, a civilian variant of that one.
The EQ2050 is powered by an American-designed Cummins V8 diesel, manufactured in China by the Dongfeng-Cummins joint venture. The same engine powers loads of other Chinese army vehicles, ranging from simple trucks to infantry fighting vehicles and light tanks. And the Chinese army says: 'Thank you America!'.