A huge Jinma QJM5022TYN6 Wedding Car, Spotted in China in the Beijing Classic Car Museum. This particular example is by far the most impressive Jinma I have ever seen. Fitted with a full-size soft top and a giant golden grille with matching headlights, bumper, and mirrors.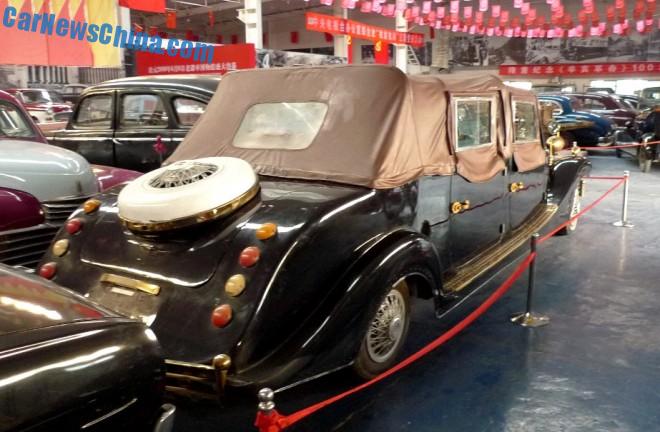 White spare wheel cover appears to be an after-market addition that doesn't really go with the rest of the car. Door handles are in gold as well and the rear lights are of a unique design with four bulbs on each side. The rear lights basically differ on each Jinma we see. What a variation!
The Jinma QJM5022TYN6 Wedding Car was manufactured by the Jinma Motor Company from the early 1980′s to the late 1990′s.
In those days there weren't many fancy cars in China but there was, as always, a great need to impress the guests on wedding parties. The happy couple could then hire a so called 'classic wedding car', a China-made automobile that was supposed to look like a vintage Western limousine.  Some 20 small Chinese companies manufactured the classic wedding cars and Jinma was the largest of the lot.
The Jinma Motor Company was a subsidiary of Qingdao Soar Automobile based in the great city of Qingdao in Shandong Province. The company still exist today, making giant copies of the 1961 Rolls-Royce Phantom. Sadly, business isn't as good as it was in the 1980′s as many Chinese can nowadays afford to get the real thing.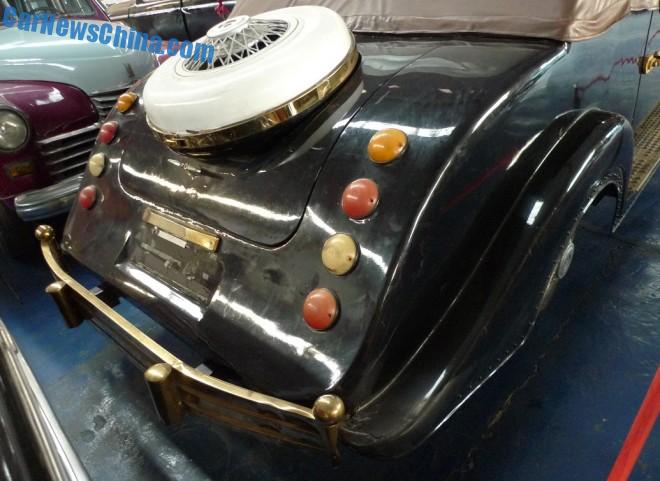 Much of the main body work was made of wood. The rounded stuff like the wheel arches is made of plastic. The bumper is made of tin and not of a very solid kind. The white spare wheel cover started to annoy me, I really wanted to take it off the car. But I didn't.
The Jinma QJM5022TYN6 Wedding Car is a big car. Size: 5350/1750/1780, wheelbase is 3380. Overhang at the front is 780, and at the back a manic 1190! (specs via).
The Jinma QJM5022TYN6 Wedding Car was based on the platform of a Great Wall Motors pickup truck, and the 2.4 liter petrol engine was sourced at Great Wall as well. The engine was originally developed by Mitsubishi and had an output of 100hp, which was enough to propel the QJM5022TYN6 to a top speed of 90km/h.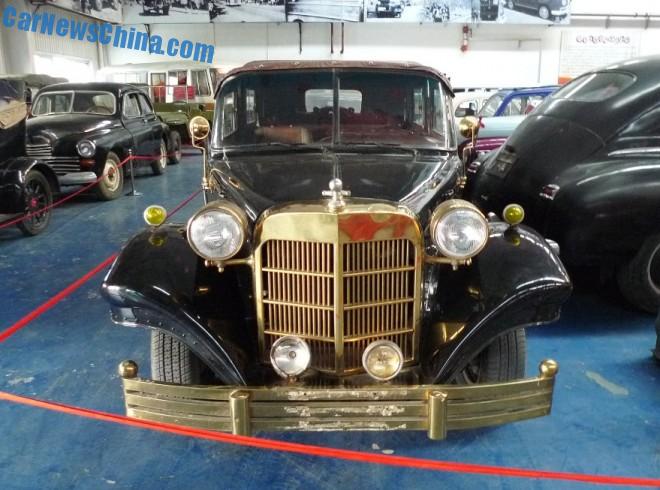 A battery of lights and a split front window.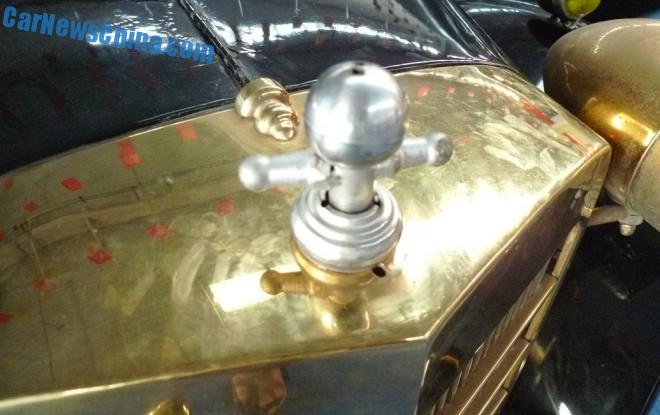 Buyers could specify which hood ornament they wanted. Most went for Rolls-Royce, but not here. This seems to be a sword of sorts.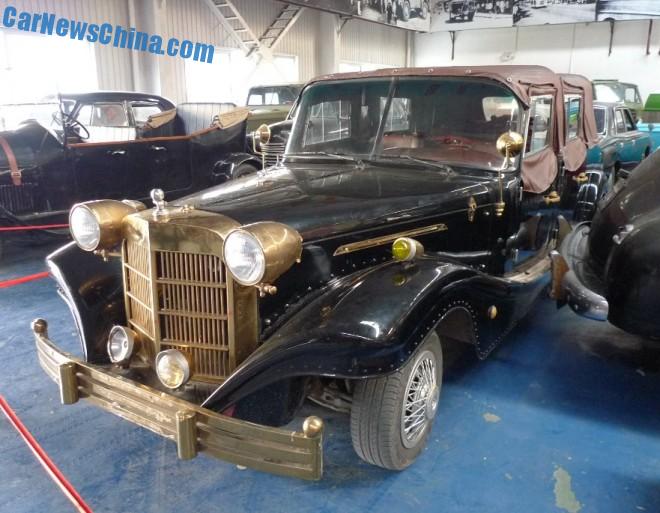 The Jinma, once designed to look like a classic car, is fast becoming a classic itself.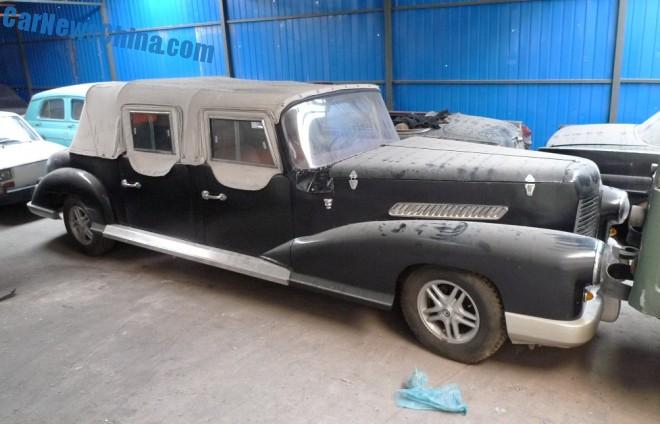 The museum has separate closed hall where they park the rest of the collection that doesn't fit in the main building. I couldn't enter but found an open window for a few shots and there I met this extremely strange Jinma limousine. It stands on the same platform as the QJM5022TYN6 but has a much more modern body, which appeared to be completely plastic. I will try to find out more…