This is the Henan Xinma Neighborhood Patrol Car, seen on the Security China exhibition in Beijing last month. The Neighborhood Patrol car is an electric vehicle developed for police patrol duties in local neighborhoods, compounds, and public parks. A neighborhood police station in China is usually very small, two officers and a dog, and they used to ride bicycles around their block. These days however the coppers have gone all electric.
The Neighborhood Patrol Car (小区巡逻车) is manufactured by a company called Henan Xinma Vehicle Corporation, trading as 'Henan Xinma'. Xinma means New Horse, but the company doesn't seem to use any English names on their vehicles.
Henan Xinma (web) is based in the great city of Zhengzhou in Henan Province. The company was founded in 2002 for making electric tricycles. In 2006 the company started making small commercial electric vehicles, in 2010 they added electric cars to the line-up, and 2010 saw the start of the production of a line of electric boats.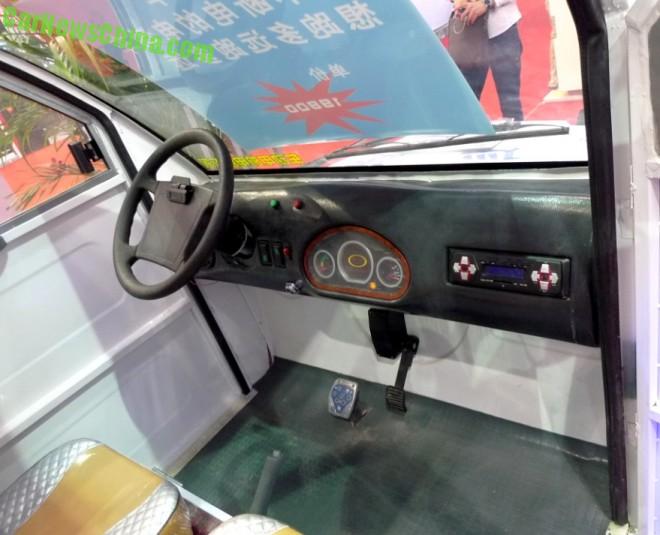 A very simple dash, but I guess that's how the cops like it, busy as they are with catching bad guys they can't be disturbed by wizardly  high tech.
The Neighborhood Patrol Car is based on a electric vehicle which is simply called 'Green Number 2', originally developed as an electric taxi. Power comes from a 20 hp electric motor, and that is actually an impressive number for a car of this kind. It needs the horses however because it is also quite large and heavy: 3050/1250/1720, and 650 kilogram. The vehicle seats four in comfort.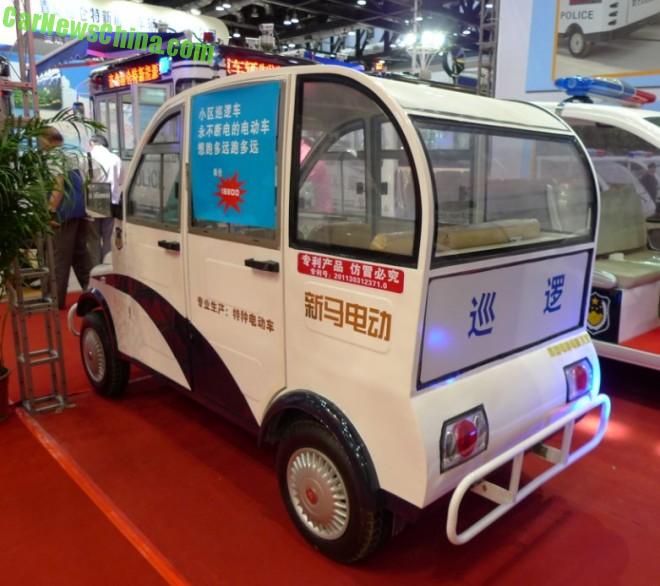 Design almost to cute for a police car, and roof line obscured the warning light. White bumpers and multispoke plastic wheel covers are really hip. Price for all this pretty: 18.800 yuan or 3057 USD. That is not much for a four-seat electric Neighborhood Patrol Car with twenty horses on tap…